Published on:
23:13PM Nov 21, 2017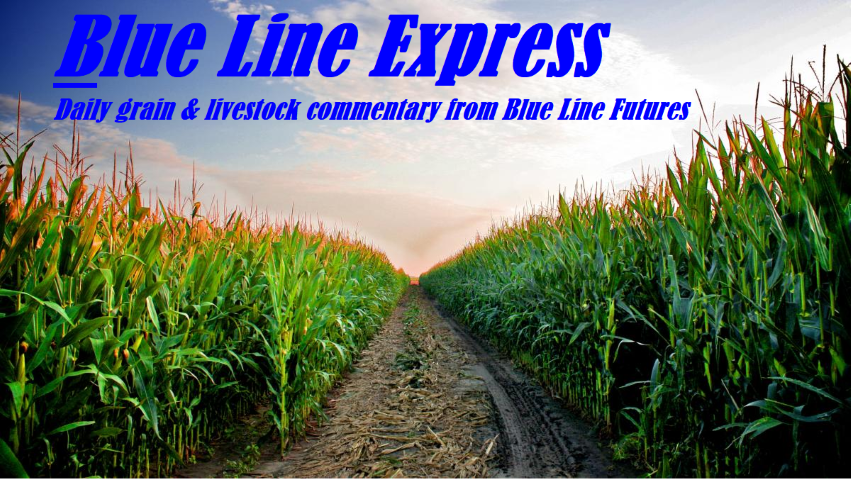 ""
Above is a shortened version of yesterdays interview with RFD-TV discussing the grain and livestock trade.
I encourage you to visit our website to learn more about how we help our clients: BlueLineFutures.com
Cattle Commentary: Cattle futures saw a relief rally today after being under pressure for the better part of three weeks.  December live cattle finished the session up .85 to 117.95 and January feeder cattle finished the session up 1.85 to 151.425.  The early morning trade was moderately active but seemed to have fizzled in the afternoon and will likely carry over into a quiet trade tomorrow as market participants hit the road early to spend time with family this Thanksgiving.  Cash trade came in at 118 today which was 1-2 lower from the majority of last weeks trade.  Tomorrows Fed Cattle Exchange has 955 head listed.  Cold storage is out tomorrow and is expected to show beef stocks at 485.445 million pounds, this would be a 2 million-pound decline from the previous month.  Many have suggested that boxed beef has put in a top and that may be true, but there was a nice pop in today's values.
PM Boxed Beef                 Choice                 Select 
Current Cutout Values:  208.63                  188.65
Change from prior day:  2.45                       .60
Choice/Select spread:    19.98
Cattle Technicals
Live Cattle (December)
December live cattle firmed up right from the open, regaining ground above that key 117.30 level we had referenced in yesterdays report.  This line in the sand represents the 50% retracement from the August lows to the November highs.  The fact that the market stabilized is a breath of fresh air for the bulls left standing in the market.  Yesterday's first resistance came in from 118.55-118.85 and that was tested but managed to hold today.  The bulls will need to see a close back above technical resistance in order to encourage additional buying.  It is a holiday week, so we could see a thinner trade tomorrow which could also lead to some additional consolidation, this would be a welcomed breather for the bulls and the bears.
Resistance: 118.55-118.85**, 121.625-122.00**, 123.825-123.90**
Support: 114.80-115.545****, 113.385**
Feeder Cattle (January)
January feeder cattle caught a bid today after falling off of a cliff in the previous two sessions.  This short covering rally could see some continuation as we head into a Wednesday trade where volume and participation is expected to be thin.  First technical resistance is still a ways away from the market at 153.35.  If the market cannot work higher and close above, it is possible we could see additional long liquidation from the funds over the intermediate term.  Our significant support pocket comes in from 147.86-148.16.  This was a big support level in September and October and must hold in the near term.  A breakdown does some serious damage on the chart and could open the door and warrant a move towards the 144 handle.
Resistance: 153.35-153.50***, 155.10-155.55**, 158.70-159.27***
Support: 147.86-148.16***, 143.80-144.15****
Lean Hog Commentary and Technicals (December)
December lean hog futures saw a significant amount of pressure in today's session as it appears the dead cat bounce has come to an end.  The market managed to trade above technical resistance but could not hang on to momentum.  The inability to gain and hold ground above 62 led to additional long liquidation and pressure in the market.  First technical support comes in from 59.25-59.90.  Futures remain at a bigger than normal discount to cash which could help provide minor support to the market over the near term.  Cold storage will be released tomorrow afternoon.  End of October port stocks are expected to come in at 602.591 million pounds, this would be 14 million pounds less than the previous month. 
Resistance: 61.90-62.25**, 64.20-64.32**, 65.20-65.675***, 68.175**
Support: 59.25-6=59.90**, 57.36*, 55.775-56.20****
If you are interested in receiving our daily updates or working with us, please email Oliver@BlueLineFutures.com.
I encourage you to visit our website to learn more about how we help our clients: BlueLineFutures.com
If you have any questions with regards to markets, trading, or opening an account please let me know!
email Oliver@BlueLineFutures.com
You can also reach us at 312-278-0500
Follow us on Twitter:@BlueLineFutures
Follow us on Facebook:Blue Line Futures Facebook page
Subscribe to our YouTube channel:Blue Line Futures YouTube channel