Published on:
23:47PM Nov 15, 2017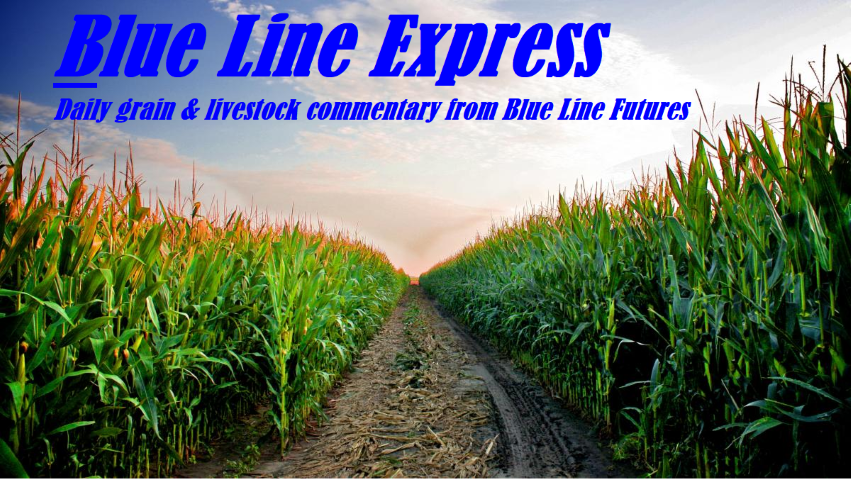 "" 
If you are interested in receiving our morning updates and are not yet on the distribution list, please email Oliver@BlueLineFutures.com.
You can also reach us at 312-278-0500
Cattle Commentary: The cattle complex traded both sides of unchanged today with December Live Cattle finishing the day .575 higher at 120.075 and January Feeders closing the session up .275.  The volatility in the cash market has carried over into a volatile futures trade but we could see that temper after the recent retracement.  There were 969 head on todays Fed Cattle Exchange, we saw 617 sold from 119-119.25.  Later in the afternoon we saw sales of 120.50 in Colorado, Nebraska, and Wyoming.  This is up from some of the 118 trades we saw yesterday but down from last week's average of 122.71.  Some are suggesting that there could be a near term top in boxed beef prices as well.   Many market participants are looking forward to this week's Cattle on Feed report which is due out after the close on Friday.  Early estimates are for:  On Feed: 106%, Placed: 108.5%, and Marketed: 105.2%.
PM Boxed Beef                 Choice                 Select 
Current Cutout Values:  210.13                  190.61
Change from prior day:  -.54                       -2.88
Choice/Select spread:    19.52
Cattle Technicals
Live Cattle (December)
December live cattle saw a continuation of yesterday's choppy two-sided trade with futures posting an inside day, or when the prices are contained within the previous day's range.  The market has been very volatile over the past few weeks but is starting to consolidate near the original point of last month's breakout.  With a Cattle on Feed report looming it is possible that we see the consolidation continue through the remainder of the week as we currently linger in "no man's land" on the chart.  Significant technical support comes in from 117.70-118.25, a break and close below could encourage long liquidation from the funds who have been resilient recently.  On the flip side, significant resistance comes in from 121.625-122.00. 
Resistance: 121.625-122.00**, 123.825-123.90**, 125.90-126*
Support: 117.70-118.25***, 114.81-115.37****
Feeder Cattle (January)
January feeder cattle continued their slide lower on the open but regained strength after finding buying interest at the 50-day moving average, we laid this level out in yesterday's report as a part of our key 4-star technical support: 152.475-152.75.  Holding on the first test is important but another test at support weakens the significance; much like a wrecking ball on a building, the first blow doesn't take a building down, but several attempts leads to collapse.  If the market does fail to hold this pocket, we could see accelerated selling from the funds who have been holding a large net short position.  On the flip side, first technical resistance for tomorrows session comes in from 155.10-155.55.
Resistance: 155.10-155.55**, 158.70-159.27***, 160.725- 160.90**
Support: 152.475-152.75****, 148.16***
Lean Hog Commentary and Technicals (December)
Nearby December futures closed higher while selling took place in the deferred contracts today.  December lean hogs managed to post their first positive day for the month of November!  On what was likely some short covering from recent sellers who rode the wave lower.  Capitulation is a positive sign, but the bulls will want to see additional support come into the market through the remainder of the week.  First technical resistance comes in from 61.60-62.  This pocket represents the 50, 100, and 200 day moving average, all of which were support earlier in the week.  On the support side, 59.25-59.90 is the pocket the bulls want to defend. 
Resistance: 61.60-62.00**, 64.20-64.32**, 65.20-65.675***, 68.175**
Support: 59.25-6=59.90**, 57.36*, 55.775-56.20****
If you want to know more about how to best use the technical levels, please do not hesitate to reach out.
If you have any questions with regards to markets, trading, or opening an account please let me know!
email Oliver@BlueLineFutures.com
You can also reach us at 312-278-0500
Follow us on Twitter:@BlueLineFutures
Follow us on Facebook:Blue Line Futures Facebook page
Subscribe to our YouTube channel:Blue Line Futures YouTube channel
Futures trading involves substantial risk of loss and may not be suitable for all investors. Trading advice is based on information taken from trade and statistical services and other sources Blue Line Futures, LLC believes are reliable. We do not guarantee that such information is accurate or complete and it should not be relied upon as such. Trading advice reflects our good faith judgment at a specific time and is subject to change without notice. There is no guarantee that the advice we give will result in profitable trades. All trading decisions will be made by the account holder. Past performance is not necessarily indicative of future results.