Published on:
23:30PM Nov 20, 2017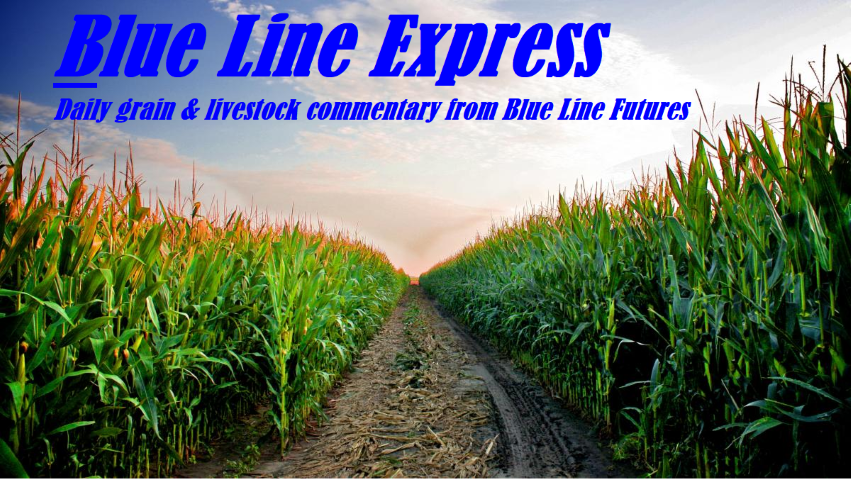 ""
Above is a shortened version of this mornings interview with RFD-TV discussing the grain and livestock trade.
Cattle Commentary: Cattle futures were under pressure to start the week with December live cattle settling down 1.65 to 117.10 and January feeders down 2.05 to 149.675.  Higher corn prices and Fridays Cattle on Feed report are two catalysts getting the blame. Fridays Cattle on Feed report came in on the moderately bearish side of things as it has for several months in a row.  Cattle on feed came in at 106, this was in line with the expected range from 104.8-107 and just a notch above the average estimate of 105.7.  Placements was the bearish spot again coming in at 110, this compares to the estimated range from 103.6-113.1 and the average estimate of 107.1.  On the marketing's side we saw a 106, this compared to the estimated range from 105-105.8.  With a shortened holiday week, we could see activity and volume thin out into Wednesday both on the futures side and cash.  Wednesdays Fed Cattle Exchange has 922 head.
PM Boxed Beef                       Choice            Select 
Current Cutout Values:           206.18               188.05
Change from prior day:           -1.06                   .20
Choice/Select spread:            18.13
Cattle Technicals
Live Cattle (December)
December live cattle continue to bleed lower on long liquidation as traders and funds may be looking to roll positions out.  Today's lower close marked the 9th close lower over the last 10 sessions, this puts us right back where we were 1 month ago.  117.30 represents the 50% retracement from the August lows to the November highs, this will be a key level going forward.  If the bulls cannot regain strength above this level on a closing basis we could see things get worse before they get better, the next technical support doesn't come in until 114.80-115.545 which represents the 100-day moving average and a key Fibonacci retracement.  Although the market has sold of over $10 from the highs at the beginning of the month, the relative strength index is only showing a 40 which means the sell side is not exhausted yet. 
Resistance: 118.55-119.85**, 121.625-122.00**, 123.825-123.90**
Pivot: 117.30
Support: 114.80-115.545****, 113.385**
Feeder Cattle (January)
January feeder cattle broke below the 50-day moving average on Friday for the first time since September and that had opened the door to accelerated selling pressure via long liquidation.  We mentioned last week that there is not much support on the chart until 147.86-148.16.  This was previous support in September and October and also represents the 100-day moving average.  A break and close below this support pocket could extend the selling towards 144.  On the resistance side of things, 152 is the first line in the sand that the bulls will want to reclaim.  After selling of over $12 from the highs at the beginning of the month the relative strength index is at 35.75.
Resistance: 153.35-153.50***, 155.10-155.55**, 158.70-159.27***
Support: 147.86-148.16***, 143.80-144.15****
Lean Hog Commentary and Technicals (December)
December lean hog futures continued their consolidation higher this morning.  Part of the grind higher over the last week is in part due to short covering but also due to the historical deep discount to cash.  We are at a $4 discount to cash compared to the five-year average of .35.  The holiday week could take a toll on market participation so do not be surprised to see things calm down into the Wednesday session.  The recent consolidation higher has brought prices back to a key technical level at 62 which represents the 50, 100, and 200 day moving average.  If the bulls can achieve a close above the market may be able to stabilize going forward.  A failure to achieve consecutive closes above opens the door to more pressure in the near futures.  The relative strength index comes in at 47.62 which is near neutral.     
Resistance: 61.90-62.25**, 64.20-64.32**, 65.20-65.675***, 68.175**
Support: 59.25-6=59.90**, 57.36*, 55.775-56.20****
If you are interested in receiving our daily updates or working with us, please email [email protected].
I encourage you to visit our website to learn more about how we help our clients: BlueLineFutures.com
If you have any questions with regards to markets, trading, or opening an account please let me know!
email [email protected]
You can also reach us at 312-278-0500
Follow us on Twitter:@BlueLineFutures
Follow us on Facebook:Blue Line Futures Facebook page
Subscribe to our YouTube channel:Blue Line Futures YouTube channel
Futures trading involves substantial risk of loss and may not be suitable for all investors. Trading advice is based on information taken from trade and statistical services and other sources Blue Line Futures, LLC believes are reliable. We do not guarantee that such information is accurate or complete and it should not be relied upon as such. Trading advice reflects our good faith judgment at a specific time and is subject to change without notice. There is no guarantee that the advice we give will result in profitable trades. All trading decisions will be made by the account holder. Past performance is not necessarily indicative of future results.