Published on:
21:48PM May 22, 2019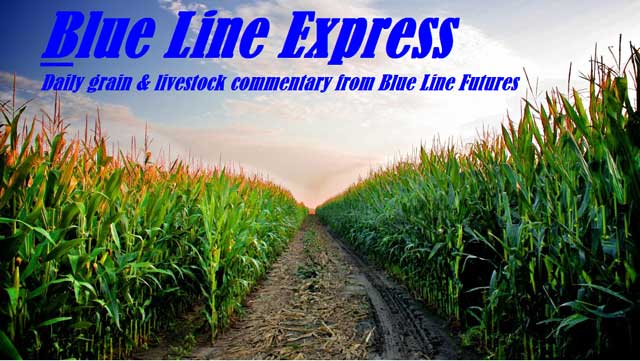 Last Trades
LEM9: -.275 at 110.575, trading in a range of .925
LEQ9: -.40 at 107.875, trading in a range of 1.05
GFQ9: -.475 at 142.525, trading in a range of 1.45
GFU9: -.225 at 143.95, trading in a range of 1.35
Cattle Commentary:  The slow chop continues in cattle futures, which is wearing thin on the patience of those who were looking for a recovery rally and convergence between the board and cash.  Cash trade started ramping up today in the South, coming in from 114-115 in Kansas and Texas, 1-2 lower from the previous week.  There was talk of 116 live in the North with dressed bids from 185-186.   Today's Cold Storage report came in at 430.346 million pounds, below expectations of 440.795.  Friday's Cattle on Feed report is the big-ticket item, early estimates are as follows: on Feed 102.7%, Placements 112.5%, and Marketings at 106.6%.
PM Boxed Beef / Choice / Select
Current Cutout Values: / 219.75 / 205.81
Change from prior day: / .17 / (.77)
Choice/Select spread: / 13.94
Tech Talk
Live Cattle (June)
June live cattle took out yesterday's lows by a hair but managed to hold the lower end of our support pocket at 110.275.  A break and close below here and we could see prices make a run at the recent lows of 109.05.  Overall sentiment remains pretty blah as a meaningful relief rally seems less and less plausible as cash and technicals soften up and time winds down.  Resistance remains intact from 112.50-112.65.
Resistance: 112.50-112.65***, 114.65-114.95****
Support: 110.275-110.625***, 108.90-109.00**, 105.05****
Feeder Cattle (August)
Feeder cattle technicals look about as soft as it gets with prices trading near the low end of the range and uncharted territory.  Technical support comes in from 140.50-141.175, a break and close below here puts is in no-mans land again.  If the bulls can defend this support, perhaps we see a rally back towards the top end of the recent range, 146ish. 
Resistance: 146.00-146.05****, 148.10-148.775**, 151.75-152.30***
Support: 140.50-141.175**
Lean Hogs
The inability to breakout above resistance from 93-94 has put the market back into consolidation mode, leaving the door open for a test to the bottom end of the range, 85-86.  Both the support and resistance pockets are big levels and could lead to a significantly bigger move.   Right here in the middle of the range, we don't see a lot to do.  We'd rather be long but would like to do so at better prices to minimize risk. 
Resistance: 93.125-94.00***, 99.825-100.00****
Support: 85.325-86.25****, 84.65**