Published on:
22:52PM Oct 25, 2017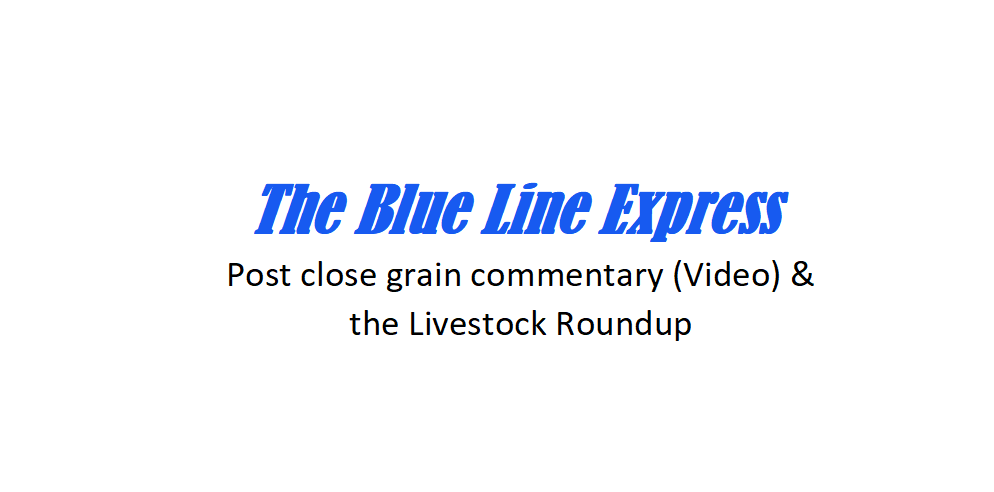 If you are interested in receiving our morning updates and are not yet on the distribution list, please email Oliver@BlueLineFutures.com.
You can also reach us at 312-278-0500
Visit our website for updates throughout the trading day: www.BlueLineFutures.com
Closing Grain Comments in the video below
""
Cattle Commentary:
Cattle futures opened the session in similar fashion to how the ended the prior.  December live cattle screamed higher this morning, marking its highest trade since the middle of June.  November Feeder cattle had a similar trading session, testing the top end of resistance but failing just shy of contract highs at 158.025.  Futures retreated from the highs to close moderately higher for feeders (Oct in the red) and mixed in the fats (live cattle) with the deferreds leading the way.    There had been rumors floating around here over the past few days that we would see cash trade jump to 115, that idea has certainly helped spark the sharp rally, but we are still waiting to see some sort of confirmation.  There were just under 1,000 head of cattle offered on the Fed Cattle Exchange today; the best bid was $111 and passed.  Futures and option expiration is tomorrow for the October Feeders. 
PM Boxed Beef                 Choice                 Select 
Current Cutout Values:  200.21                  192.39 
Change from prior day:  .08                         -.30 
Choice/Select spread:    7.82
Cattle Technicals
Live Cattle (December)
December live cattle futures saw follow through momentum on the opening trade but failed to gain strength after tripping stops above the top end of our resistance pocket at 119.85.  The inability to accel above resistance led to some long liquidation with December futures closing below the bottom end of previous resistance at 119.15.  This failure could lead to additional liquidation in tomorrow's session.  The first support pocket comes in from 117.375-117.725.    Volatility has certainly picked up and that often times invites more volatility into the market, so do not be surprised to see a wide range choppy trade in the back half of the week.
Resistance: 119.175-119.85**, 122.85****
Support: 117.375-117.725**, 114.425-115***
Feeder Cattle (November)
November feeder cattle were .38 away from posting contract highs above 158.025 that we saw just one short month ago.  As with the live cattle, the increased volatility will likely invite more short-term volatility into the market which could make for a wide ranging choppy trade in the back half of the week.  If the market cannot attract new buyers above contract highs, it is possible and probably we see long liquidation occur from funds of have established a record net long position.  First technical support comes in at 155.55, a break and close below could lead to accelerated selling down towards 150.20 which represents the 50-day moving average. 
Resistance: 157.65-158.025**, 160.90**, 165.225****
Support: 155.55**, 149.70-150.20***, 147.30-147.94****
Lean Hog Commentary and Technicals (December)
December lean hogs traded both sides of unchanged today but spend majority of their time on the positive side of that.  Steady cash is the catalyst many analysts are pointing to, although it wasn't a big jump it was enough.  With that said, there has been talks of cash prices stalling out which could halt the run higher we've seen over the past few weeks.  Technical resistance comes in from 65.20-65.75, this pocket represents the top end of the three-month range which also includes the contract highs at 65.675.  If cash does start to show signs of topping, we could see the market consolidate back towards key technical support which comes in from 61.452-61.874.  This pocket represents 100 and 200 day moving average. 
Resistance: 65.20-65.675***, 67.825**, 71.325**
Support: 61.452-61.874***, 60.14**, 55.775-56.20****
--------------------------------------------------------------
Sign up for a FREE trial of the Morning Express!
Email Oliver@BlueLineFutures.com or AgHedging@BlueLineFutures.com
You can also reach us at 312-278-0500
Visit our research center for updated market news:www.BlueLineFutures.com
Follow us on Twitter:@BlueLineFutures
Follow us on Facebook:Blue Line Futures Facebook page
Subscribe to our YouTube channel:Blue Line Futures YouTube channel
Futures trading involves substantial risk of loss and may not be suitable for all investors. Trading advice is based on information taken from trade and statistical services and other sources Blue Line Futures, LLC believes are reliable. We do not guarantee that such information is accurate or complete and it should not be relied upon as such. Trading advice reflects our good faith judgment at a specific time and is subject to change without notice. There is no guarantee that the advice we give will result in profitable trades. All trading decisions will be made by the account holder. Past performance is not necessarily indicative of future results.