Published on:
23:04PM Mar 21, 2018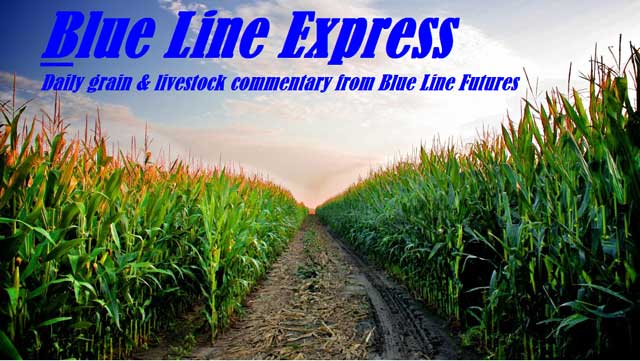 Last Trades:
LEJ8: (1.80) at 117.775, trading in a range of 2.60
LEM8: (1.525) at 107.475, trading in a range of 2.475
GFJ8: (1.10) at 136.35, trading in a range of 2.45
GFK8: (.925) at 137.325, trading in a range of 2.35
Cattle Commentary:  Pressure on the board has led to bids backing off over the last 24 hours.  The bulk of the cash has been seen at 126 with 125 making its way into the picture.  Today's Fed Cattle Exchange had a whopping 166 head offered, all of which sold with the average price of 125.63.  Long liquidation continues to be one of the key themes as the charts continue to break down (see technicals below).  For hedged clients we will likely be lightening up some things over the next 24 hours, whether it be lifting futures or selling puts against the short futures.  There has been concerns over trade with China through the week, we will get more information on that before the weekend; we are not putting too much weight into those headlines.  Keep in mind that we do have a Cattle on Feed report out on Friday afternoon. Early estimates are for On Feed at 108.1, Placements 103.4, and Marketings at 101.  Boxed beef was mixed today.
PM Boxed Beef / Choice / Select
Current Cutout Values: / 224.38 / 216.39
Change from prior day: / 1.03 / (.35)
Choice/Select spread: / 7.99
Cattle Technicals
Live Cattle (April)
The slow bleed lower turned into more of panic selling in the afternoon, it was not to extreme levels where it marks a bottom, but certainly more notable than we have seen in the last week.  This is something we mentioned in yesterday's report when we stated: "The slow bleed lower makes one think that it is not over yet as the market needs to see a capitulation cleanse to post a near term bottom."  The market broke down below our 4-star support level from 117.45-118.05 but managed to close right in the middle.  The bulls need to see this hold on a closing basis, a failure to do so could lead to another leg lower with the next support coming in from....Please sign up for a Free Trial at Blue Line Futures to view our entire technical outlook and proprietary bias and levels.
Feeder Cattle (April)
It was the same story, just another day for feeder futures.  April futures posted and closed at their lowest levels since the middle of August.  This meltdown has brought the RSI (relative strength index) down to 22.68, this is the lowest level we have on record for this specific (April) contract.  The bulls (if there are any left) will want to climb back above 137.75 by the end of the week to help provide a foundation going into next weeks trade.  There is some support from 134.45-134.75, there is not much below that until....Please sign up for a Free Trial at Blue Line Futures to view our entire technical outlook and proprietary bias and levels.
Lean Hog Commentary and Technicals (June)
June hog futures managed to gain some ground back in today's session; June finished the day up .625 at 77.375, trading in a range of 1.475 for the session.  Concerns over supply and trade continue to hang over the market, we should get more clarification on trade before the weekend; we also have a cold storage report out tomorrow after the close.   We believe that today's move higher was a relief rally, meaning that sellers will use higher prices to step back in.  Lower lows and lower lows has been the trend and we are looking for that continue.  Only a close back above 78.95-79.60 will turn the tide.  On the support side of things, we see 76.15-76.525 as the first pocket with the ultimate objective for shorts between....Please sign up for a Free Trial at Blue Line Futures to view our entire technical outlook and proprietary bias and levels.
Sign up for a free trial of 1 or all 5 of our daily Blue Line Express commodity reports!
Futures trading involves substantial risk of loss and may not be suitable for all investors. Trading advice is based on information taken from trade and statistical services and other sources Blue Line Futures, LLC believes are reliable. We do not guarantee that such information is accurate or complete and it should not be relied upon as such. Trading advice reflects our good faith judgment at a specific time and is subject to change without notice. There is no guarantee that the advice we give will result in profitable trades. All trading decisions will be made by the account holder. Past performance is not necessarily indicative of future results.