Published on:
22:15PM Mar 25, 2018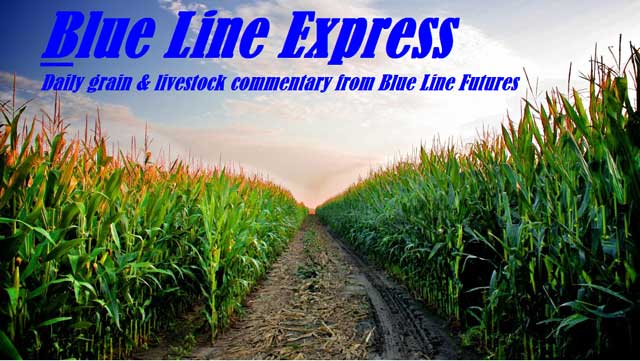 The week in review
LEJ8 traded -4.95 for the week, trading in a range of 6.40
LEM8 traded -5.275 for the week, trading in a range of 6.10
GFJ8 traded -3.775 for the week, trading in a range of 5.25
GFK8 traded -3.50 for the week, trading in arrange of 5.25
Cattle on Feed Report Summary
Cattle on Feed: 108.8 vs estimates from 107.6-109.2
Placements: 107.3 vs estimates from 100.3-108.8
Marketings: 101.6 vs estimates from 99.8102.1
Cattle Commentary:  As you can see from above, it was a brutal week for cattle prices as a culmination of events/headlines led to a sell first ask questions later type of trade.  Tariffs were one of the major headlines last week but there has yet to be anything mentioned and not really expected for beef, even if there was the impact would likely be minimal.  All that tariff talk led to volatility in the outside markets which was a clear headwind for the markets.   The bulk of last weeks cash trade was 1-2 lower at 126 live and 202/203 dressed.  On top of all of this we were anticipating a bearish Cattle on Feed report on Friday, which is what we got.  With all of those things looming over the market we saw a lot of long liquidation from the funds as we approach the end of month and end of quarter.  We would expect to see cash succumb to the futures pressure, but we are also expecting to see futures help close the gap. Friday's Commitment of Traders report showed funds reduced 14,869 live cattle futures, putting their net long at 71,832.  Funds also reduced feeder cattle longs by 2,887 which puts their net long at 2,281.  Keep in mind that the Commitment of Traders data is from March 14th-March 20th and does not include the continued pressure in the back half of the week.   
Cattle Technicals
Live Cattle (April)
The live cattle chart is a technical graveyard as selling pressure fed on itself in the back half of the week.  In last week's Livestock Roundup, we discussed the potential for 115.40-115.80 if the market could not gain traction from 117.15-118.05, we got that Friday and now it seems a little unclear as to where the next support level would be.  There is some support from 112.275-112.325, but the more significant level doesn't come in until 110.35, this would be a full retracement from the August lows.  The market is oversold, and cash is well above the market, so we would think this would be an unlikely scenario in the very near term.  On the resistance side of things, the market needs to reclaim 117.15-118.05 to encourage additional stabilization.
Please sign up for a Free Trial at Blue Line Futures to view our entire technical outlook and proprietary bias and levels. 
Live Cattle (June)
We will be moving to June technicals as the primary for this weeks Livestock Roundup, if you would like to continue receiving them for April please let us know.  June live cattle found the .618% Fibonacci retracement from last years lows to last year's highs, that comes in right at 106.00.  Support below here comes in at 104.075, a full retracement over the intermediate term would put prices back at 96 and change.  First resistance this week comes in at 109.05, a close above could encourage additional buying, but this would likely be a relief rally which means the bears would remain in control until the bulls can get back out above 112.20-112.85.  The RSI (relative strength index) is currently at 22.75.
Please sign up for a Free Trial at Blue Line Futures to view our entire technical outlook and proprietary bias and levels. 
Futures trading involves substantial risk of loss and may not be suitable for all investors. Trading advice is based on information taken from trade and statistical services and other sources Blue Line Futures, LLC believes are reliable. We do not guarantee that such information is accurate or complete and it should not be relied upon as such. Trading advice reflects our good faith judgment at a specific time and is subject to change without notice. There is no guarantee that the advice we give will result in profitable trades. All trading decisions will be made by the account holder. Past performance is not necessarily indicative of future results.