Published on:
23:29PM Mar 26, 2018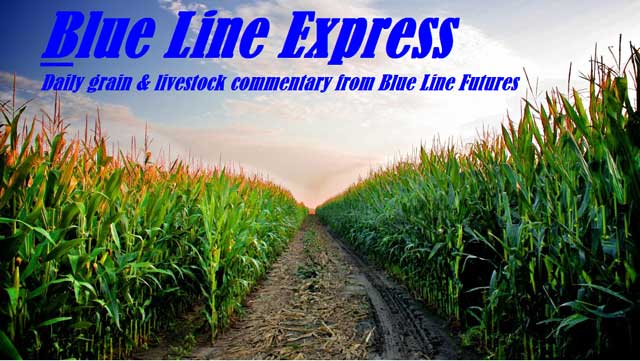 Last Trades:
LEJ8: -.90 at 115.15, trading in a range of 2.40
LEM8: -1.025 at 105.175, trading in a range of 2.60
GFJ8: -1.75 at 134.35, trading in a range of 2.95
GFK8: -1.825 at 135.475, trading in a range of 2.90
Cattle Commentary:  It's ground hog day….for the 17th time over the last 25 sessions.  The market tried to catch a bid to start the week, but it fizzled like a candle in a hurricane.  April cattle posted their lowest closing price since the beginning of September.  Outside markets stabilized after last weeks tariff talk, but that was not enough to offer support to cattle futures.  Funds have been in clear liquidation mode as we approach the end of month and end of quarter.  Friday's Commitment of Traders report showed funds reduced 14,869 live cattle futures, putting their net long at 71,832. Funds also reduced feeder cattle longs by 2,887 which puts their net long at 2,281. Keep in mind that the Commitment of Traders data is from March 14th-March 20th and does not include the continued pressure in the back half of the week.  Cash has yet to be seen this week but is expected to drop (captain obvious here).  Wednesdays Fed Cattle Exchange has 409 head listed.
PM Boxed Beef / Choice / Select
Current Cutout Values: / 222.53 / 215.46
Change from prior day: / (.56) / (.94)
Choice/Select spread: / 7.07
Cattle Technicals
Live Cattle (June)
Live cattle continue to linger in the oversold territory with the RSI at 21; if you think it can't get any worse I would encourage you to take a look at an October 2015 live cattle chart.  The slow bleed lower is not what the market needs to see, it is reminiscent of a buyer's strike, there are no big players stepping in to catch this knife which is keeping smaller traders around longer than they should, hoping for another day and a different story.  At some point that will come but the market can remain irrational longer than you can remain solvent.  The next line in the sand for us comes in at....Please sign up for a Free Trial at Blue Line Futures to view our entire technical outlook and proprietary bias and levels.
Feeder Cattle (May)
May feeder cattle are just a stones throw away from completing their full retracement to the August 18th lows which comes in at 134.10.  We have been using Fibonacci retracements from those lows to the November highs of 157.85 so this is very significant.  The market is extremely oversold with the RSI (relative strength index) at 22.96, but as with any market this does not mean we can't go lower.  If we were to see funds go net short we could see prices extend to....Please sign up for a Free Trial at Blue Line Futures to view our entire technical outlook and proprietary bias and levels.
Lean Hog Commentary and Technicals (June)
Lean hog futures staged a relief rally in the early goings, but as we mentioned on RFD-TV this morning, a relief rally would only set up for sellers to sell at higher prices.  Futures took a big hit in the final minutes but still managed to squeak out minor gains for the day.  June futures finished the day up .075 at 74.225, trading in a range of 1.70.  We would be surprised if this didn't carry over into pressure to start tomorrows session.  The RSI (relative strength index) is at 30.47 which is actually pretty higher than one would expect after the prolonged selling since exactly a month ago.  Lower highs and lower lows continues to be the trend, bears have a steady hold on the market as the chart resembles a technical graveyard.  First technical resistance comes in from 75.725-76.525.  On the support side of things....Please sign up for a Free Trial at Blue Line Futures to view our entire technical outlook and proprietary bias and levels.
Sign up for a free trial of 1 or all 5 of our daily Blue Line Express commodity reports!
Futures trading involves substantial risk of loss and may not be suitable for all investors. Trading advice is based on information taken from trade and statistical services and other sources Blue Line Futures, LLC believes are reliable. We do not guarantee that such information is accurate or complete and it should not be relied upon as such. Trading advice reflects our good faith judgment at a specific time and is subject to change without notice. There is no guarantee that the advice we give will result in profitable trades. All trading decisions will be made by the account holder. Past performance is not necessarily indicative of future results.