Published on:
23:23PM Apr 10, 2018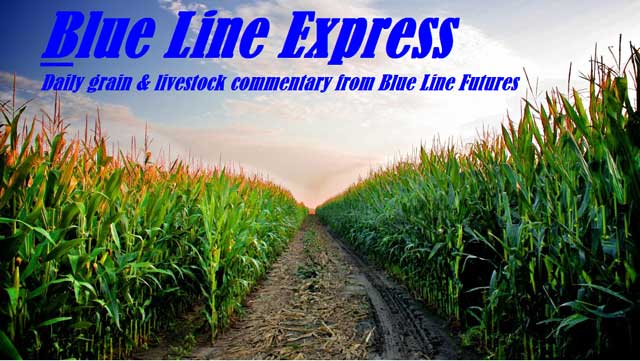 Last Trades:
LEM8: .10 at 102.60, trading in a range of 2.525
LEQ8: -.075 at 102.675, trading in a range of 2.300
GFK8: -.075 at 135.40, trading in a range of 3.325
GFQ8: -.375 at 140.675, trading in a range of 2.775
Cattle Commentary:  It was Groundhog Day in the cattle markets with futures gaping higher on the open, posting their high at nearly the exact same time as yesterdays trade (where we also gaped open), then fading through the remainder of the day.  Early morning cash bids were coming in at 116 with offers at 120 in the south, this helped support the April contract which was up 1.40 on the day.  After the markets closed there were reports of 120 bids in the north.  The bulk of last week's cash trade came in at 117.  Tomorrows Fed Cattle Exchange has 3,931 head offered, this is the largest we have seen in a while, so we would expect more eyes on how that goes.  We are expecting to see cash moderately firmer this week which would likely help support futures prices.  Though the technicals are still in the bears favor (see below), the risk may now be to the upside.
PM Boxed Beef / Choice / Select
Current Cutout Values: / 213.51 / 201.33
Change from prior day: / (1.53) / (1.81)
Choice/Select spread: / 12.18
Cattle Technicals
Live Cattle (June)
June live futures finished the day in similar fashion to the previous day's session.  The inability to take out yesterday's high led to the slow bleed lower that we have come so accustomed to.  As mentioned in yesterdays report, the bears are in control of the chart, but the prospect of a firmer cash trade provides a glimmer of light at the end of the tunnel.  First support coming into today came in from 101.825-102.05, the market tripped the bottom end but didn't ignite additional selling and we saw an intraday base form.  First support for tomorrow will be....Please sign up for a Free Trial at Blue Line Futures to view our entire technical outlook and proprietary bias and levels.
Feeder Cattle (May)
The price action in feeder cattle today was less than impressive after a relatively strong open.  As with live cattle, the inability to get out above yesterdays highs invited the sellers back in and encouraged some of last weeks buyers to take some profits off of the table.  Key technical support for tomorrows session comes in from....Please sign up for a Free Trial at Blue Line Futures to view our entire technical outlook and proprietary bias and levels.
Lean Hog Commentary and Technicals (June)
Lean hog futures started the day with some spillover momentum from yesterday's session, posting the high of the day in the first 10 minutes.  Those gains slipped away for the remainder of the day with June futures finishing down .775 at 75.10, this after trading in a range of 2.075.  Despite failing to hold gains we posted higher highs higher lows over the past two weeks which is encouraging for forming a bottom.  First support remains....Please sign up for a Free Trial at Blue Line Futures to view our entire technical outlook and proprietary bias and levels.
Sign up for a free trial of 1 or all 5 of our daily Blue Line Express commodity reports!
Futures trading involves substantial risk of loss and may not be suitable for all investors. Trading advice is based on information taken from trade and statistical services and other sources Blue Line Futures, LLC believes are reliable. We do not guarantee that such information is accurate or complete and it should not be relied upon as such. Trading advice reflects our good faith judgment at a specific time and is subject to change without notice. There is no guarantee that the advice we give will result in profitable trades. All trading decisions will be made by the account holder. Past performance is not necessarily indicative of future results.