Published on:
22:26PM Apr 26, 2018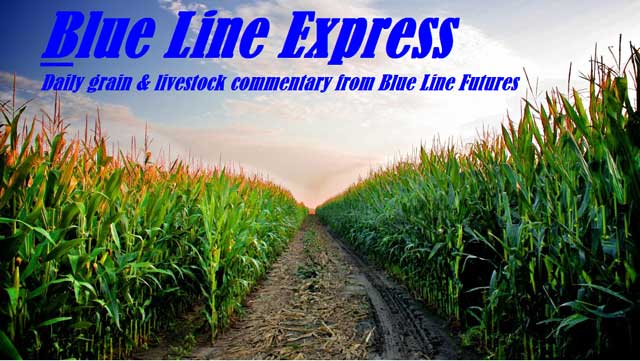 Last Trades:
LEM8: -1.00 at 104.575, trading in a range of 2.125
LEQ8:  -1.10 at 104.175, trading in a range of 1.85
GFK8: -1.05 at 140.30, trading in a range of 1.925
GFQ8: -77.5 at 146.65, trading in a range of 2.0275
Cattle Commentary: Cattle futures tried yet again to stage a breakout above 106 but failed which led to another slow bleed lower for majority of the day.  The market was close to filling the gap at 104 but stopped just shy at 104.15 (see technicals below).  There has been some talk of cash coming in at 121 in the south.  Looking at the April futures today, we are still optimistic about the prospects of a firm trade to round out the week.  We know that there are a lot of participants who want to be long the market with the simple premise of cash and the board converging.  We feel that the recent price action is shaking out the weak longs before we get the board to move higher. 
PM Boxed Beef / Choice / Select
Current Cutout Values: / 220.15 / 204.48
Change from prior day: / 1.62 / 1.33
Choice/Select spread: / 15.67
Tech Talk
Live Cattle (June)
June live cattle tested the waters above 106 for the 4th time in the last 8 sessions, and again failed to attract new buyers.  The continued failures are becoming slightly more worrisome for the bull camp.  There is a gap from Monday's open that came just shy of being filled in today's session, that comes in at 104 and will act as first technical support to round out the week.  A break and close below opens the door for a run towards 101.20-101.85.  On the flip side, not much has changed. A breakout above 106.05-105.925 opens the door to 109.00-109.55.  This pocket represents the 50% retracement from the March 2017 lows to the November highs, along with the 50-day moving average.  Keep in mind that there is a "death cross" on the chart with the 100-day moving average crossing below the 200-day moving average this week.
Resistance: 106.05-106.925***, 109.00-109.55****
Support: 103.95-104.00**, 101.20-101.85****, 96.35-97.075****
Feeder Cattle (May)
Feeder cattle failed again just shy of our first resistance pocket from 142.65-142.90.  The bulls need to see new highs above this to keep the trend of higher highs and higher lows intact.  A failure to do so will start to shift the tide and could encourage selling into next weeks trade.  Above this resistance pocket is a significant wall of resistance form 143.35-144.65.  This is a wider resistance pocket than we would typically want, but there is a lot of significance in it.  This pocket contains the 100 and 200 day moving average, along with the 50% retracement from November highs to the April lows.  We would consider flattening longs and looking short on the first test.
Resistance: 142.65-142.90**, 143.35-144.65****
Support: 139.70**, 135.75-136.325***, 128.875****
Lean Hog Commentary and Technicals (June)
Lean hog futures gapped lower and finished the day near the low end of the days range.  June futures finished down 1.375 at 73.975 and traded in a range of 1.10.  The last trade of the day came in between the support pocket that we had outlined in yesterday evenings report, that comes in from 73.95-74.00.  We are expanding support down to 73.75.  A break and close below this pocket could lead to additional technical selling.  There is not a whole lot of support until 70.25-70.90.  We think there is opportunity to the buy side here with risk reward being favorable to the buyside.  The recent down draft has rekindled headlines of supply concerns, but we feel that demand will help cushion the blow.
Resistance: 76.00-76.25**, 77.325-77.50**, 79.75-79.90****
Support: 73.75-74.00**, 70.25-70.90***
Sign up for a free trial of 1 or all 5 of our daily Blue Line Express commodity reports!
Futures trading involves substantial risk of loss and may not be suitable for all investors. Trading advice is based on information taken from trade and statistical services and other sources Blue Line Futures, LLC believes are reliable. We do not guarantee that such information is accurate or complete and it should not be relied upon as such. Trading advice reflects our good faith judgment at a specific time and is subject to change without notice. There is no guarantee that the advice we give will result in profitable trades. All trading decisions will be made by the account holder. Past performance is not necessarily indicative of future results.