Published on:
23:37PM Apr 05, 2018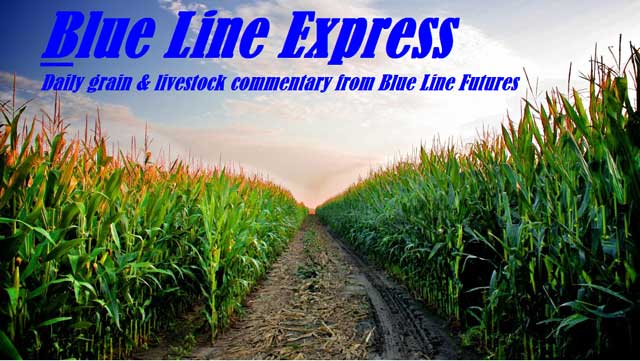 BREAKING: The White House has released a statement that they are considering an additional 100 billion in tariffs on China.
Last Trades:
LEJ8: 1.25 at 114.275, trading in a range of 1.15
LEM8: 2.425 at 104.75, trading in a range of 2.35
GFJ8: 2.775 at 137.275, trading in a range of 3.575
GFK8: 2.75 at 137.875, trading in a range of 3.55
Cattle Commentary:  Cattle futures saw a continuation of yesterdays rally today opening higher and leaving a gap on the chart (see technicals below).  Is there a fundamental reason why we have seen fat cattle rally 7.675 off the lows and feeders and even 9.00 off of their lows in two days?  You could make the argument; but you may get some funny looks.  In our minds there wasn't a reason for the market to be where it was in the first place other than it was overextended due to long liquidation from the funds.  Cash has softened up this week with the bulk of it coming in at 117 live and 185-190 dressed.  With April futures close to first notice day June has started to do its part in closing that gap.  Chinese tariff talk drifted away faster than a…..I feel like there's a saying here but drawing a blank; feel free to learn me somethin.  USDA boxed beef was lower on the day.
PM Boxed Beef / Choice / Select
Current Cutout Values: / 215.09 / .13
Change from prior day: / (3.08) / .13
Choice/Select spread: / 8.78
Cattle Technicals
Live Cattle (June)
This move higher has been fast and fierce, like many had expected (timing is an important piece to trading).  We think the market can see a continuation towards 106 but its going to be a bit of a tug of war from that point.  For clients who were able to get long exposure on Wednesday, we are recommending reducing that before the weekend.  Volatility invites more volatility so expect that to linger into the first half of next weeks trade.  We feel a consolidation from 106-109 would be healthy for the market before making its next directional move.  The gap open from this morning comes in at 102.625, this will be first support for tomorrows session.  A conviction close below leaves the door open for....Please sign up for a Free Trial at Blue Line Futures to view our entire technical outlook and proprietary bias and levels.
Feeder Cattle (May)
May feeder cattle gapped higher this morning but manage to fill that gap before finishing the session towards the highs of the day.  If the market can ride this momentum into the morning we would be looking for the market to test our resistance pocket from 139.275-140.25; this is a wider pocket than we would like but that's the market we have right now.  As mentioned in the fat cattle section, we will be working with clients who bought over the last 48 hours to reduce that exposure into the weekend.  Bulls make money, bears make money, pigs get slaughtered; take....Please sign up for a Free Trial at Blue Line Futures to view our entire technical outlook and proprietary bias and levels.
Lean Hog Commentary and Technicals (June)
June lean hogs finished the day up .575 at 73.85, trading in a range of 1.225.  The less active May contract was the hero today finishing near limit up.  The June contract is where all the action is so we are sticking with that in our daily Livestock Roundup.   The market got out above first technical resistance at 73.95 but was not able to close above this level which may keep the market in check into the weekend.  If the bulls can chew through this level, we would expect to see an extension towards....Please sign up for a Free Trial at Blue Line Futures to view our entire technical outlook and proprietary bias and levels.
Sign up for a free trial of 1 or all 5 of our daily Blue Line Express commodity reports!
Futures trading involves substantial risk of loss and may not be suitable for all investors. Trading advice is based on information taken from trade and statistical services and other sources Blue Line Futures, LLC believes are reliable. We do not guarantee that such information is accurate or complete and it should not be relied upon as such. Trading advice reflects our good faith judgment at a specific time and is subject to change without notice. There is no guarantee that the advice we give will result in profitable trades. All trading decisions will be made by the account holder. Past performance is not necessarily indicative of future results.