Published on:
20:50PM May 24, 2018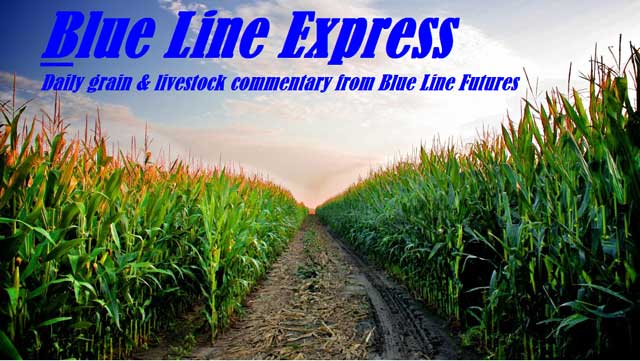 Last Trades:
LEM8: -1.00 at 104.45, trading in a range of 1.475
LEQ8:  -.875 at 101.925, trading in a range of 1.525
GFQ8: .15 at 143.50, trading in a range of 2.00
GFU8: -.225 at 143.075, trading in a range of 1.90
Cattle Commentary:  Cattle futures opened frim but started losing ground shortly after and finished the day near the session lows.  There has been talk about some cash cattle trade between 109-110 but doesn't seem to be substantial.  Cash has been dropping rapidly which has taken pressure off the futures market to rally hard.  This is part of the reason we have turned our tone towards the bearish side.  The North Korean/US summit has been canceled this put some fear premium back into the market.  This was hyped up pretty well and was an over promise, underdeliver scenario; will trade negotiations with China be the same?  We should get more information on that front with Commerce Secretary Ross visiting China next week.  Tomorrow's Cattle on Feed report is due out at 11 am cst.  Estimates are for on feed to be 104.9%, placements at 90.9%, and marketing's at 105.9%.
PM Boxed Beef / Choice / Select
Current Cutout Values: / 229.00 / 204.93
Change from prior day: / (1.08) / (.11)
Choice/Select spread: / 24.07
Levels to Watch
Live Cattle (June)
Resistance: 106.05-106.15***, 108.10-109.025****
Support: 103.90-104.125***, 102.55-102.60***, 101.20-101.65**
Feeder Cattle (August)
Resistance: 145.00-145.50****, 146.80**, 147.95-148.70***
Support: 142.80-143.00***, 139.675-140.10**, 137.00-137.80**
Lean Hogs (June)
Resistance: 75.35-76.45**, 76.20-76.725****
Support: 73.775-74.00***, 72.20-72.75**, 70.25-70.90****
Sign up for a free trial of 1 or all 5 of our daily Blue Line Express commodity reports!
Futures trading involves substantial risk of loss and may not be suitable for all investors. Trading advice is based on information taken from trade and statistical services and other sources Blue Line Futures, LLC believes are reliable. We do not guarantee that such information is accurate or complete and it should not be relied upon as such. Trading advice reflects our good faith judgment at a specific time and is subject to change without notice. There is no guarantee that the advice we give will result in profitable trades. All trading decisions will be made by the account holder. Past performance is not necessarily indicative of future results.