Published on:
22:30PM Jun 12, 2018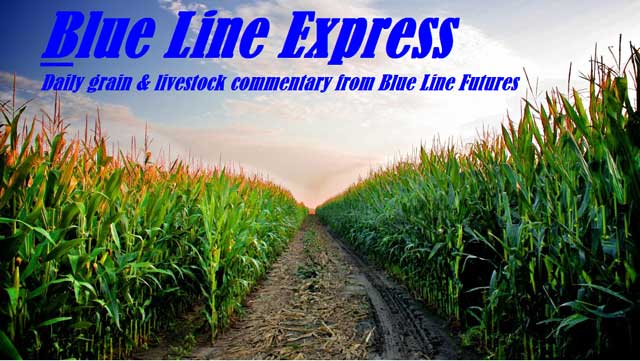 Last Trades:
LEQ8: .575 at 104.75, trading in a range of 1.55
LEV8:  .70 at 107.70, trading in a range of 1.70
GFQ8: .225 at 146.175, trading in a range of 2.00
GFU8: UNCH at 147.25 trading in a range of 1.80
Cattle Commentary:  Cattle futures started today's session weaker on continued pressure from yesterday's session.  The market started stalling out and reversing around 9:30 cst which seems to be a common time for the market to settle in.  There has not been much new news yet this week with regards to cash trade.  Tomorrow's Fed Cattle Exchange has 443 head offered, not a lot by any means but may set the tone for the week.  Last weeks cash trade finished much firmer than expected with the bulk coming in 4-5 higher, catching a lot of market participants off guard.  The market doesn't seem to think that will happen again this week.  This week's show list is up 30,000 head.  Boxed beef was mixed for the day. 
PM Boxed Beef / Choice / Select
Current Cutout Values: / 224.92 / 203.39
Change from prior day: / (.21) / .59
Choice/Select spread: / 21.53
Tech Talk
Live Cattle (August)
Live cattle futures fell back into our support pocket early in the session, trading technically sound with yesterday's report where we stated: "There is some support coming in from 103.30-103.65, this pocket represents the 50-day moving average and trendline support from the May 18th lows.  If you are bearish and short, this is where you would want to consider reducing.  If you're bullish this is where you might consider dipping your toes in.".  The trend of higher lows and higher highs is still intact, but we are looking for the market to settle into a more defined range in the intermediate term, providing a lot of opportunity for nimble traders.  We would not be surprised to see today's price action carry over into a firmer trade tomorrow morning.  First technical resistance for tomorrow comes in from....Please sign up for a Free Trial at Blue Line Futures to view our entire technical outlook and proprietary bias and levels.
Feeder Cattle (August)
Feeder cattle trickled lower to start the day but managed to stabilize as fats started firming up.  We were looking for a move a little lower towards 143.0-143.90 but the buyers stepped up which could encourage some follow through in tomorrows session.  The first technical hurdle for the bulls to overcome comes in from 146.70-146.95, this pocket represents the 100 and 200 day moving average and acts as a bit of a pivot point for us.  If the bulls can gain momentum above this pocket, we would expect to see the top end of the recent range tested.  A failure to get that follow through would likely....Please sign up for a Free Trial at Blue Line Futures to view our entire technical outlook and proprietary bias and levels.
Lean Hog Commentary and Technicals (July)
Lean hog futures started the session on softer ground but reversed off of the 100-day moving average which comes in at 79.30.  July lean hogs finished the session up 2.325 at 81.725, trading in a range of 2.65 for the session.  Not only did the market close at the top end of the range, but it posted its highest price since the beginning of March.  It has been a choppy trade, but it looks like the bulls have regained their edge for the near term.  With that said, we don't have a lot of conviction with either side at this point which brings us to the old saying "when in doubt, stay out". 
Resistance: 84.125-84.675***, 85.75****
Support: 80.25-80.40***, 78.80-79.30**, 77.20-77.50***
Sign up for a free trial of 1 or all 5 of our daily Blue Line Express commodity reports!
Futures trading involves substantial risk of loss and may not be suitable for all investors. Trading advice is based on information taken from trade and statistical services and other sources Blue Line Futures, LLC believes are reliable. We do not guarantee that such information is accurate or complete and it should not be relied upon as such. Trading advice reflects our good faith judgment at a specific time and is subject to change without notice. There is no guarantee that the advice we give will result in profitable trades. All trading decisions will be made by the account holder. Past performance is not necessarily indicative of future results.