Published on:
14:35PM Jan 06, 2018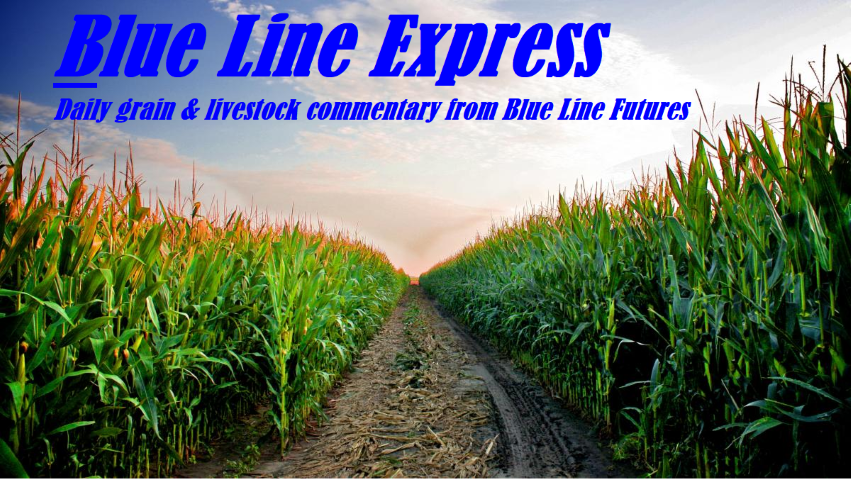 Cattle Commentary:  We hope you were not paralyzed by hope that the market would continue higher earlier in the week.  As mentioned in reports earlier this week, this run since Christmas was one to take advantage of.  We by no means have a crystal ball but we do know it is better to be proactive than reactive.  Fridays futures trade picked up right where Thursday left off, and that was with resilient long liquidation.  February live cattle futures finished the day limit down (3.00) at 119.25, which means we will have expanded limits of 4.50 for Mondays session.  Fridays Commitment of Traders report doesn't bring much to the table considering the data is only compiled through Tuesday and doesn't account for 4.375 drop from Thursdays highs.  March feeder cattle finished the day down 3.55 at 142.00, trading in a range of 4.075 on the day.  March feeders traded in a range of 7.40 over the last two sessions of the week.   Cash trade on Friday came in from 121-122 this was down from 123 in the previous week; dressed came in from 194-195.  Many were looking for 125 and up, we were slightly more conservative at steady to one higher.  The Goldman roll starts next week which means funds will start to roll positions in February out to April and June; perhaps we have seen some front running of that already.  There have also been some rumors that some funds are just liquidating and will not be rolling.  Boxes were up again to round out the week.  We feel there is opportunity over the next week to the long side, you can read more about that in the technical section below.
PM Boxed Beef                      Choice             Select 
Current Cutout Values:          209.51             202.32
Change from prior day:         .84                   1.46
Choice/Select spread:           7.19
Cattle Technicals
Live Cattle (February)
We were talking all week about 123.35-123.80 being stiff resistance and a failure to breakout would lead to long liquidation from the funds.  This pocket represented a key Fibonacci retracement and the 50-day moving average, but more importantly, it was a significant breakout point on October 24th and a breakdown point on December 1st.  120.30-120.70 was our first downside target, this represents the 100-day moving average and the 50% retracement (Middle of the range) from the August lows to November highs.  The next pocket to the downside comes in from 117.575-118.05.  This pocket represents the December 11th lows, the 200-day moving average, and a key retracement.  We do think there is opportunity to the long side, but we will be using April and June contracts to do so as there is no need to fight the roll (funds rolling out of Feb futures into April/June). 
Resistance: 120.30-120.70**, 123.35-123.80****, 126.65**
Support: 117.575-118.05****, 115.95-116.60**, 109.475****
Feeder Cattle (March)
March feeder cattle took a big leg lower after rallying from 138.30 on December 22nd to Thursdays high of 148.55.  That's a good rally in that amount of time and offered some great opportunity to look to the short side or take some risk off of the table.  The downward move took out our first target near 143.50 (now first resistance).  The next objective comes in from 139.85-140.15, this represents a key retracement and the 200-day moving average.  We think there is opportunity on the first test to look long; of if you're in the options market look at using the volatility (premium) to your advantage. 
Resistance: 143.50**, 146.45-146.95**, 148.90-149.40***
Support: 139.85-140.15***, 137.25-138.30****, 133.975****
Sign up for 1 or all 5 of our daily Blue Line Express commodity reports!  
Futures trading involves substantial risk of loss and may not be suitable for all investors. Trading advice is based on information taken from trade and statistical services and other sources Blue Line Futures, LLC believes are reliable. We do not guarantee that such information is accurate or complete and it should not be relied upon as such. Trading advice reflects our good faith judgment at a specific time and is subject to change without notice. There is no guarantee that the advice we give will result in profitable trades. All trading decisions will be made by the account holder. Past performance is not necessarily indicative of future results.