Published on:
13:06PM Oct 20, 2017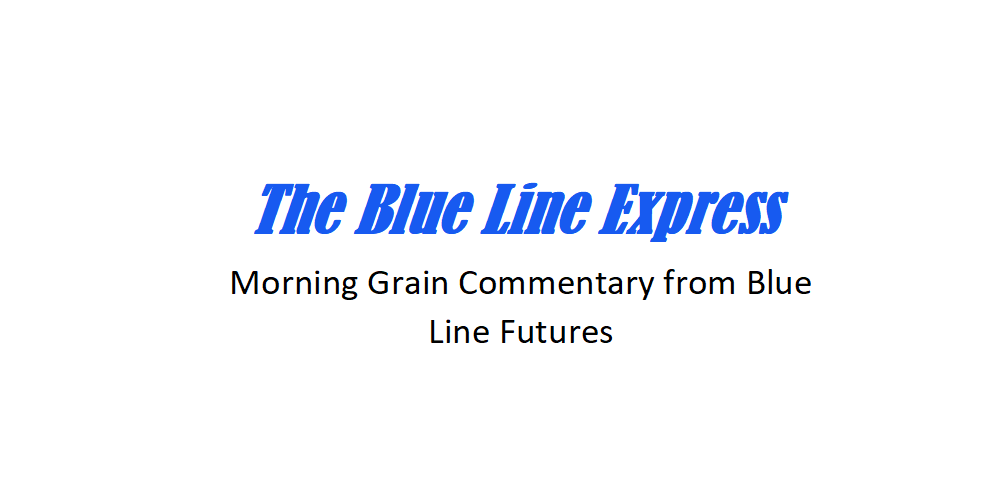 Watch yesterdays "2 Minute Drill" from the floor of the exchange (Grains)
""
Email Oliver@BlueLineFutures.com or AgHedging@BlueLineFutures.com
CORN (December)
Session Close: December futures closed right where they had opened, trading in a 3-cent range.  Funds were estimated to have been buyers of 1,000 contracts on the day. 
Fundamentals: The market found some positive news yesterday in the export sales.  Export sales came in at 1,254,900 metric tons, this was above the top end of expectations at 1,100,000 metric tons.  Although the print was good, it was only good enough to keep sellers at bay, and not good enough to invite new buyers into the market.  Additional supportive news came from Informa Economics, they lowered their 2018 planting forecast from 91.88 million acres to 90.46 million acres.  Harvest activity will continue to be monitored here in the states, weather has been favorable and should be through the weekend which should be reflected in Mondays harvest progress report.  Outside of the US, we are keeping an eye on weather developments in South America as they continue to get the crop in the ground.  Argentinean planting is reportedly 27.7% complete, this compares with the 35% we saw for the same time last year.
Technicals: There is not a whole lot of new news to report on the technical front as the market continues to hover right around 350 in a tight range.  If the bears cannot press the market any lower, it is possible we see funds start to unwind their short position (record short for this time of year).  The bulls will want to see a close above the 50-day moving average which has crept lower to 354 ½.  We have not closed above the 50-day moving average since July.  A close above opens the door to 360 which is a key Fibonacci retracement, although it is "only 5 cents", I'm sure longs would be more than happy with that the way the market has been trading.  On the support side of things, 342 ½-344 ¼ iw the support pocket, a close below could lead to a move down to 335.
Bias: Neutral
Resistance: 354 ½-356 ¼**, 360-362***, 372-375**
Support: 342 ½-344 ¼**, 334-335 ½***
SOYBEANS (November)
Session Close: November soybeans managed to stabilize and close 2 ¾ cents higher yesterday, the market traded in a 6-cent range.  Funds were estimated to have been buyers of 4,500 contracts.
Fundamentals: Soybeans founds some strength despite yesterday's export sales coming in at 1,275,200 metric tons, below the estimated range from 1,300,000-1,700,000 (albeit high expectations).  The USDA also showed a flash sale of 384 metric tons to China for 2017/2018.  Informa Economics released their updated estimates for 2018 plantings, they increased bean acres from 89.05 million acres to 90.347 million acres.  As with corn, harvest will continue to be monitored here in the states as weather has been friendly for producers who may be behind the ball due to less than ideal conditions as of late.  We will get a harvest progress update Monday after the close.  Weather in South America will also be monitored closely as they continue to plant, we hope to have more for you on that front Monday. 
Technicals: Soybeans found some buying interest yesterday on the inability for bears to break down below the previous day's session.  We were really wanting to see the market drift lower towards 975 ½-977 for what we perceive as a great risk/reward scenario.  This support pocket was originally significant resistance last week, the point at which the market broke out and accelerated toward $10.  993 ½ is the line in the sand the bulls want to see a close above, if they can achieve this, we could see the funds extend their long position and press prices towards 1014.  If the market cannot gain grind above resistance, we will be looking for prices to retreat back towards first support.  A break below that support pocket we previously mentioned could open the door to 960 ¾-964 on the back of long liquidation.  This pocket contains the 50-day moving average, 100 day moving average, key Fibonacci retracement, and trendline support from the August lows. 
Bias: Bullish
Resistance: 993 ½**, 999 ½-1003 ¼**, 1014****
Support: 975 ½-977****, 960 ¾-964****, 939 ¾**
WHEAT (December)
Session Close: Wheat futures closed higher by 2 ¾ cents yesterday, trading in a 6 ¾ cent rage.  Funds were estimated to have been buyers of 2,500 contracts. 
Fundamentals: Wheat managed to close higher yesterday, the fourth close in the green in 16 sessions.  The support came from a great export sales number yesterday morning.  Export sales this morning came in at 615,400 metric tons, this versus the estimated range from 250,000-450,000 metric tons. This was 3.5x more than last week's 174,961 metric tons.  Mexico was the top buyer, followed by China.  Although it was a good number, the market needs to see this become a trend on a weekly basis to encourage buying, not just moderate short covering.  Informa Economics released their updated estimates for 2018 wheat plantings, they have all wheat at 45.9 million acres. 
Technicals: Wheat Technicals still favor the bear came and will continue to do so until the market closes above key technical resistance.  First resistance comes in at 442, this represents the 50 day moving average, an obstacle the market has not been able to close above since July.  A close above could encourage additional short covering and help elevate the market back towards the September 27th highs of 462 ¾.  On the bottom side first support remains at 428 ¼, with the significant level being 422 ½ which represents contract lows from August 29th.
Bias: Bearish
Resistance:442-445 ¾***, 462 ¾**, 478-479****
Support: 428 ¼**, 422 ½****, 415 ¼**
Oliver Sloup
Vice President of Blue Line Futures
Email Oliver@BlueLineFutures.com or AgHedging@BlueLineFutures.com
Main: 888-441-8555
Direct: 312-837-3938
Futures trading involves substantial risk of loss and may not be suitable for all investors. Trading advice is based on information taken from trade and statistical services and other sources Blue Line Futures, LLC believes are reliable. We do not guarantee that such information is accurate or complete and it should not be relied upon as such. Trading advice reflects our good faith judgment at a specific time and is subject to change without notice. There is no guarantee that the advice we give will result in profitable trades. All trading decisions will be made by the account holder. Past performance is not necessarily indicative of future results.