Published on:
23:42PM May 08, 2019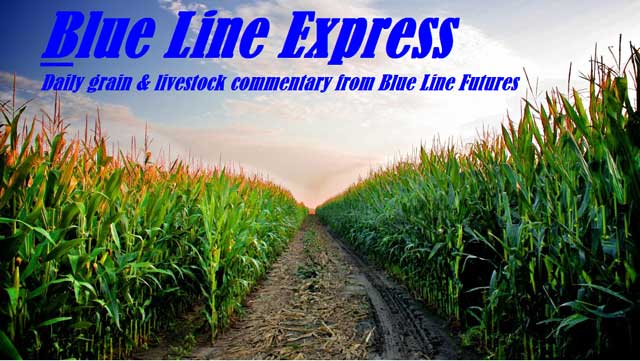 We will be on RFD-TV tomorrow at 12:45cst!
Last Trades
LEM9: -1.15 at 111.125, trading in a range of 1.875
LEQ9: -1.45 at 107.625, trading in a range of 2.325
GFK9: -1.775 at 135.525, trading in a range of 2.725
GFQ9:  -1.85 at 143.75, trading in a range of 3.025
Cattle Commentary:  Max pain has been the name of the game as funds continue to liquidate long positions, catching those looking for relief and reason off-sides (including us).  The bulk of cash sales have been coming in at 122 in the north and 120 in the south, still about 9 above the board.  Our thought that the board would do its part in narrowing the basis has not played out for the speculative traders (obviously).  For those hedged up things look significantly better.  The Beyond Meat stock price has gained as much as 250% since going public 5 (trading) days ago.  Today the stock dropped as much as 10% after the cattle close, I have no idea what the true correlation is because it just IPO'd, but I am sure there are money managers somewhere that have been watching it, if not trading it as a pair.
PM Boxed Beef / Choice / Select
Current Cutout Values: / 223.01 / 207.49
Change from prior day: / (.86) / (4.34)
Choice/Select spread: / 15.52
Tech Talk
Live Cattle (June)
June live cattle broke to their lowest price since August, dragging the RSI to 19, 4 points lower than last April when we saw futures break $15 in a similar time frame.  Last years break lasted 14 sessions and took the front month futures as low as 110.10.  From there the market rallied back to 124.725.   Today marked day 13 for this year and we got as low as 110.925.  I'm not suggesting the market is going to rally significantly, just pointing out similarities and the reiterating the fact that things always looked darkest before the dawn.  As far as technical levels go, the chart is a technical graveyard which throws a lot of them out the window until things have a chance to re-calibrate (similar to hog futures not too long ago).
Resistance: 112.65***, 114.65-114.95****
Support: 108.90-109.00**
Feeder Cattle (August)
Feeder cattle continued to work lower today after failing to feed of off yesterday's "strength".  The chart continues to look like a decaying skunk on the side of the road, being extremely oversold is about the only silver lining there is for the bull camp, the RSI is at 23.71.  Finding technical support becomes a fool's errand in uncharted territory.  In order for the market to find its footing, the bulls need to achieve consecutive closes above 146.45-147.80, this is a much wider range than we typically use, but there are several significant indicators sandwiched close together within that pocket. 
Resistance: 146.45-147.80***, 151.80-152.30***
Support: 142.25****
Lean Hogs (June)
Lean hogs staged an inside day, trading within the previous day's range.  All eyes will be on export sales tomorrow and trade negotiations after that.  We have not seen China step in on weekly exports in several weeks, the bull camp needs that trend to change.  We still like the potential upside over the long term, if you feel the same way you may want to look to further out contracts.
Resistance: 91.25-91.55***, 93.125-94.00***
Support: 87.025-87.70**, 85.325-86.25****
Sign up for a FREE trial of 1 or all 4 of our daily commodity reports!
-Grains
-Livestock
-Currencies
-S&P, Oil, Gold
Futures trading involves substantial risk of loss and may not be suitable for all investors. Trading advice is based on information taken from trade and statistical services and other sources Blue Line Futures, LLC believes are reliable. We do not guarantee that such information is accurate or complete and it should not be relied upon as such. Trading advice reflects our good faith judgment at a specific time and is subject to change without notice. There is no guarantee that the advice we give will result in profitable trades. All trading decisions will be made by the account holder. Past performance is not necessarily indicative of future results.