Published on:
12:13PM May 25, 2019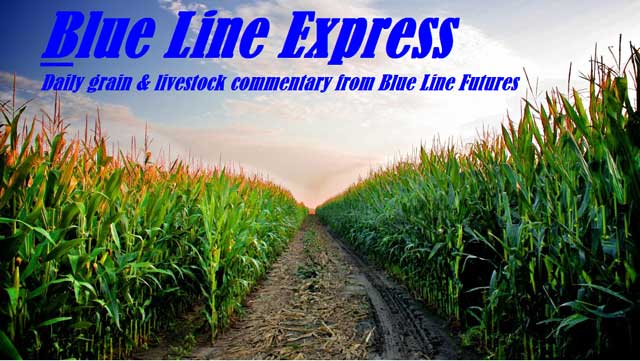 Corn
Quick Take:  Corn futures rallied 22 cents this week, taking futures to prices not seen since August.  Friday's Commitment of Traders report showed funds bought back a record 166,189 through May 21st.  Producers also set a record, selling 159,778 contracts.  Over the past few weeks we have talked about the producer long position being a potential drag on a short covering fund rally, although it may not seem like it, it has.  The rally from this Commitment of Traders report was 25 ½ cents.  The previous record short covering rally in June 2015 (165,128 contracts) was 54 ½ cents for the same time period.
We continue to have a bullish bias as wet weather continues to be problem, leaving a big question market on acres and late planted yields.  Contract highs of 445 are not out of the question in our mind.  With that said, this is a fluid market so don't get married to a target, it's ok to adjust (up or down) as things continue to develop.  Another thing to keep an eye on is the Army Worm situation in China, their Ag ministry has labeled it "severe".
Soybeans
Quick Take:  We have been  less optimistic on soybeans (compared to corn) and continue to be.  Looming trade issues continue have weighed heavy on the market and will likely continue to.  We continue to believe China has leverage/time on their side as we head into the U.S. election cycle.  We would not be surprised to see China drag their feet on concessions until we know who the next president will be.  Friday's Commitment of Traders report showed funds bought back 15,704 contracts, bringing their net short position to 153,131 contracts. 
Wheat
Quick Take:  Short covering was the name of the game this week for grain markets, wheat being a major beneficiary.  Futures rallied 37 ¼ cents this week, approaching the psychologically significant $5.00 handle.  Friday's Commitment of Traders report showed fund bought back 36,701 contracts, bringing their net short position to 41,760.  Though we are not as optimistic on wheat as we are on corn, the money flow and momentum has been undeniable.  Wheat and corn work best when the work together and that's what we've seen over the last two weeks. 
Cattle
Quick Take:  live cattle futures were relatively mute on Thursday and Friday as market participants sat on  their hands in anticipation of Friday afternoon's Cattle on Feed report, that came out as follows: On Feed: 102.2% (est 102.9), Placements 108.7 (est 113.0), Marketing's 106.90 (est 106.6).  All in all this was on the friendly side, hopefully we can see the market reflect that same sentiment come Tuesday morning.  Cash trade seems to be on the verge of stabilizing, this could offer support to the board.  We remain optimistic on prices but are less than impressed on the lack of a "snap back" relief rally, after such a big sell-off.  This could lead to a more defined range bound trade in the near term.  On the feeder cattle side of things, we are neutral.  Not the best place to sell and not constructive enough to buy.
Lean Hogs
Quick Take: Lean hogs had a great export sales number on Thursday morning, with China stepping back in as a big buyer.  This was not enough to support prices in the back half of the week, contrary to what we were expecting.   We think there is longer term opportunity in hogs but understand that it will continue to be a choppy trade.  Using options alone and/or in combination with futures is a great way to have staying  power in a volatile market. 
Sign up for a FREE trial of 1 or all 4 of our daily commodity reports!
-Grains
-Livestock
-Currencies
-S&P, Oil, Gold
Futures trading involves substantial risk of loss and may not be suitable for all investors. Trading advice is based on information taken from trade and statistical services and other sources Blue Line Futures, LLC believes are reliable. We do not guarantee that such information is accurate or complete and it should not be relied upon as such. Trading advice reflects our good faith judgment at a specific time and is subject to change without notice. There is no guarantee that the advice we give will result in profitable trades. All trading decisions will be made by the account holder. Past performance is not necessarily indicative of future results.