Published on:
21:27PM Apr 14, 2019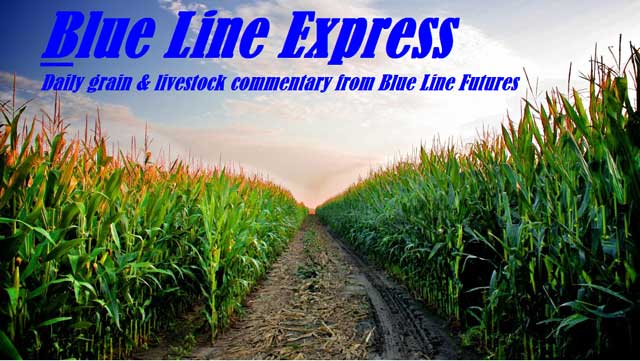 Corn
Quick Take:  Corn futures have been consolidating for the better part of the last two-weeks, going back to the meltdown we get from the March 29th USDA report.  We all know that funds have a large net short position, in-fact a record short position according to Friday's Commitment of Traders report.  What is going under looked is the producers net long position, the first on record.  This indicates that when funds want to exit, there will be producers there waiting to sell, which could limit the velocity of a short covering rally.  Early calls for this evening's open are steady to 1 cent higher, thanks to some ongoing weather concerns in areas of the Midwest.
Soybeans
Quick Take: Soybeans have been trending lower for the last two and a half months as market participants grow tired of the constant "over promise, under deliver" trade headlines.  With that said, without a lingering hope of a deal, we could see prices much lower than where they currently are.  We have had a neutral bias for the last week as prices linger near the psychologically significant $9.00 handle.  10-15 cents higher or lower from there, and we may be an interested seller/buyer, respectively.  Early calls for tonight's open  are for soybeans to be 1-2 cents higher.
Wheat
Quick Take:  Wheat futures  have been trading sideways since the middle of March, establishing a 25(ish) cent trading range.  The market tested technical support last week which held, putting the bulls in  a good spot to look for a retest to the top end of the range near 475.  A breakout or breakdown above or below these levels will likely change the intermediate term trend.  Opening calls are steady to 2 cents higher.
Live Cattle
Quick Take:  Live cattle futures had a wicked reversal on Thursday which led us to believe we could see a softer trade in Friday's session, that was obviously not the case.  Winter weather and a cash premium in the north helped support prices to round out the week.  Once we chew through the weather an understand the full affects, we wouldn't be surprised to see prices come back off of technical resistance.  A conviction close out above 122.25 leaves the door open for a move towards 123.525.
Feeder Cattle
Quick Take: Feeder cattle futures presented a lot of opportunity for both the bull and bear camp last week, trading within 3.00 range.  We don't mind being short feeder cattle but continue to believe the deferreds may be the best bet.  If we do see a short covering rally in the grain markets, it is possible that that becomes a headwind for the bulls' case. 
Lean Hogs
Quick Take:  Though we don't think the top is in  the market, we don't recommend buying right here right now, unless you're prepared to take the market 10.00 against you.  If you want to buy options to have exposure with limited risk, know that you are paying a lot more in premium.  With that said, if you are trying to trade it you should reduce your position sizing, otherwise you will surely get whipped around in this environment.  As we have said multiple times over the past few weeks, we believe there are better risk/reward scenarios in other markets. 
Sign up for a FREE trial of 1 or all 4 of our daily commodity reports!
-Grains
-Livestock
-Currencies
-S&P, Oil, Gold
Futures trading involves substantial risk of loss and may not be suitable for all investors. Trading advice is based on information taken from trade and statistical services and other sources Blue Line Futures, LLC believes are reliable. We do not guarantee that such information is accurate or complete and it should not be relied upon as such. Trading advice reflects our good faith judgment at a specific time and is subject to change without notice. There is no guarantee that the advice we give will result in profitable trades. All trading decisions will be made by the account holder. Past performance is not necessarily indicative of future results.