Published on:
13:10PM Nov 18, 2017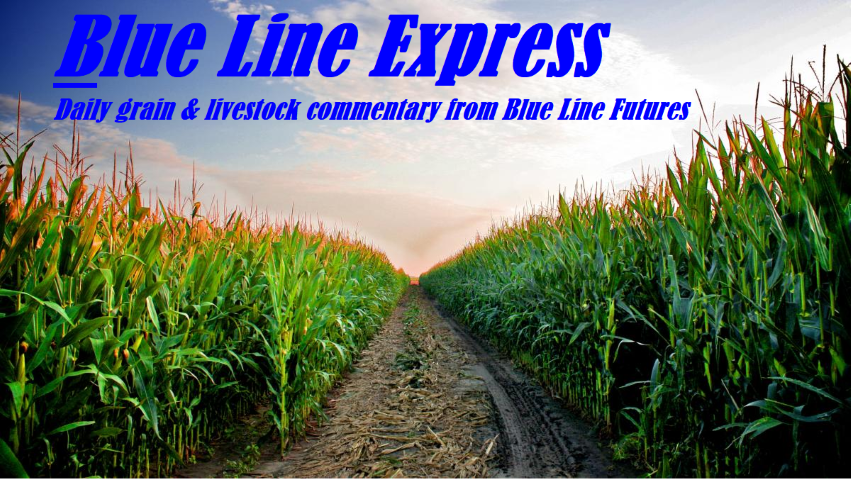 ""
If you are interested in receiving our daily updates or working with us, please email Oliver@BlueLineFutures.com.
You can also reach us at 312-278-0500
December corn futures staged a surprise rally on Friday on no significant new news on the wire.  We wrote in Fridays pre-open report that we were changing our bearish bias to bullish for the first time in several months, here is the link to the article: Opportunity in corn.  The reason for our sentiment shift has nothing to do with fundamentals and everything to do with December option expiration next week, something we also discussed on RFD-TV and Market Rally Radio on Thursday (see video above).  Midweek there were roughly 90,000 puts in the money from 350-340 with a good amount of open interest in the 350 calls.  Knowing that 75-80% of options expire worthless make strikes with a large open interest a magnet into expiration, this is a very simplified explanation but gets the point across.  With Thanksgiving next week, it will likely be a little quieter trade which also means it will lake less volume to move the market.  We would not be surprised to see the market continue Fridays rally into next week.  For clients who re-owned some bushels or got long this week, we will be looking to square up before the end of next week.  That's not to say the market couldn't extend higher, it's taking what the market gives you, which hasn't been much over the past few months.  Sure, the funds have a record net short position and there could be a short covering rally higher, we would want to wait for confirmation before stretching too far for a silver lining.  I will be in the office this morning and will have more out on soybeans, wheat and livestock so be sure to check out the research section of our site for updates this weekend: BlueLineFutures.com
If you have any questions with regards to markets, trading, or opening an account please let me know!
email Oliver@BlueLineFutures.com
You can also reach us at 312-278-0500
Follow us on Twitter:@BlueLineFutures
Follow us on Facebook:Blue Line Futures Facebook page
Subscribe to our YouTube channel:Blue Line Futures YouTube channel
Futures trading involves substantial risk of loss and may not be suitable for all investors. Trading advice is based on information taken from trade and statistical services and other sources Blue Line Futures, LLC believes are reliable. We do not guarantee that such information is accurate or complete and it should not be relied upon as such. Trading advice reflects our good faith judgment at a specific time and is subject to change without notice. There is no guarantee that the advice we give will result in profitable trades. All trading decisions will be made by the account holder. Past performance is not necessarily indicative of future results.