Published on:
09:28AM Nov 06, 2019
Do you remember the old Irving Berlin song, Blue Skies?  The opening lines are; "Blue skies smiling at me, Nothing but blue skies, do I see."  While our current weather outlook may not be quite that cheerful, it does appear to be the best we have seen for the Midwest since harvest began, and should allow for decent progress to be made this coming week.  In response, beans and corn markets have been struggling a bit, and for the latter, we closed yesterday at the lowest point in a month.  Realistically, this appears to have done little more than press corn into value and end-user buying, but with the lack of something new, neither have we given the speculative bear a compelling reason to come away from the short end of the market.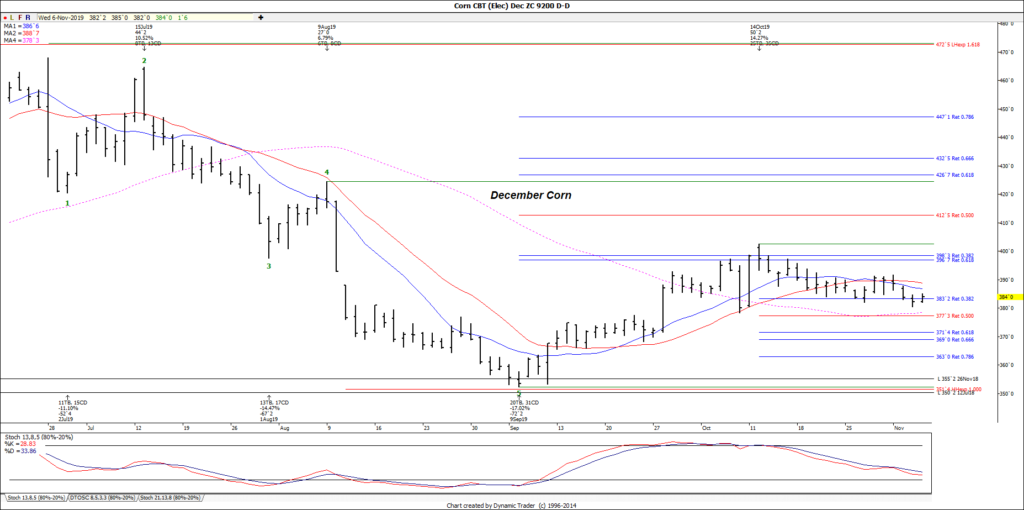 Still nothing decided on the when and where for a "Phase One" signature party with the U.S. and China.  The White House is pushing for a meeting on U.S. soil. Still, according to sources who have been briefed, in turn, China is pushing for a rollback on the 15% tariff that went into effect September 1st on clothing, appliances, and flatscreen monitors.  It will be interesting to see who bends first. In the meantime, China continues to strengthen alliances with other countries and trading blocs.  They and the European Union have now come to a trade agreement that regional food designations in both countries. In addition to this, as they search the globe for available animal protein, they have now signed an agreement with 20 French poultry firms to begin exporting their products to them.  And finally, China and Canada must be patching things up as they will resume imports of Canadian beef and pork, now that they meet "Chinese standards."  If you recall, Canadian products failed to meet standards almost immediately after the chief financial officer of Huawei Technologies was arrested in Vancouver last December.  Coincidence, I am sure.
FC Stone has released a poll they had conducted in Australia, querying an unspecified number of clients about their wheat production this year.  The result was a crop estimate of just 15.545 MMT, which would be 19.1% lower than the most recent government estimate.
That pretty much leaves the Friday reports as the only other item on the agenda, and once again, here are trade estimates; Corn production is estimated to come through at 13.623 billion bushels coming from 81.39 million harvested acres and a yield of 167.4 bpa. This compares with 13.779, 81.815, and 168.4 last month.  For beans, we find an average trade production estimate of 3.512 billion bushels from harvested acreage of 75.36 million and a yield of 46.6 bpa. 2019/20 corn ending stocks are estimated to come in at 1.808 billion, compared with 1.929 last month, beans at 430 million versus 460 in October, and wheat at 1.032 billion instead of 1.043.