Published on:
13:50PM Aug 24, 2015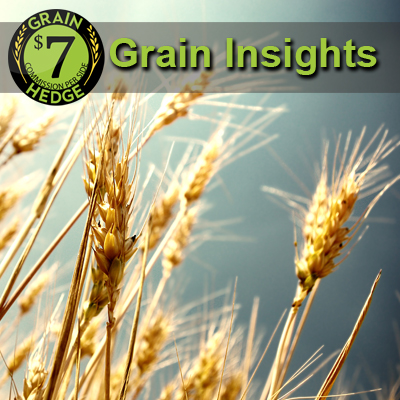 In the overnight session, the grains are trading sharply lower with corn down 10 cents, soybeans down 31 1/4 cents and wheat down 8 1/2 cents today. The U.S. dollar index is trading down 1.26 percent and crude oil is trading down $1.57 at $38.875 per barrel. This morning a global sell-off is pressuring the grains lower with the Shanghai index closing down 8.49 percent, Japan's Nikkei 225 down 4.61 percent, the German DAX down 3.73 percent. Corn, Soybeans and Wheat are not immune to this sort of macro selling and have moved sharply lower this morning. This morning a reportable export sale of 120,000 metric tons of new crop soybeans did little to slow the slide in prices.
On Friday, Pro Farmer announced its national corn and soybean forecasts after touring the U.S. from Ohio to South Dakota last week. Pro Farmer sees 2015 corn yield at 164.3 bushels per acre compared to the current USDA's August forecast of 168.8 bushels per acre. Pro Farmer's soybean forecast was lower than the USDA by .4 bushels per acre at 46.5 bushels per acre. Pro Farmer pegged 2015 corn production 363 bushels below the current USDA projection at 13.323 billion bushels. Soybean production is estimated at 3.887 billion bushels.
The EU crop monitor cut its forecast for corn yield to 6.4 tons per hectare, down 4.6 percent from last month's forecast. The EU crop monitor kept its yield forecast for soft wheat mostly unchanged at 5.81 tons per hectare.