Published on:
13:33PM Apr 23, 2015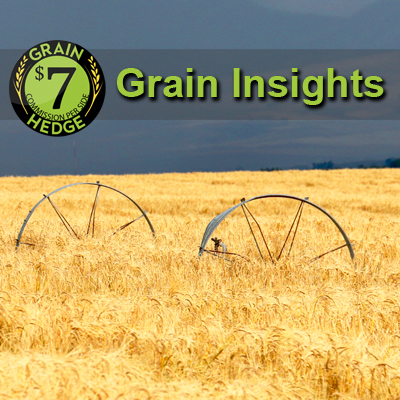 In the overnight session corn, soybeans and wheat are trading higher with corn up 1 cent, soybeans up 4 3/4 cents and wheat up 3 1/2 cents. The dollar is trading down nearly 1/4 of a percent and crude oil is up 56 cents a barrel.  
Export sales were very positive today for the grains with corn, soybeans and wheat either beating analyst expectations or reporting weekly sales on the high side of expectations. Corn reported 867,000 metric tons of sales, an increase of 48 percent from the previous week and well above the 400,000-600,000 metric tons expected by analysts. Corn is still well ahead of the pace needed to meet USDA expectations. Soybeans booked 102,100 metric tons of export sales which was a decline of 67 percent from last week. With the market expecting cancellations however, positive soybean sales are bullish news. Continued export sales show that despite the record harvest in Brazil, demand for U.S. soybeans remains strong. Wheat sales showed some strength this week booking 397,500 metric tons of sales, above the 0-100,000 metric tons expected by the market and well over the 47,000 reported last week.
The Ethanol production reported showed an increase in production last week by 6,000 barrels per day bringing the total to 930,000 barrels per day. This was the first increase reported in three weeks, but despite the trend lower in weekly production since the beginning of the year we are still 5.3 percent ahead of last year's production levels. Ethanol stocks increased week over week by 697,000 barrels per day to 21.34 million barrels per day.   
The International Grains Council raised its forecast for global corn supply by 10 million metric tons to 951 million metric tons this morning. The council also cut wheat production for the 15/16 crop by 4 million metric ton to 705 million metric tons, citing a decline in crop predictions across Argentina, China and India. The international grains council's global wheat forecast is a substantial decline from last year's 721 million metric tons.