Published on:
14:31PM May 22, 2019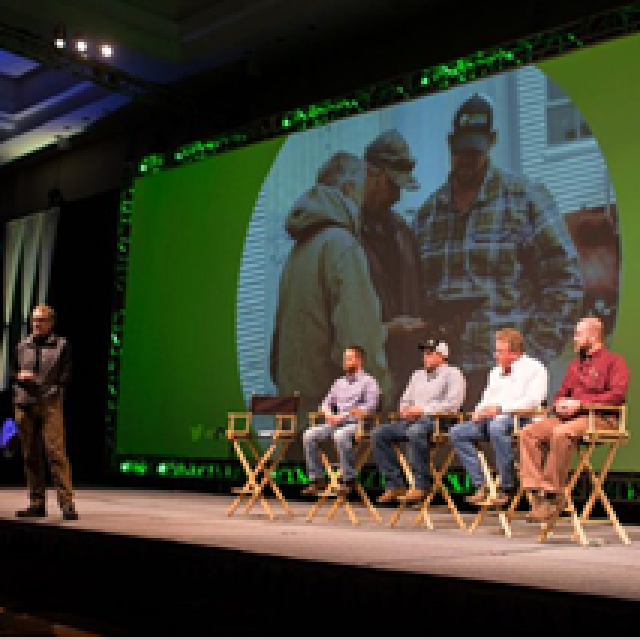 Export Sales Announcement
Private exporters reported to the U.S. Department of Agriculture export sales of 131,000 metric tons of soybeans for delivery to unknown destinations. Of the total, 110,000 metric tons is for delivery during the 2018/2019 marketing year and 21,000 metric tons is for delivery during the 2019/2020 marketing year.
Trump Farmer Aid Package Favors More U.S. Soybean Acres?
The Trump administration is considering direct payments to U.S. farmers of $2 per bushel for soybeans as part of an aid package to offset the trade war with China, Bloomberg reported on Tuesday, an offer that could encourage more soy planting despite record supplies.

The soy payments would be far more than the 63 cents per bushel that is under consideration for wheat and 4 cents per bushel for corn, as part of the up to $20 billion in aid meant to offset U.S. farmers' losses from the trade war.

The USDA has urged farmers to make planting and production decisions based on market signals rather than some expectation of what a farming support program might or might not look like based on inaccurate media stories.

Agriculture Secretary Sonny Perdue last week said the new aid package was likely to be $15 billion to $20 billion, exceeding the up to $12 billion in aid rolled out last year to farmers. Most of it is likely to be direct payments.

What It Means For The US Farmer:

 FBN = farmers business network.  At FBN we understand farm economics and we understand how the trade war between the U.S. and China has stressed farm level balance sheets across the United States.   Building on the "N" in FBN, please let us know if the Trump Administration's aid package is altering your planting intentions. The more information we have the better we can help you, the FBN members, formulate a cohesive marketing and hedge strategy.  Please contact your FBN farm market advisor with any information you have about planted acres.
India Plants More Soy Acres For 2019/20 Crop Year
India is on pace to increase planted soybean acres during the 2019 crop year as higher prices for the oilseed push some farmers to switch from cultivating competing commodities such as cotton and pulses.

During the 2018 crop year, soybeans acres were planted on 10.8 million hectares, 6.7% YoY.  Analysts believe that Indian soybean acres can climb by another 4-6%YoY for the 2019/20 crop year.  

Increased production of soybean could help the world's biggest vegetable oil importer reduce costly purchases from Brazil, Argentina, Indonesia and Malaysia.

It can also mean greater exports of soybean meal to China.  

India signed a bilateral trade agreement with China in late 2018 to help facilitate imports of animal feed proteins.

What It Means For The US Farmer:

Looking at the USDA's global oilseed production and export data, India is classified as a primary exporter of soybean meal.  At FBN we believe that the trade agreement signed between China and India in December of 2018 is a catalyst that is helping India increase their soybean acres. While China is working to diversify their global feed input supply chain we believe that increased Indian soybean acres can lead to increased soybean meal exports to China which can reduce some of the demand for U.S. soybean exports.                       
The risk of trading futures, hedging, and speculating can be substantial. FBN BR LLC (NFA ID: 0508695)