Published on:
08:59AM Jul 30, 2019

While it would truly seem nonsensical at this point, the excuse provided for the lower trade in the corn market overnight was attributed to the improved crop rating in the weekly report.  In case you missed it, corn in the good/excellent category improved 1%, returning the 1% lost the previous week and leaving us stranded at 58%.  Granted, in an average year we would already be seeing rating begin to flatline and even decline are plants move into the maturation phase but when we have just moved beyond the 50% mark for corn silking, 58% compared with 83% average, it would be easy to understand why that is not the case this year.  The fact that bean ratings were unchanged at 54% good/excellent and that market is also under pressure should attest to the fact that sometimes the market just grabs for the most convenient answer as an excuse for why we are higher or lower.  No one likes to hear that we are down because there is more selling than buying.  I should point out as well that winter wheat harvest has reached 75% vs. an average for this date of 86% and spring wheat conditions slipped 3% and now stand at 73% good/excellent.  In reality, though, once we mix the price action together for the week, we are pretty much unchanged.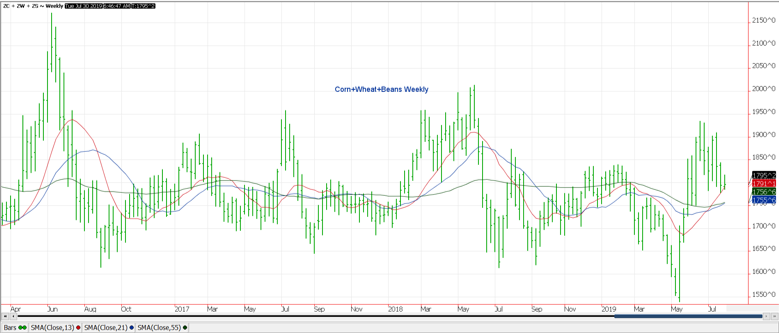 If you recall earlier this year while the Chinese government was still trying to downplay the impact of African Swine Fever, the Dutch bank Rabobank issued a paper suggesting the herd size in China was likely already reduced by 30 to 40%, and it seemed at that point that many in the trade began to recognize the significance of what was happening.  Rabo has now undated their numbers and projects that the actual pork production will be down 25% this year, but this number itself is buoyed by the fact that the widescale liquidation of herds in the first half of the year sent far more pork to the slaughterhouse that would be normal and helped buffer the total supply, which is something we have written about on numerous occasions.  All that said, this is now behind us, and they project that the output of pork in China will contract another 10 to 15% in 2020, reducing the overall herd by 50% and it may take more than five years to bring the numbers back to previous levels. In a nutshell, good news for global pork trade, not so good news for global feedstuff trade. 
I was somewhat amused, or maybe the better word would be bemused this morning as I was listening to news concerning the current investment darling Beyond Meat.  Sales for this company quadrupled from a year ago, and they reported a second-quarter loss of $9.4 million on sales of $67.3 million.  This compares with last year, where the loss amounted to $7.4 million on sales of $17.4 million.  There is no question they are losing less money as a percentage of sales, but as with many startups, it was still a loss.  Of course, the only logical thing to do then is issue more shares, which they announced they would, 3.25 million more shares, in fact, taking their stock price lower overnight.  Regardless, at the current $225 a share, and assuming that these will be gobbled up as the original IPO was, they will generate another $720+ million in capital.  Not bad for a stock whose IPO was expected to come in at $25 a share.  When I said I was somewhat amused with all of this comes not only from the fact that this has been one of the "hot" issues this year, but also because the growth in demand for this company has been driven by sales of their so-called burger and appears to be popular with those who claim to be "health" conscious. You do have to wonder if they have really looked at the label. Yes, the main ingredient is Pea Protein Isolate, but you also have lots of other interesting sounding products such as Gum Arabic, Cellulose from Bamboo, Annatto extract, and Methylcellulose.  "Mmmm, mmm, Honey, I am going to fire up the grill because I have a real craving for some tasty Methylcellulose."  There is no denying that the alternative meat market is a growth industry and ultimately could become a significant source of protein in the of many people around the globe but calling it a product for the health-conscious?  That is just marketing.  I believe I will be keeping the original and real natural and healthy meats from cattle, pork, and chickens in my diet.