Published on:
16:44PM Apr 17, 2018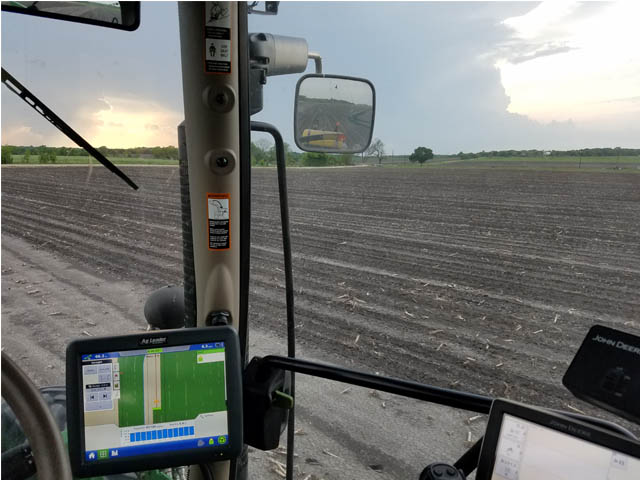 Use this link to send us your comments (or e-mail CropComments@agweb.com) about the crops in your local area. Be sure to send us your photos and videos! Comments will be edited for brevity and clarity. (Please keep your comments crop-related.)

Here's a sampling of what some folks are saying:
4/30/2018 Nobles County, MN: 

Crops? Nonexistent yet here in SW Minnesota. Still too wet. Still have snow in groves melting down. Just a few guys just starting to scratch around but rain in the forecast tonight and tommorrow. If we don't get a slough filler tonight maybe by this weekend we can mud in some corn.



4/30/2018 Carroll County, MO: 

Finished planting corn Saturday the 28th. Bone dry and very cool, ponds very low also. Warmer weather has arrived now and very windy. Calling for rain Tuesday eve through Thursday eve. Hope and pray we get some needed moisture if not we are in trouble. Every year brings a new set of problems. Good Luck To All.



4/29/2018 Dickey County, ND: 

Full fieldwork to begin this week. Some small grains seeded. Cooler than average temps. Very windy.




4/29/2018 Craighead County, AR: 

Corn planting pretty well done here and beans mostly done. From looking at the flags around, I'd say 75% of the corn is conventional. A few people, including myself, are planting cotton today. First day of cotton planting here.



4/27/2018 Chippewa County, WI: 

Wet and cold yet. Manure pits getting full on dairy farms. Might start next week in fields but calling for rain and storms next week. Might start to plant by May 10. Good luck all.



4/26/2018 Mcleod County, MN: 

Not much happening here. Hopefully around May 5th. Some tile lines are open some still froze. I agree with Minnehaha Co, SD If $7 corn is so bad then we should be asking who made it go there and why did it? Farmers should be the richest people in the world, we only provide the most important thing there is. Food.



4/26/2018 Freeborn County, MN: 

Just waiting for tile to their job. Good 10 to 14 days out. already have drop down in maturity. Grew up in the mess of the 80's and said to say looks like a repeat.



4/25/2018 Lancaster County, NE: 

Rain last night and this morning (Wednesday) has halted corn planting. Planters ran hard Monday and Tuesday, idea planting conditions with good moisture underneath and dry on surface, ground temp at 51 degrees. Lots of chemicals and liquid fertilizer yet to go on, co-op and farmers running at a frantic pace but calm winds have helped. Cover crops (cereal rye) being terminated at only 2-4 inches........don't see the benefit in that! When weather clear will finish corn and move straight to beans



4/25/2018 Dawson County, NE: 

Soil temp was 45 yesterday, but cold rain all day and this morning 38 at 2.5 inches in strip till ground. We have no corn planted here yet ,which is late but not that late. Good forecast coming up so may still get most corn in by May 5-8 if weather cooperates. One nice thing is no real need for burn down herbicides ,so cold weeds have not come yet. Drills will start on beans same day as corn planters roll.



4/25/2018 Minnehaha County, SD: 

No field work here yet, probably mid to late next week, as I said earlier May 10th to start planting! It always bothers me when people talk about $7 corn being the worst thing that ever happened! Proves my point 'farmers are stupid' sorry but it's how I feel! Why are higher prices bad? If I had a $30K job in town and it went to $60K and for no reason it went back to $30k, $60k is the worst thing that happened!!!! Stupid!!! But listen to the people that want and take every bushel or pound we can produce and by the way can ya try to raise more so middleman and processors and brokers can make more! Need I say more! Good luck and safe planting!



4/24/2018 Barton County, KS: 

Northwest Barton Co. Ks have had .75 of moisture since Oct. wheat in poor shape . Had had .85 Saturday wheat perked up some but even if we get ideal conditions now until harvest yields will be low . Wheat is just now the size it should have been in November



4/24/2018 Murray County, MN: 

A lot of geese have stopped in southern Minnesota I think they think they have made to the artic circle



4/23/2018 Nobles County, MN: 

The top yield has been lost in all of Minnesota...planting delays will set most of the state back to very little field work until May. Yea we can still grow a good crop but spectacular is no longer going to happen without April corn planting....my estimate is nothing will be planted around here until May 5th and that will still be questionable as to whether or not the frost is out of the ground. North Dakota, South Dakota, Wisconsin and the northern parts of Iowa and Nebraska are all going to be in similar situations as well.



4/23/2018 Cochise County, AZ: 

Most of the cotton is planted in our valley and corn planting is next. Warm during the day and still some mornings close to freezing but this week is warmer.



4/22/2018 Buffalo County, NE: 

Well as of this am we got another 1.10 of rain. No planting here. Lots of fertilizer to put on but waiting for fields to dry out from last weekends Blizzard.Never got to where we could put on dry. One year ago on the 24th of april we were done planting corn. Pretty easy to figure on 20 bshels less by the time we finally get rolling in May. If the weather improves and we get in more rain forecast for this week. Traders won't give in to higher prices but everybody here knows its coming. Feel sorry for friends in Minn& Wisc Lord knows they have had to much snow.



4/22/2018 Vanderburgh County, IN: 

Corn planting is underway in southwest Indiana! Lots of planters rolling the past 3 days after a cold, wet spring, but the ground is working very after narrow of anhydrous put on in March. Finally drying & warming. Good luck to all this spring.



4/21/2018 Polk County, IA: 

As of April 21, here in Central Iowa we have missed most of the snow the rest of the state incurred over the past month - but we still have snow in the ditches and north facing timber. Over the past 5 years, we would have already completed all of our corn planting, not so this year. Maybe by Mid May if we don't get our much needed spring rains. Yes, we need rain. Tiles are barely running and any moisture we get is doing very little to raise pond levels.



4/20/2018 Preble County, OH: 

We have been getting soaked, but it's snowing again today. A busy May coming up.



4/20/2018 Door County, WI: 

30 " of snow last weekend its amazing how hardly any crops planted but yet the people in charge are predicting trend line yields market prices a year ahead now I was watching an ag program the were talking about producers receive about .05 cents out of a restaurant meal that's shameful have a safe planting season.




4/20/2018 Murray County, MN: 

Murray Co, MN: Laughed and laughed when I read the Kern County California post. Please tell us more about the "fruits and nuts" out there! Fields are white here and the yard is sloppy with some equipment under the snow drifts. It is going to take a lot of warm temps to get the frost out. Lots of seed corn will be switched to earlier maturity. KW
4/19/2018 Jackson County, IA: 

Swinter in eastern Iowa





4/19/2018 Sauk County, WI: 

Another major snow storm rolled in yesterday. I did not measure it but looks like close to a foot. This week I would bet we have received more snow than we have the rest of the winter season. Hopefully it turns around soon



4/18/2018 Mille Lacs County, MN: 

Fake crop reports start with the power of the crop buyers, and their corrupt hold on government. It is all about the money, and the 'Big Four" Ag Companies have never done better financially. Companies like ADM are in partnership with supposed farmers via farm coops. These supposed farmer owned coops are nothing but fronts for companies like ADM to manipulate the market, and in the end, pay the lowest price to farmers possible, far below the main terminal prices. Washington D.C. is convoluted into huge corporations, so you cant tell where one ends and the next begins. It isn't hard to predict he "Price Fixing Four" are not under government regulation for anti-trust violations. The government here must be added to the "Big Four" Ag Companies to make them "The Big Five". If you have any doubt, just check the new tax incentive farm bill, a tricky work of manipulation to secure the lowest price to the farmer hurting the most. The benefit by more farmer losses?



4/18/2018 Jackson County, IA: 

Fieldwork update: this 1 won't take long. Not much activity to report...... the end.



4/18/2018 Howard County, IN: 

After a cold start to the spring in Kokomo, IN, the weather finally broke and we had a string of 60-70 degree days in Howard County. With soil temperatures rising and conditions improving, we were able to plant 4 acres of sweet corn on Thursday, April 12th. However, a cold front has came through and possible snow is in the forecast. Did I make the right choice? Check back with me around July!




 
 

4/18/2018 Sauk County, WI: 

Wow what an April so far. Cold Wet . Major winter storm over the weekend. Sleet, ice, snow, high winds. Mud under the snow makes doing anything fun. Hopefully it warms up soon and the sun comes out.



4/18/2018 Dakota County, MN: 

We have been getting soaked, but it's snowing again today. A busy May coming up.



4/18/2018 Kern County, CA: 

Another blessed storm coming through the fabulous Great Central Valley with the promise of keeping a steady but perfect amount of moisture around the state of California keep it coming.



4/18/2018 Kern County, CA: 

With a steady not as strong as last year but finishing stronger than we could of been had late February trough now had not come the Great Central Valley is thrilled with these storms here is a view from North Fresno County all the fruits and nuts love the moisture.



4/18/2018 Barton County, MO: 

One of the easiest corn planting seasons we ever had. 90 percent will be planted by Friday. It's been cold. Some corn planted in snow flurries Sunday morning. Hope it all comes up.



4/18/2018 Marinette County, WI: 

Testing the new boss V plow row cleaner all the neighbors are talking about.




4/18/2018 Mercer County, OH: 

A neighbor here planted 8 acres Friday afternoon. As a test! Said soil temp was 52. Started raining by Saturday morning. Ending with a total of 1.2" by Tuesday. Several snow showers since then. More of the same by morning.



4/18/2018 Mclennan County, TX: 

Here in Central Texas grains and forage are king but with the dry line moving from the 100 meridian to 150 miles east to the 98th meridian means a whole lot of trouble for farmers, ranchers and the agriculture industry. Imagine west Texas and the permian Basin becoming the Tuscon of Texas and water rights are gonna be the OK Corral betwen municipalities and agriculture. Its already happening in Eastern NM where alfalfa use to grow dust fields and dirt devils dance. But city folks have water to drink and water rights are being bought out by cities. Brine water for oil fields is worth many times more than oil! Now imagine this scene from Abilene to Dallas and up and down the I-35 corridor from Mexico to Canada. This summer here in Texas its gonna be HOT! Mexico has already declared a 7 year drought is expected. So rain water harvesting will be a wise investment and watch for pretty cowgirls taking a dip in the stock tank. Every cloud has a silver lining I guess.

4/17/2018 Marathon County, WI: 

20-30 inches of snow came this past weekend April 14-15th. Expecting 3-6 inches more on Wednesday. Nothing going on here and wont be for at least 2 weeks. Morale is not very high with the crop and dairy farmers. Looking for an early spring.....maybe next year!



4/17/2018 Knox County, IL: 

Let me be the first to suggest that from this date forward, ANY forecast of record crop production should be immediately ridiculed as fake news...



4/17/2018 Nobles County, MN: 

Just had a good Nor-easter,only 6" snow here but 10-12" just so. of us in Dickinson/Clay Co. Ia.,will leave fast,much ado over nothing,we can plant corn into early May ,soy mid June and still get great crop with a bit of help from Mother Nature,anyone that needs to be planting in this region mid April maybe needs to just scale back a bit,as far as China getting bargain on soy,the pros say low prices cure low prices,USA surplus needs to be lowered,only hope of a profit in the future,unfortunately not everyone can prosper,some will fail,could have something to do with the picking of an apple so long ago,not 100% sure??



4/16/2018 Sangamon County, IL: 

9 am Monday 4/16/2018 28 degrees and no corn planted. It looks like it could be another week before field work will happen. May corn planting very likely, hopefully done by June.



4/16/2018 Trumbull County, OH: 

Some wheat fields finally were dry enough to put N on last Saturday. Got another 1.5-2" of rain Sunday and very cold. Snow tonight.



4/16/2018 Oconto County, WI: 

Update on snowfall total: We now have had about 30 inches of snow since Friday night. Gives me a whole new appreciation for what people in Erie PA and Buffalo NY go through. Good thing its April and not December!



4/16/2018 Saint Croix County, WI: 

17 inches of snow frost still in the ground it's going to be a late one this year! Can't even pull anything out of the shed!



4/16/2018 Minnehaha County, SD: 

Expect planting to start May 10th, hope the frost is all out by then! Fighting some sickness in the older calves but what do we expect with this weather. We will get through it just not much fun. Just want to say to Oconto Co. Wi look up surplus in th dictionary, it means 'what's not needed' if 'THEY' don't need what we raise why do they want us to keep increasing yields? Just food fo thought, not trying to piss anyone off, I think we all have enough to stress us! Good luck!



4/15/2018 Minnehaha County, SD: 

No crops to talk about here! Haha Another foot plus snow on top of foot of mud! Frost is deep and won't be coming out soon. I think May 10th at the earliest to star field work. Haven't lost any calves yet from the cold,snow and mud but expect to eventually. Would think markets to be significantly higher this next week with cold delayed wet no planting but probably not, if planting was going strong and ahead of normal I'm sure they'd be going down, probably will anyway! Oh well usda will come out with another report to tell us what we're doing wrong! Ok good luck!



4/15/2018 Buffalo County, NE: 

6 Inches of snow and 50 mph winds the blizzard put a hurt on everything from Electric lines to all the livestock . Lost 4 calves from the snowdrifts by the shelter belts Lost power for 11 hours but just thankful were all alive Been a long time since we've seen one with that strong of winds especially in April. As for planting the planters in the shed along with all the seed. No one here has turned a wheel with planters and after this storm and another one later in the week Will easily be May so I guess we will join all the other states that can't go cause of winter .




 
 
 

4/14/2018 Buffalo County, NE: 

Currently experiencing a major blizzard. Have white out conditions-visibility probably no more than 50 yards at times. It is just after 7 am as I type this, and we have been out of power for a few hours. I'm glad that I don't have to be out trying to fix that when the winds are gusting over 40 mph. Just started calving, so there will be death loss. It's just a matter of how much. The weather is supposed to clear tomorrow, however the wind is still going to blow, so calving conditions will still be difficult. Farming/ranching are high risk, low reward much of the time. Good luck to all.



4/14/2018 Oconto County, WI: 

Crops? What crops? We have about a foot of snow this morning. That's on top of what we've had, about 8 inches in the last two weeks, which had melted off. That makes it a mushy mess to plow off of. The weather folks are saying we will have another foot or so tonight. I think it will be a really late plant here this year. I wanna farm on LaSalle Street in Chicago, where the temp is always 75, the sun always shines, they get an inch of rain a week and the crops are always bountiful! Good thing there is a surplus!



4/14/2018 Stephenson County, IL: 

Temperatures in the 30's this weekend with possible snow and or heavy rain with high winds. Most likely no planting for 2 weeks. Ground still cold.



4/14/2018 Logan County, ND: 

Low last night into teens with 20-25mph wind not to nice out their. Missed out on all the moisture the last couple days but cold temps and wind testing everyone who is trying to calve. Plenty of snow cover out there ditches full and shelter belts. Ice on lakes still 24" plus. Tillage equipment parked outside covered with snow. Weatherman talking upper 30s to low 40s the coming week. Expected to be in field hopefully by May 15th if Mother Nature works in our favor and that might be pushing it. You would have asked me back in late January and early February would have said we'll be in fields by now, how things change. Everything will be a rush now putting stress on everyone. Only good that might come is possibly a bump in markets do to later planting.



4/14/2018 Lancaster County, NE: 

Lows this weekend 20-23. Most of the NH3 has been put on in this area and some pre-emerge chemicals soil temp was 35 on Monday the 9th had 4 nice warm days then this winter blast. Feel sorry for my friends that are calving in western NE, say it might be the worst blizzard they have seen. Ready to roll with planter when conditions are right. Nebraska Unicameral didn't do anything for our property taxes now it is up to the voters and a fall referendum on the ballot. China, NAFTA, TPP interesting times we are in but then the life of a farmer or rancher is never dull!!!!



4/13/2018 Dawson County, NE: 

Frost is out, lots of strip til being done , but cold and calling for 5-10" of snow tonight with up to 60 mile winds. Feel sorry for everyone that is calving right now, tough next couple days, calling for 12-16 " in heart of cow country . No planting expected until the 23rd around here, which is at least a week late for us. Depends on how moisture comes in next couple weeks , if this is a late planting season. Lots of planting power setting in the sheds, we can get 80% planted if there is a weeks window.



4/13/2018 Nez Perce County, ID: 

Fall wheat is dealing with frost and snow after coming out of dormancy. Very little spring wheat seeded, on the Palouse. Standing water everywhere. Over an inch predicted for the weekend. Looking just like last year where the fall wheat did good, but the spring crops were half of normal. Garbanzo seeding should be starting but still have two weeks before spring wheat will even have a chance to get in the ground.



4/13/2018 Dawson County, TX: 

High winds today and dusty. The drought hangs on. We have had 1.3 inches of rain in the last 150 days. Wild fires can start quickly. Hay in short supply. Maybe May will be better. Stay safe.



4/12/2018 Floyd County, IA: 

Been an odd winter. Saw a neighbor picking rocks just after Christmas. Started calving late Feb, went good until the much below normal temps and over abundance of snow season started. On April 4th the temp dipped to 4 degrees. A local tile company started pulling in tile on the 9th. Talk is ground still has a foot of rotten frost. Soft enough that tile can be pulled in but hard enough that moisture can't get through. The 2 inches of rain coming may change that, before more snow Sunday / Monday. After Friday, the next 7 days temps not expected to make 50.



4/12/2018 Craighead County, AR: 

Lots of corn and rice going into the ground this week in Northeast Arkansas. A few early soybeans being planted also but most farmers waiting on warmer weather for beans. No cotton planting yet.



4/11/2018 Lyon County, MN: 

My geothermal furnace through an error code over the weekend for cool water temps (32 degrees). I have glycol in my lines so no worries about freezing, but it's the 2nd weekend in April, and the frost is so deep right now that it is giving my geothermal lines fits that are over 4 feet deep into the ground. Pretty sure that if the sun came out tomorrow and we don't get any snow/rain for 2 weeks, the frost won't be out. Oh, we are supposed to get 10-20" of snow this weekend. Going to be a long, long spring, planting deep into May/early June.



4/11/2018 Marathon County, WI: 

Tried to pull steel fence post out of the ground today. Still froze in solid. One of the first days to reach 40 degrees. Snow on the ground. Do not foresee any planting for at least 2 weeks. Calling for up to 2 feet of snow this weekend if everything happens just right.



4/11/2018 Polk County, MN: 

Just as white now as it was in January. Ditches are still full of snow, the river is still ice covered, tree groves are three to four feet deep snow. Will be nothing in this part of the Red River Valley till May 10 and that's a best case scenario. Maybe the rain tonight will melt it down quicker.



4/9/2018 Yellow Medicine County, MN: 

Did some digging last week. Still two feet of frost in the ground. It's going to be a few days before we start planting. Meeker County hit the nail on the head.



4/9/2018 Blue Earth County, MN: 

Another snow storm had 5 inches. Looks like 1 more week no warm up , we will be lucky to plant corn by first week in may. Only salvation the whole Midwest is in same boat with delayed planting. Last time this cold 1983 planted corn 20th of may poorest crop ever we had 70 bushel corn ill. and so. iowa 50 bushel . Was cold and wet till 4th of july then hot and dry no rain. Better genetics probably be 130 bushel yield not 50 maybe this year our 2.5 billion carryover will drop to one billion . We get poor crop and bigger price profits come back. Every body have a safe planting season.



4/9/2018 Mclennan County, TX: 

Managed to get 115 acres in but rain coming from the west so we shut it down. Soil is just getting warm enough in our area and most fields are still wet.




4/9/2018 Saint Croix County, WI: 

TRUMP!! China has been sticking it to us for years not no more! Imagine a President that has a back bone, first one in decades. Oh and by the way we have 10 inches of snow on the ground more in the forecast and cold! Going to be a late plant this year!



4/9/2018 Buffalo County, NE: 

Snow this morning with windy and chilly conditions all day. Forecast has 3 days of seasonable temps, then back to winter with snow and overnight lows in the teens for the weekend. Just the type of weather I moved my calving date back into the second week of April to avoid! I'm in no hurry to plant either as winter doesn't want to give up yet. Some fertilizer has been applied, but little else is going on as ground temperatures remain in the 30's.



4/9/2018 Norman County, MN: 

It's still winter here. Fields have about eight inches of snow cover. It's going to be a late spring. Had plans of planting some spring wheat this year. Not so much any more. If it gets really late, like late May for planting, will only plant enough corn to cover contracts. The rest will be soybeans.



4/9/2018 Cavalier County, ND: 

snow on the ground plus ground is still frozen solid! Lows in the single digits highs 30s and more snow this week! Next week not much better. last year fertilizer was starting to go. Not gonna happen for a couple weeks around here. Hey at least its not in the 100's like AZ!



4/8/2018 Paulding County, OH: 

Wake up to low to mid 20's still. Weatherman says by next weekend we should see 60's but all rain. I don't think NW Ohio will be planting anytime soon. Getting itchy though. Its almost time to rock n roll!



4/8/2018 Minnehaha County, SD: 

So Pres. Trump is trying to run the Government as a business, protecting jobs and businesses, the markets react negatively and the news media and farm groups are up in arms, but when usda comes out with a report every other week and the markets react negatively nobody says a thing! Makes ya think about things! Isn't the usda and farm organizations supposed to be helping us try to make more money, oh yeah just raise more and take less!!!!!



4/6/2018 Steele County, ND: 

Thanks to this necessary evil called a trade war soybean basis skyrocketed to 1.40 in one day and still increasing. The only factor that lets me sleep at night is the frozen conditions outside. Maybe and I'm starting to hope we just don't get seeded. The way prices look and the oversupply it may be what we need to get back into check. April 5th 8am and it's -2 out with a Day day forecast only reaching a high of 34 at the end of the 10 day.



4/6/2018 Nobles County, MN: 

Here in SW Minnesota we have a zero chance of planting corn in good conditions in April. Still 4-5 feet of snow in groves. 2-3 feet of frost under bare ground. Today's temp "high" of 17. Windchill below zero. On Sunday we are forecast for another 6-8 inches of snow. Highest projected high next week is 45 degrees then more snow next weekend. Thinking middle of May looks more promising for actual planting. With first frost Sept 3rd or 4th? Uh ooh!



4/6/2018 Glacier County, MT: 

We had a high of 12 today and haven't been above 40 since the week before thanksgiving. Currently there is two feet of snow at the farm . fortunately we aren't supposed to get any more snow for another day and a half. I think the major crop here will be snow peas. We won't be in the field for another month if the weather doesn't change . we are a short season any way but this year it will be very short . a lot more barley and pulse crops and less wheat . the previous posters have it right when they mentioned prevented planting. (Less expenses, less supply and a good correction to our current glut.)



4/5/2018 Mccone County, MT: 

to Dickey County ND.. No you didn't read the USDA reports you all in ND are to plant MORE spring wheat as it is the most profitable!. And your friends in MN wil plant another 440000 acres as wll as it is sucha good money maker.. WE in MT will stay the same on acres as we have nothing to make money on. All crops will be a loss of about the same... This farm will have 35-40 % fallow.. If i'm going to lose money I'd just as soon lose it spending 30 dollars to fallow not investing $200 and only getting $165 back. $5.50 X 30bu. Yes we are still dry as well.. Creeks ran here for 3 afternoons and snow is all gone and ground is still frozen. Field work 15 days off..



4/5/2018 Mclean County, ND: 

Still feels like winter around here with lows approaching zero and near 100% snow coverage. Going to be late April before much happens here most likely leading to a reduction in spring wheat acres I'd assume



4/5/2018 Meeker County, MN: 

Record cold temps. Lakes still have 2 ft of ice on them. Last year at this time people had their docks and boats in the water. It's highly unlikely that any corn or beans will be planted in April. I see China is up to their usual shenanigans again. Threaten us with tariffs this time on beans, causing the price to go down only to step in and buy roughly 17 million bushels laughing all the way to the bank knowing they have to buy beans from us but at another discount. They been ripping us off for decades now but we FINALLY have a president that can't be bought off and is standing up to these crooks. Finally somebody in office that is doing exactly what he said he would. Apparently Coles Co, Ill is ok with China doing this. Just let them keep doing what they have been for decades right? I wouldn't bet against Trump because you'll lose. Just ask crooked Hillary, the media and everybody else that said he didn't have a chance.



4/4/2018 Saginaw County, MI: 

Sugar beets have been planted in the Saginaw Valley in the last 2 weeks as weather permitted. We received .5 to .75 inches of rain then 2 inches of snow last night and this morning. Cold weather is predicted for the next 2 weeks upper 30's to low 40's . Lows in the lower 20's to 30 at night. Areas to the north received 8-12" of snow. Spring is still a couple of weeks away. Doesn't appear corn will be planted until the end of the month or into May as it looks now. The government is doing a good job of trying to put farmers out of business. The planting intentions sway the markets up then threaten tariffs and drive them back down. If the tariffs take effect how far down will the markets go ? We are at or below the cost of production now. Good luck for a profitable year.



4/4/2018 Sibley County, MN: 

No sign of spring this week snowstorm very cold maybe 9 deg. tonight.



4/4/2018 Coles County, IL: 

5 inches in the last couple weeks followed by 3 inches of snow then 6 inches of rain yesterday , we may have broke the 9 months of drought. I hope the weather will settle down soon and not be so extreme. We have lakes in our fields and ice, so planting will be way behind. so will yields. Trump seems to like to destroy things with the thought of getting his way after everyone suffers and take a hit then he decides to try to make a deal. Like chopping off your arm for a splinter in your finger and thinking a better one will grow back.



4/3/2018 Minnehaha County, SD: 

Mother Nature is sure trying us, more snow and mud. Maybe it's a sign, keep the planters in the shed! Maybe the up we're enjoying would get up to cost of production if we hold off on planting! Calving has been ok but this weather sure does support the argument for summer or fall calving! Good luck!



4/3/2018 Dickey County, ND: 

Picked up some additional snowfall which will do us no good at all. There is still 3 feet of frost so the melting snow will just runoff and fill the low areas. Why can't people understand that this is why we have floods up north even when the soil is dry. Wheat acres will see a big drop thanks to this weather and lower prices. I doubt we'll see any field work in April.



4/3/2018 Barron County, WI: 

More snow again today. Below average temperatures. It appears that it will be a late spring this year.



4/2/2018 Lancaster County, NE: 

Cold/Wet, that pretty well sums it up we had about 1-2 days of marginal field work a little NH3 put on and that is it. Forecast for 16 degrees on Tuesday night. We were getting a little dry but then received 2-3 inches in last 2 weeks, so moisture situation looks good. Planting will be the same with a 50/50 corn/soy rotation primarily in this area. Cereal rye cover crop trying to grow some but slow. The only thing that keeps us hot around here is our high property taxes and lack of action by our elected leaders!