Published on:
16:29PM May 08, 2018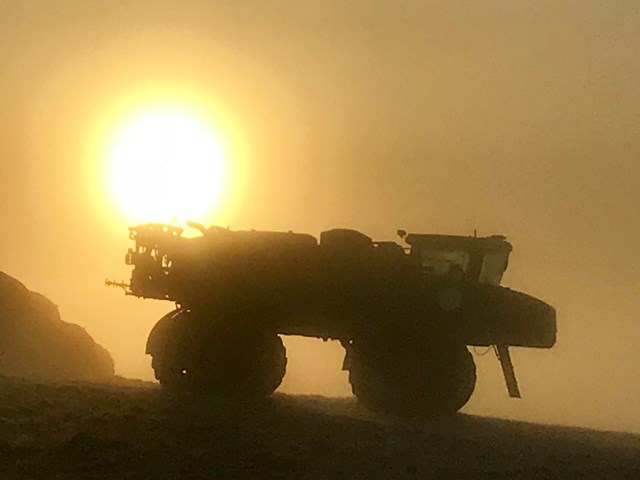 Use this link to send us your comments (or e-mail CropComments@agweb.com) about the crops in your local area. Be sure to send us your photos and videos! Comments will be edited for brevity and clarity. (Please keep your comments crop-related.)

Here's a sampling of what some folks are saying:
5/8/2018 Sauk County, WI: 

Well winter ended about a week ago started to warm up . Now we are entering the traditional Wisconsin Monsoon season. We had thunderstorms earlier this and it just has not stopped raining. I would guess we are looking at 4.5 inches or better. Some seeding done a little corn planted but the ground is just cold and now saturated. We could use two weeks of dry weather.



5/8/2018 Sibley County, MN: 

Planter out! Finally getting the planter ready, new seed openers, scrapers, gauge wheel adjustments, etc. Ready to go thought it would go today but the .5 inch of rain Tuesday evening pushes us till Sunday, maybe can try late Saturday. Good luck to all!



5/8/2018 Power County, ID: 

Fall grain looks fantastic at this point but needs moisture soon. Spring crops(wheat, safflower, mustard) is planted and will also need some rain in the near future but sub-moisture is quite good



5/8/2018 Sauk County, WI: 

Wet ! Cold! While we needed rain last week 6 inches was a little over kill. No Corn planted in our area (Richland County Border) Some seeding done. Water still standing in spots. The guys who worked their ground before all the rain sure had some gullies washed in the fields. More rain forecasted for this week. Hopefully not too much it is getting to be go time. Wish everyone good luck be safe.



5/8/2018 Craig County, OK: 

Wheat has started to head and looks good. Temps finally warmed up and corn is out and going. We havent had excessive moisture but enough to keep things going.



5/7/2018 Seneca County, OH: 

Very slow planting progress in this area. Persistent rains are keeping planters idle for the most part. We get one day that is dry enough to work and then it rains. The current weather pattern would be ideal for crops that were already planted. Now we are cold again too.



5/7/2018 Sampson County, NC: 

It's been a late start for most grain growers here. Looks to be the latest start for me personally in my entire farming career. Some replanting going on now from heavy rains 2 weeks ago. a few larger guys got antsy an planted some heavy wet fields while it was dry and cold, then it turned wet and cold. The better drained fields made it through intact. I would say the corn crop is 95% done, that 81 is way low. A lot of yellow spots showing up but the recent warm spell is helping cure that. Soybean planting started this past week and like the corn getting off to a slow start, this week will be the big start , our planting window for beans is around 2 months so no big hurry here. The wheat crop could be one of our better crops. Some fields look amazing , just needs enough moisture to fill out the kernels. Just one last comment before i sign off. I know when conditions are perfect these large operations can plant a crop with unbelievable speed, but, when they are not, a lot of those acres have to be redone, which may impress initially but does little to improve their yields.I still think smaller farms with up to date equipment can more efficiently do a better job in a nonperfect weather situation. Hope everyone has a great year,we are due one.



5/7/2018 Nobles County, MN: 

Barely got a good start on corn. Only one day of corn planting so far. And now we are forecasted for a full week of rain ahead. Over 2 inches supposedly coming in next two days. Just what we don't need. Got a long, long planting season ahead of us.



5/6/2018 Yellow Medicine County, MN: 

Virtually no corn in the ground here. Frost spots are showing as black, wet areas. 20 inches of snow three weeks ago put a layer of insulation over the frost, and when melted, sent rivers over there banks. Hope to get going this week. Some corn has been planted on light, sandy soil. Planting season is going to be compressed into a narrow time frame, with extended hours in the field



5/4/2018 Floyd County, IA: 

Very small amount of tillage done in my immediate area. Did however see a forty acre piece on light ground planted. County employee told me that ground still was frozen last week when replacing culverts. That explains fields not drying out well. Had one eighty degree day this week before rain started Tuesday morning, now we have had four to six inches.



5/4/2018 Graham County, AZ: 

29.6 degrees yesterday morning, some cotton dinged but not a replant deal. Corn is on schedule to be in by May 15th, some can be rowed. We're looking at high 80's and 90's for the week ahead, above normal and no rain since Feb.



5/4/2018 Graham County, AZ: 

Cotton Report. Planting is mostly done, Most of the planting is up and looking good. Our concearn is water.279



5/3/2018 Brown County, OH: 

Ground temperature still in 40s had frost this morning but plan to plant corn tomorrow soil conditions are finally good.



5/3/2018 Saint Clair County, IL: 

Got 1.3 inches of rain today. A little corn has been planted. The usual people that go out and play in the mud had been going since this past Saturday, even though we had 4/10s of rain last Thursday. It just truly got fit on Tuesday April 1. A lot of anhydrous went on in the last 2 days.



5/3/2018 Putnam County, IN: 

Finished planting corn 5 days ago and finished beans on May 2nd. Got a half inch slow soaking rain last night and early this morning with another half in the forecast for tonight and tomorrow. Livin right here in west central Indiana !



5/3/2018 Pottawattamie County, IA: 

Corn is probably 85% planted in the area with bean planting getting started. Had 3.4 inches of rain since Tuesday night, 2 inches in the last 3 hours.



5/3/2018 Blue Earth County, MN: 

Well rain again Thursday nite . Very little corn planted in southern Minnesota. Very spottie . I put on anhydrous one day some spots frost in ground looks like maybe Monday plant some corn. Our soils have never been dry this spring cause in april we had 36 in of snow and cold temps ran about 10 to 20 degrees below ave. ice out on area lakes april 25 to 29 most years first week in april . Looks like 1983 growing year cold early hot when setting ears poor corn



5/2/2018 Dawson County, TX: 

5/1/2018 Dawson County, Tex: Dry,Dry,Dry and Dry. That's the story of west texas. 208 days and only 1.2 inches of rain. Feels like 2011 all over again. The irrigated wheat is being baled as hay is worth more than wheat seed. The irrigated cotton and peanuts will be planted next week and the battle will begin. Be safe out there in farmland U.S.A.



5/1/2018 Hettinger County, ND: 

Farmers just starting to put wheat in the ground, about 3 weeks later than normal, not overly wet by any means, going to be a very busy month trying to get all the different crops in. Everyone be safe out there.



5/1/2018 Eaton County, MI: 

Picture of 2 inch soil depth temp




5/1/2018 Henry County, OH: 

29 degrees Sunday morning along with quarter inch of rain Saturday morning. Soil temp of 45 degrees. No planting for me until temperatures warm up considerably. Even if conditions were dry enough plant before temperatures improve. Sent from my iPhone



5/1/2018 Pottawattamie County, IA: 

Got my corn all planted by 4\30 and a lot of others are done. Beans just getting a good start. Dry here until tonight, just had an inch of rain.