Published on:
16:26PM Sep 21, 2017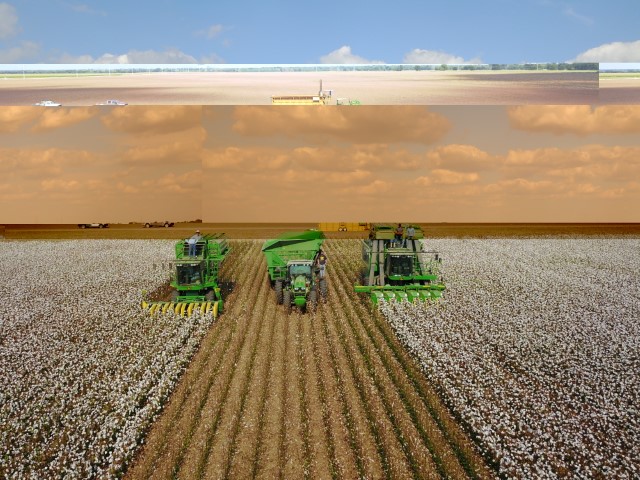 Use this link to send us your comments (or e-mail [email protected]) about the crops in your local area. Be sure to send us your photos and videos! Comments will be edited for brevity and clarity. (Please keep your comments crop-related.)

Here's a sampling of what some folks are saying:
9/29/2017 Clarke County, IA: 

Dead center in the extreme drought area soybeans knee high and the first pods are an 1 inch off the ground. That and a 90 cent basis does not bode well the the checking accouint.



9/29/2017 Saint Croix County, WI: 

Soybeans so far are running 53-54 bu per acre which I consider a good crop of soybeans. But with that being said it is 10 bu to the acre less then last last which was a record for our farm.



9/29/2017 Sheboygan County, WI: 

Yield checked one feild 277 most over 200 bushels




9/28/2017 Allen County, OH: 

230 acres of beans harvested, my best yielding fields normally. Yields running 15-18 bushel below average. Just too much rain in May and June in NW Ohio.



9/28/2017 Macon County, IL: 

Corn 224 bushels per acre, beans 80 bushels per acre. We got rain when we needed it.



9/28/2017 West Carroll County, LA: 

Our farm harvest is complete in NE Louisiana. Record corn, good Soybeans. Damage was bad in the beans cut after the storms. Picked up another Steiger and dirt pan, will be leveling ground till we are rained out. May prepare for some grain storage improvements this winter. Maybe 500,000 bu. Filled everything and piled 100,000 bu corn on the ground (covered with a tarp and improvised aeration). Good problem to have!



9/28/2017 Marshall County, MN: 

Corn yields are huge! Way better than last year. Seems everyone I talk to is having monster corn yields. Soybeans are a little above average.



9/28/2017 Dallas County, IA: 

Item 1. Corn Yields too extremely variable here to estimate. Yield maps will look like they were made by a monkey with a paint brush. Probably below what we consider normal when it's all done. Soybeans, same story, but closer to average. Item 2. Low corn prices in October will be a blessing in disguise for anyone with Revenue MPCI. Item 3. Do the Ag Wizard Experts at the colleges, who shall remain nameless, that kept pushing ARC Co. over PLC know that THEY WERE WRONG this year? Thanks DR. STEVE! Item 4. Doesn't it seem like the Syngenta lawsuit is more like a Top Secret than a major news story? Not much talk about the alleged settlement.



9/28/2017 De Kalb County, IN: 

Beans running from low 30's to 50's



9/28/2017 Dickey County, ND: 

Just started on early planted beans, good yield but about 15 bushels less than last year. White mold was a problem.
9/28/2017 Allen County, OH: 

230 acres of beans harvested, my best yielding fields normally. Yields running 15-18 bushel below average. Just too much rain in May and June in NW Ohio.



9/28/2017 Macon County, IL: 

Corn 224 bushels per acre, beans 80 bushels per acre. We got rain when we needed it.



9/28/2017 West Carroll County, LA: 

Our farm harvest is complete in NE Louisiana. Record corn, good Soybeans. Damage was bad in the beans cut after the storms. Picked up another Steiger and dirt pan, will be leveling ground till we are rained out. May prepare for some grain storage improvements this winter. Maybe 500,000 bu. Filled everything and piled 100,000 bu corn on the ground (covered with a tarp and improvised aeration). Good problem to have!



9/28/2017 Marshall County, MN: 

Corn yields are huge! Way better than last year. Seems everyone I talk to is having monster corn yields. Soybeans are a little above average.



9/27/2017 Floyd County, IA: 

Chopped one bag of corn silage on Sept 20 off some of the best ground I farm. Same size bag as last year from the same field. Took 4 acres more to fill it this year. Insurance crop adjuster estimated the yield at 200 bu per acre. The near winter conditions after mother's Day, and the very minimal rain in August / September held the yield down.



9/26/2017 Knox County, IL: 

February 2018. Headline: PRODUCERS JOIN FORCES. In an unprecedented move, farmers took action across the nation today in a 'coordinated' effort to raise farm income. Their plan is to buy DEC 18 futures contracts with the intent to set-aside those acres represented by the total production each operator buys on the board of trade (for only 10% of $value). At this morning's opening bell, the sudden influx of buy orders from across the nation and the prospect of set-asides, caused the DEC 18 CME corn contract to finish up the daily limit. USDA reported that a 10% reduction in planted acres alone could increase 2018 corn prices to $4.50-$5.00. Local elevators and terminals report that producers are taking advantage of the rising cash prices to make sales and book future deliveries. As the week progressed, producers continued to place buy orders, while selling those contracts they purchased earlier for big gains.



9/25/2017 La Porte County, IN: 

Started corn harvest in Laporte Indiana disappointing yields 140 to 150 . Doesn't leave much profit with 3.00 corn.



9/25/2017 Sampson County, NC: 

Its been a very hectic past two weeks, corn hit that moisture sweet spot and stayed there till we finished on Monday. A nice surprise was the last field was the best. It was a field that had to be replanted after a 6.5 inch rain hit it on april 16th 5 days after being planted. Ended up with a half stand, the insurance adjuster tried to convince me to leave it but a half stand means a half of a crop. Couldn't get back in to replant till may 7th, man was that the right call! Field averaged 202 and checked 15.4 to 15.7 moisture. Elevator lines have been nonexistent, pull in unload an back in record time. Seems to support a below average crop for us in yield and acreage, and to Mr Gage County I'm sorry you got mugged ,I mean smugged in Las Vegas but why did you rent a call girl with a name like Prius. Not sure what pencil siforin' is but as far as the numbers just trying to show how the real pencil pushers can take a seemly innocent comment and give you a novel on numbers. I'm sure they will take my 202 and it will become N.C.'s average yield before the next USDA monthly report. Good luck to all out there just getting started on harvest. Some have started picking early group 4s but those acres are very small. Have a good month before starting bean harvest, looking for a long weekend of rest on the coast and then back to work getting ground ready for wheat planting in late October to early November . Siforin" really ?



9/25/2017 Talbot County, MD: 

Dry early then wet at emergence then dry early July then wet late cornharvesting half done no big yields here deer damage at record levels pushing 20% average loses beans will hopefully make up for hurt corn



9/24/2017 Pottawattamie County, IA: 

Bean harvesting starting in full gear with this heat drying them too fast. Yields are good , but less than last year. Saw a field of corn being combined for high moisture because of wind damage.



9/23/2017 Buffalo County, NE: 

On Thursday, I harvested a 45 acre field of 93 day corn which was planted 20Apr. It was 18% moisture, and the yield was very good. If the rest of the corn is this good the USDA won't be very far off with their estimates. Most of the rest of the corn in this area could still be cut for silage, as it is very green yet. There have been a few beans harvested, however there are a lot of leaves in the low ground yet, making them tough as nails to cut. I doubt that harvest will get into high gear around here for 10 days to 2 weeks. A hard freeze would be welcome here. Good luck to all.



9/23/2017 Ogle County, IL: 

Ransom County ND, Your ideas happened just 4-6 years ago and the result is dramatically increase in production around the world because there was money to me made. Protectionism has been tried through out the world on hundreds of products only to ultimately fail.



9/23/2017 Monroe County, MI: 

Harvest started in South East Michigan running 60s



9/22/2017 Tippecanoe County, IN: 

Rock County, MN. You're a bit off on our biggest problems. Our biggest problem is that we keep producing record or near-record crops, both here and in South America. We are now into our fifth consecutive above-trend crop for soybeans, which is unprecedented. South America is looking at their fourth record crop in the past five years. Russia is moving towards being the largest exporter of wheat in the world. When you flood the world with your product, prices will go down. Your suggestions are socialistic in nature, but if you're into that sort of thing, okay.



9/22/2017 Fayette County, IL: 

Only one inch of rain since middle of July last 5 year average on beans was 65 bushels per acre this year beans are averaging 40 bean yields from what I hear along I-70 running low to mid 40's good 20 to 25 bushel below average guess that is what crop insurance is for
9/21/2017 Mclennan County, TX: 

Worked hard to get our cotton in this year. Covered 650 acres of 2.4 plus bale cotton over 11 days with a stripper. Brought in a picker for the last 75 acres of 3 cotton dryland. One of the best years for central texas cotton.




9/20/2017 Rock County, MN: 

Checking fields today - Low ground looks average, medium ground 12% below average, high ground 31% less then average. Crops would look a whole lot better if there was a profit. The 3 main problems farmers face today is, no limits on middle man mark up in our food supply (grocery stores and exports), no limit on negative grain basis, no limit of the cost of production. We also need removal of the laws on farmers by seed companies, especially foreign. Lets get these laws in place so our economy is healthy.



9/20/2017 Tippecanoe County, IN: 

Harvest has started here in NW Indiana and yields are better-than-expected for the most part. We had a very dry August, but the cool temps and subsoil moisture apparently saved us. Soybean yields on water damaged fields are in the low-to-mid 50s, but the well-drained soils are showing yields of 65-75. Some field records are being broken, but I think the water damage will keep soybean yields under last year's record. Corn yields are showing the same thing. Very good on the better drained soils, but weaker on the heavier soils.



9/20/2017 Wells County, IN: 

Couple farmers been cutting some beans. Yield numbers I have heard for one farmer ranged from 18 to 40. The other farmer, 40 to 60. Hail got some of these beans. Both farmers didn't have anything under at least 55 last year.



9/19/2017 Gage County, NE: 

Dear Sampson county, l can't help it, I got smugged when I rented that Prius in Vegas. USDA says this years corn crop is 13% less in the good to excellent category than last years, but predicts yield at 2% less. Hmmmm. Your siforin' with that dull pencil on Shelby county 50-25-25 is so precise that you should work for USDA! Sorry again, I can't help it.



9/19/2017 Rock County, MN: 

The crops around here are maturing fast now. The 1 to 2 inch of rain we just received was not needed anymore at this stage. Of course the dry spell we had in June and July plus the heat in July decreased yields. The extreme low crop prices are not in line with the yields for this area and neither is the cost of production. Bankrupting the farmers also creates a depression in the economy. Being a competitor in the export markets is good. Also the lower price grain is good for end users. So I am saying it's the high cost of production that is to blame.



9/19/2017 Rock County, MN: 

just to add to my former comment that a lot of money exits the nation through the cost of seed , chemical, fuel, and fertilizer. It's the grain and meats that needs to be exported at a competitive price to stay ahead of other countries. Not our wallets.



9/19/2017 Meade County, KS: 

Ransom County, ND. That is such a true statement



9/19/2017 Kandiyohi County, MN: 

The beet crop seems good in our area. Some of the soybeans have an enormous amount of white mold. The worst I've ever seen.




9/19/2017 Macoupin County, IL: 

Corn and Beans I will say is just fantastic for the year we have had. I won't say any yields don't want to upset anyone. But my farm is still making money with yields were pulling off.



9/16/2017 Sampson County, NC: 

So the majority of posts on this blog say average to slightly below average crops for the major grain growing areas of the US. Just take Shelby Co.'s numbers and break them down. Most but not all growers acres breakout to 50% good land, 25% average land, 25% less than average. 50 x 185 25x162.5(half way between 140 to 185) 25x140= 168.1 same on beans = 50.6. taking his midpoints on planting dates, tweak the numbers a little and you get USDA's numbers of 169.9 and 49.9. So it seems they may be close enough to be called accurate for what is basically a guess. At this point we should cosign ourselves to small increases and even smaller decreases in production. Lets just hope bargain hunters will jump in and give us a floor for what is prices below cost of production for the majority of growers in the US except those that are in those few sweet spots for weather. Don't know how smug I would be after 3 or 4 years of bumper crops. A little humble goes a long way when trying to make a point about someone's livelihood.



9/15/2017 Ransom County, ND: 

If every farmer would simply refuse to sell corn for less than $4.50 cash, we'd have $4.50 corn. There are more stores selling yeti coolers than farmers in this country, yet you don't see them selling them for half price. It will never happen, but it's exactly what needs to happen.



9/15/2017 Cheyenne County, NE: 

Millet harvest has started. Yields ??? Wheat plating will kick off this week end with cooler weather. It's been dry here, About 6.3 inches of moisture scince 1-1-17. Farmers who worked their groond shallow have moisture they can reach and get wheat to sprout. No-till is very dry unless you got lucky shower or two.



9/14/2017 Mclennan County, TX: 

Great crop. Enjoying the dry weather in central Texas.




9/14/2017 De Kalb County, IN: 

Must be those super duper USDA beans




9/13/2017 Knox County, IL: 

I was trolled by someone in LaSalle county, which deserves a response. I'm like you. Been through some pretty lean times and since 2013, just been scraping by. It's a small operation, Went no-till over 25 years ago and the long process of rebuilding soil health is our only advantage. No anhydrous! Earth worm population are tremendous. Because of our small size, we don't get discounts on big orders of seed, fertilizer and other inputs. So the only way to make ends meet is through the brute force of good yields...of which I take no credit. That goes to the worms and the bugs and the bacteria that live in the soil. I'm just having fun driving and wrenching around on the vintage equipment. But I sure ain't getting rich...



9/13/2017 Horry County, SC: 

Guys I know it seems like it may be a hard decision but if you all will park your tractors and planters this coming spring under the sheds and go fishing for the summer I promise you that those crooks in suits up in Chicago will be out of a job and the ones in Washington will be at your door steps begging you to plant and at a price that you can make money at every year not every 1 out of 5. Don't worry about all the iron payments, where would they put it all? I wouldn't sale the first bushel from the 17 crop until they started acting like the farmer is THE MOST IMPORTANT PART OF OUR ECONOMY! Amen and take that to the bank!!!



9/13/2017 Berks County, PA: 

My grandfather refused to cooperate for his entire life with reporting crops to the USDA. He said it was criminal to give the government the tools they needed to manipulate the amount of money you were payed for all your hard work while they made millions off of it. I'm starting to see this trend he spoke of. I'm sure it's a two way street on this issue. That being said I do not believe the crop they are boasting of is out there. Way too much varietability! Here in my state everything is about a full month behind with very cool temps. Come February the usda report will read with much lower yields and will be portrayed as a shock to everyone but the farmer.



9/13/2017 Shelby County, OH: 

Corn here will be average or little below that would be 140-185 bu. Soybeans,if you had out early in April they could go in that 55-75 bu. The later planted beans in may 15 week 40-50 bu later planted in June could be 20-35 bu. Hope to see everyone at farm science review next week sept. 19-20-21.Safe harvest



9/12/2017 Moultrie County, IL: 

Moultrie and Shelby County Illinois. Rainy Spring very wet had to replant, but just four acres of corn. I was very very fortunate this year. Every rain band that passed through Central Illinois hit our fields. It was a stress free growing season for us! Corn is not great but it is a good crop this year, probably two hundred plus bushels per acre. Beans look fantastic this year! Soybean plants are dripping with full pods. I would guess seventy-five, perhaps even eighty bushels per acre. I've been lucky we got rain when we needed it. Yes, I was in the "Sweet Spot" this year. Grain prices suck, but they always do this time of year. Yep, I'll make just enough money to pay my tax bills and try it again next year. I know many other grain farmers were not as fortunate as me this year. Certainly enjoy reading the Crop comments from around the Midwest. Hope everyone can make some money this year. Best Regards




9/12/2017 Dixon County, NE: 

Cut silage strips for insurance adjuster. Yields are 113 to 123 bu/acre. That's 1/2 of last 3 years. Disappointing!! But we still have to much corn??



9/12/2017 Jackson County, IA: 

Corn silage Harvest is just starting to ramp up. A lot of the corn is still too wet to chop. Temps have been in mid to Upper 70s. We could actually use temps in the lower 80s to help progress this crop along over here. I realize we are sitting a lot better than most. We could use another shot to finish things off, but it doesn't look too likely to happen at this time. Most of the Corn is quarter to half milk line. Some beans are starting to turn.





9/12/2017 Jackson County, IA: 

Corn silage Harvest is just starting to ramp up. A lot of the corn is still too wet to chop.





9/12/2017 Pepin County, WI: 

To the farmer with the Vaseline , I think we need to all switch to k-y jell for this report.



9/12/2017 Brown County, SD: 

Crops average at best. Too dry all summer. I read the comments every night. Love to hear from the American farmer. I have a few questions maybe someone can answer for me. First, what does USDA use to determine carry over? Is this based on production reported to RMA last year for crop insurance or do they go look in farmers bins? I'm not sure how they get the number? I'm not questioning if it's right , only how they come up with it. Secondly, I wonder why private analysts have raised the numbers. August USDA said 169 bushel corn. Private companies were saying 165-166, even as low as 162. Then Pro Ag tour. Now private companies say 169 is to high. There guess is 166-167. Crop ratings have gone done all summer long. Why would they raise there educated guess???



9/12/2017 Carroll County, IL: 

.8 inch in August and nothing to this point in September. 7 inch rain on July 20-22 ran off. Morning fog, good subsoil moisture and a cool August may have helped finish early corn the most. I was in the sweet spot during the drought years, but missed out on the Rockford, Illinois rains this year. No irrigation used around here in these soil types. Good News, The Lord knew just what the yield would be before I planted and that is exactly what I will receive. Thankful for good health and for an occasional opportunity to help a friend overhaul his JD 720. Does wonders for my attitude.



9/12/2017 Seneca County, OH: 

Today proves once again that USDA has a totally different agenda than telling the truth or being accurate. But I am not surprised. A USDA guy was here a few weeks ago and wanted permission to yield check one of my corn fields but only wanted to check my very best field. I asked if he was going to also check my worst field and average the 2. The answer was no. So now I know how USDA gets big numbers.



9/12/2017 Osage County, KS: 

From all the whinning from IL and IA and all the super corn states, it is amazing the USDA riased yields and carry over!!!!!



9/12/2017 Marshall County, IL: 

Corn looks good. Beans are taking a big hit with 1.2 inches of rain in 7 weeks. We need to eliminate crop conditions because USDA doesn't use them. Also how did corn population go up in the last month? Record pod weights for beans is the biggest miss ever. National average will be 47 BU.



9/11/2017 Stearns County, MN: 

Corn looks great, soybeans riddled with disease. I had my best winter rye cover ever this year.



9/11/2017 Knox County, IL: 

The beans are going downhill...dying back in spots. Expect it to get worse before it gets better. Way more flat pods, small and failed beans than normal. Even the violet patch under shade trees has wilted. Note to self: don't look at the monitor.



9/11/2017 Polk County, IA: 

Local evening news just annouced that we have received less that half of the normal rainfall for the year. Short or non-existant all summer, nothing in the last 3 weeks and the long range forecast for the next 60 days shows only three 20-30% chances. Doesn't look promising for any break in our drought, only worsening.



9/11/2017 Minnehaha County, SD: 

Plant less boys, profit will go up. Not less acres necessarily just less seed, less fertilizer! They will notice if seed sales and fertilizer sales are down 10-15%! These prices we have now would have been good in 1985! Behind here very little silage done yet but it's starting! Rock county Mn 9/8 comment, sure more livestock will get rid of more corn but then cattle and hog prices go down, to much production that's why we have low prices now! START THINKING PRICE INSTEAD OF PRODUCTION!!! Thanks!



9/11/2017 Putnam County, IN: 

Decided to take a little crop tour of my own. Left west central Indiana saturday and drove to Springfield, Illinois. Pretty good crop on US 36. Sunday drove from Springfield to the Quad Cities and wasn't impressed at all. Beans that are a long way from being ready and corn all over the place. Drove from Quad Cities to Council Bluffs, Iowa today and saw a mixed bag of everything from pathetic corn and beans to great corn and beans, green beans that are probably 5 weeks from harvest. Corn that could be shelled today with corn in the same field that looks at least a month from being ready. Lots of beans that are almost ready to beans that are 3 or 4 weeks away in the same field and about half as tall as the others. I'm usually impressed when i take this trip but i think my crop is better than anything i saw in the 1st 3 days of this trip. Big time negative basis is becoming laughable. Think i will fill every bin and maybe even some older bins that i haven't used since 2011, certify it with the CCC and wait for the next "big news story" !



9/8/2017 Meeker County, MN: 

There is a lot of white mold in the beans in our area, corn needs oct 15 frost and same for the beans.We will be at the mercy of CME , and the grain buyers. like the guy at cargil told me somebody run if you don't.I think we are just screwed .I like Trump.



9/8/2017 Rock County, MN: 

I think a negative basis is an insult. Especially at these low prices. It means they do not want any grain delivered. A positive basis means they want grain. I see positive basis down south around the 70113 area. So the export grain is more expensive. Extreme negative basis up north are making ghost towns. Does this mean farmers need more livestock?



9/8/2017 Livingston County, IL: 

Wow so dry here late beans are just giving up an dying not good. No rain in forecast for ten days. Markets buried heads in sand. Hold your crops boys going be eye opener this fall!




9/8/2017 Gage County, NE: 

Not another USDA monthly report comin'! For relief call BR549 help, or just order direct at www.vaseline.com.



9/7/2017 Knox County, IL: 

Creek running dry. Last time it quit running was 2012. We need rain, but send some to the wild fires first!



9/7/2017 Swift County, MN: 

We live where we probably shouldn't be farming but I think everyone should be happy they have what you do have. We haven't had a good harvest for three years and everyone around us has. This year maybe an average year for us which still is a major loss for most. Our limiter is always moisture while we have same inputs as most others. We have had to carry a lot of debt over last three years. Sucks big time! I guess it takes a special breed to want to do this. Frost is not welcome for quite awhile as corn and beans are green yet. Glad we can make the poor guys on CME some money.



9/7/2017 Mclennan County, TX: 

Thank the Lord all is not lost in Texas and pray for the ones to the South and on the East coast.




9/5/2017 Knox County, IL: 

June 1st second replant corn is just sweet corn...won't make 100 bu/ac and needs a lot of heat to make it to black layer. And all those iddy-biddy pods on the soybeans are not doing anything. Yield checks on corn is looking like a 210 bu whole farm average...40 bu/ac below 2016. Beans looking like @ 52 bu/ac...10 bu below 2016. Where is all this grain that USDA keeps talking about? It's not here...



9/5/2017 Shelby County, IA: 

While drier weather this summer has hurt some of the corn and bean crops in the area, the grape crops here have benefited from decreased pest and disease pressure. The Frontenac, Concord, King of the North, and Edelweiss varieties are as good as they have been in years. Grape picking on early varieties started last week, while most of the remaining varieties will be picked in the next ten days to two weeks. Most will go to local wineries.





9/5/2017 Craig County, OK: 

Its getting dry again. We were very dry the last week of July and now we are hurting again. Beans look good after some early August rains. Rust has prematurely killed some of my replanted corn. The first planted and the rereplanted look pretty good. We have sprayed the beans twice for worms and bugs.



9/5/2017 Jackson County, IA: 

Things are still progressing behind normal. I'm guessing the corn is a week to 10 days behind. I think corn silage Harvest will be in full swing this weekend or the beginning of next week. We have been blessed with ample rainfall all year. Beans are just starting to turn. I still think the corn has suffered just a little bit from the cold wet spring. the beans overall look pretty good.




9/5/2017 Gage County, NE: 

USDA says that they predict their monthly yields on potential. My momma said I had the same potential when I was born as Micheal Jordan and Bill Gates but a hip replacement and a gaze at my wife's puny itty bitty diamond tells me my road to the top hit a dead end with a cliff. With no rain predicted for the belt on already dry areas this crop could limp to the finish. Scratch that it will.USDA sounds just like my mama! Hey Shelby county, nice looking grapes.



9/5/2017 La Salle County, IL: 

Dear Knox County super farmer with yields like that you should have plenty of money to weather the storm!



9/3/2017 Richland County, WI: 

Started chopping corn silage September 1. Moisture 68% & yield above average. The key to this year crop hope for a late frost.



9/2/2017 La Porte County, IN: 

We can't get any rain to finish out the corn and soybeans getting extremely dry. But we did get some frost on September 2 it did damage some beans on muck soils don't know how bad it is just have to wait and see. Hope the traders don't get to excited.



9/1/2017 Livingston County, IL: 

Only .5 inch rain since last week July. Corn firing taking yield off daily. Beans suffering think we've lost ten bushel off top no rain in forecast. Looks like easy 60 bushel beans going be low forties if lucky. If you got the rain count your blessings.



9/1/2017 Minnehaha County, SD: 

Beans good but price not need more yields?




9/1/2017 Scott County, MN: 

Head agronomists at the farm co-ops are saying that it is highly probable that the crops will NOT finish out before a frost. That goes for both corn and soybeans, we are sitting at just a tad over 2000 GDD's since first of May and we need at least 2400 to finish the corn, frosty nights expected third week of September so you do the math with even 21 days and average GDD's of 14 (maybe....) Uh...... that leaves us short on corn to black layer and the beans well while they look awesome now if it freezes on September 21 or earlier figure max yield at 45 when they would have done 65 with full maturity. I have said it all year - its not a market to be short..... there will be surprises this fall.



9/1/2017 Taylor County, WI: 

Corn not going to make it in nothcentral wi. To cold and to wet all spring and summer. No heat units because of cloudy rainy weather.