Published on:
13:00PM May 20, 2020
Curses foiled again!  Many of us became familiar with that lament while watching the Adventures of Rocky and Bullwinkle cartoons back in the early 1960s, but it would seem to be an appropriate phrase for plain ol' bulls in the corn market right now. Once again yesterday, we failed to sustain enough strength to close above critical levels of resistance that has foiled our attempt to rally for weeks now.  Curses!  Part of the early strength was derived from stories that China may be shopping for bargains as they begin the process of rebuilding corn inventories, but nothing has yet been confirmed.  Where is Dudley Do-Right of the Canadian Mounties when you need him?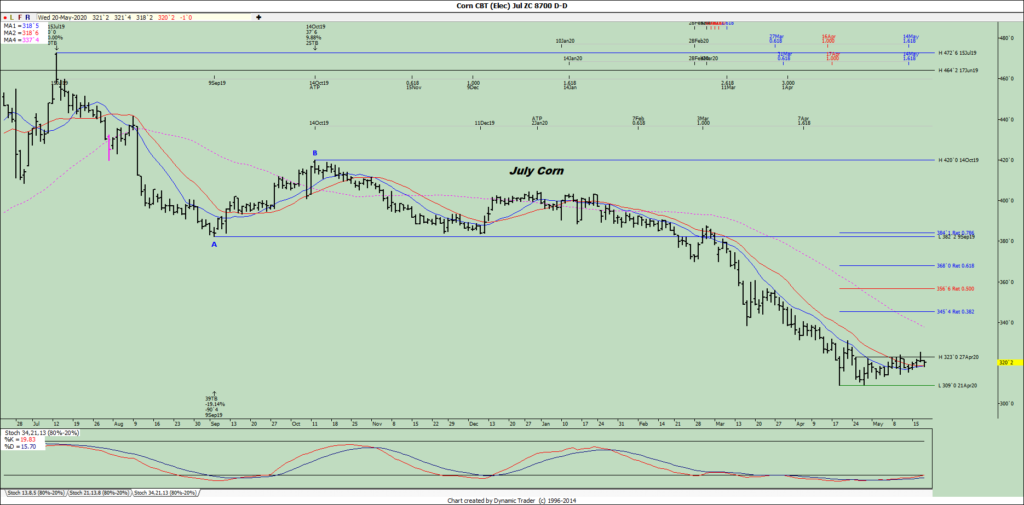 That is not a bad segue to some comments from the White House yesterday that may not have set well with Canada or Mexico.  At an event to discuss the $19 billion ag relief package, President Trump remarked, "I read yesterday where we take some cattle in from other countries. We have trade deals. I think we should look at terminating those deals. We have a lot of cattle in this country."  Live cattle imports come from only Canada and Mexico, and the trade deal he must be referencing would, of course, have to be the United States-Mexico-Canada Agreement, which technically was just ratified in the past few months. I doubt, or at least hope the sentiment goes no further and as the President of the U.S. National Cattlemen's Beef Association remarked, "It was something I wish the President hadn't said."
The USDA did announce the payout levels for the coronavirus aid.  Payments will be set at $.45 per bushel for beans, $.32 per bushels con, and $.18 per bushels for spring wheat, based on either half of 2019 production or inventory on hand as of January 15th, whichever is less.  Barley, canola, cotton, and oats are also eligible for payments.
Time to check in on the U.S. Dollar once again, which has been under pressure this week.  I maintain that one of the few things that has allowed our currency to hold current levels is the fact that the U.S. is considered the safe haven in times of uncertainty. If you buy our treasuries, you have little concern about liquidity or safety.  That said, it is worth pointing out that even with all the volatility we have experienced, particularly the wild currency swings back in March, our Dollar has not gone anywhere and basically sits at the same level it was in September of last year.  Barring another global panic, I believe the next real swing for this index will be to the downside.