Published on:
13:58PM Jun 12, 2015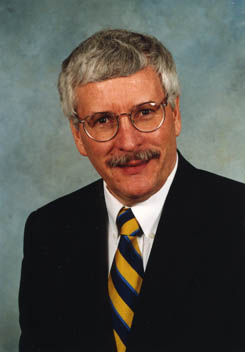 MPP did not generate any net payments for the January-February period. For the March and April period, indemnity money was generated for the 261 producers who signed up for $8.00 coverage. However, after taking out money to pay premiums and for the US government sequester of 7.3%, no net money was available to dairymen.
The first charts below show MPP results.  Look at the data for the March and April period.  After the sequester reduction of 7.3%, $.45965/cwt was available to pay premium. If you are a smaller producer, because of the higher subsidy, your net cost of coverage was $.0204/cwt. The larger producer, because of smaller subsidy had a net cost of $.74/cwt for the $8/cwt coverage.
All the other MPP coverages did not generate indemnity money. All of the red below indicates the indemnity payments did not exceed the cost of the premium.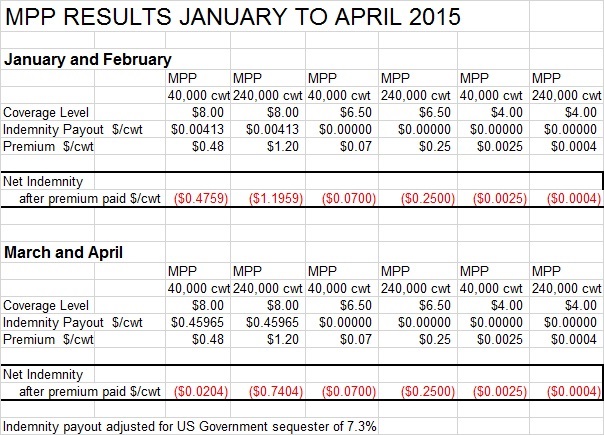 LGM results for January-February yielded positive indemnities.  See the second set of charts below. The line for Net Indemnity is black when a dairyman would have received money.  So, for January-February, net indemnities ranged from $1.29 to $1.80/cwt. For March-April, net indemnities ranged from $.91 to $1.06/cwt., except for the producer who purchased LGM in October, 2014. In that particular case, producers would still owe $.18/cwt of their premium (shown in red).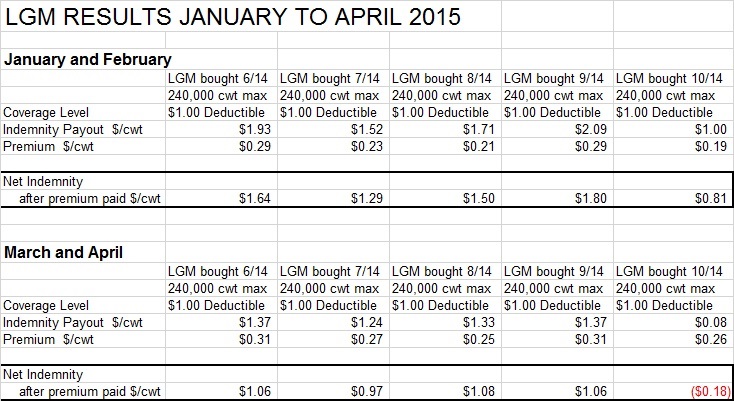 For MPP users, the US Government sequester did have a small impact on the payouts. LGM is not subject to the sequester. 
MPP and LGM-Dairy are the two government programs that dairymen have to manage risk. They are similar because they both manage risk but the two programs differ in approach. One key difference is the amount of feed in the calculations. MPP has a high fixed amount of corn, soybean meal and hay in the calculations. LGM-Dairy's feed component is variable, with the lowest amount of feed being very small. Hay is not included in LGM. 
Therefore, MPP responds more to increases in feed prices and LGM-Dairy, especially with low feed use, responds more to decreasing milk prices.  In our calculations, we used the lowest amount of feed because most of our clients used the low amount of corn and soybean meal in their LGM-Dairy calculations.
Other management tools such as buying put options, selling futures and establishing forward contracts would have yielded positive results during this period. Obviously the timing of your sales will yield different results. In general, buying a put option would have yielded benefits, but CME option premiums tend to be more expensive than LGM-Dairy. If you would have sold futures or done a forward contract, these strategies could yield positive results depending on the date of the sale, because of the big downward move in the milk futures. 
LGM is presently out of subsidy money. We are estimating the next time you will be able to buy LGM-Dairy is in August of 2015. In 2012, LGM-Dairy ran out of money and additional money was released at the end of August.
Other resources include:
Dr. Gould's website shows the estimated MPP values:
http://future.aae.wisc.edu/data/monthly_values/by_area/3259?tab=costs
USDA estimated values for 2015 and 2016 are reported on this website:
The risk of loss in trading commodities can be substantial.  You should therefore carefully consider whether such trading is suitable for you in light of your financial situation.   
Ron Mortensen is principal of Dairy Gross Margin, LLC, an agency that specializes in LGM-Dairy products, and owner of Advantage Agricultural Strategies, Ltd., a commodity trading advisor. 
ron@dairygrossmargin.com   www.dairygrossmargin.com