Published on:
08:55AM Jul 29, 2019

Grain and soy markets opened the week with additional selling pressure, but obviously, the bears did not have a firm conviction and prices have turned up into positive territory.  It would be premature to read too much into this price action but the performance that we are witnessing in corn thus far this morning would, dare I say, looks indicative of a market that may be ready to reverse course.  I probably should not get ahead of myself though.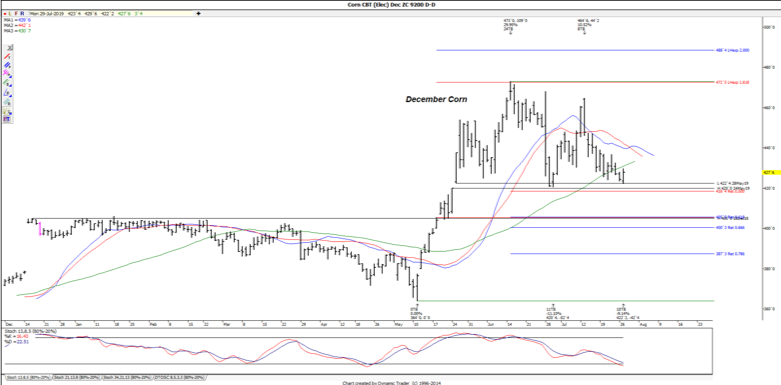 There is really very little in the news this morning that could be deemed price positive for the grain and soy markets.  Yes, we do have U.S. trade negotiators headed for Shanghai with talks set to begin tomorrow, and the state media is already reporting a positive tone, which I guess could be interpreted any number of ways.  In response to recent criticism by President Trump that they have not lived up to promises that they would step up the purchases of U.S. ag products, Chinese officials have said, sure we have.  There have been millions of U.S. origin beans exported to China, and firms are once again inquiring about purchasing more. According to the number released by the USDA, since the G20 meeting through the week ending July 18th, there have been 1.02 MMT of U.S. beans shipped to China, which may fit the definition of "millions" but it is hardly is a generous use of the word, particularly seeing most were likely older purchases.  During the month of June, China imported 614,805 MT of U.S. beans, which was down 2.5% from a year ago and 37% from May.  The official word from the Ministry of Commerce is "As long as the American agriculture products are reasonably priced and of good quality, it is expected that there will be new purchases." Keep in mind that part of the harsh reality that we confront right now is that demand in that nation is reduced and we are not price competitive with Brazil at this time, even sans tariffs. 
News from the ethanol industry has not been particularly encouraging either. According to Todd Becker, CEO of Green Plans, the fourth largest ethanol producer in the country, this industry is nearing the breaking point and is struggles with the combined impact of the ongoing trade war with China and the increase in the number of refiners who have been exempted (four-fold increase in the past 18 months) federal blending mandates.  Seasonal margins are at the lowest level since 2015, and even with a 2.5% drop in production on the last weekly report, inventories rose to almost 23.7 million barrels which could be a record for this time of year. 
While not commodity-specific but does undoubtedly have an impact on the dollar and other markets, the Federal Reserve meets again this week, and it is widely expected they will lower the Fed Funds rate by 25-basis points.  Seeing that this is already kneaded into the dough, and assuming it happens, the most attention will be focused on the post-meeting comments to try and determine when the next cut or cuts may occur.