Published on:
20:26PM Jul 16, 2019
No one yelled fire in the crowed commodity theater that was playing the latest release, "The Horrors of the Late Plant 2019", but someone did shout "rains in the west" and then "improved crop conditions" and it sparked a stampede of bulls heading for the exits.  In many respects, this is the type of market volatility that we used to expect almost every year when a trouble spot developed here or there in a major growing area, but I think we have grown so accustomed to lifeless trade, this seems inordinately wild.  Of course, this year, the added uncertainty of having no real consensus on acreage heightens the market anxiety, which may be something we will be living with at least until the combines roll and we have a better handle on how today hybrids perform when 50% of the corn crop is planted after May 20th and 60% of the beans after June 3rd.  
This is not to say that from a near-term technical perspective, both grain and soy markets are acting "toppish" but the idea of completely falling out of bed, particularly in corn seems remote for now. Take note that on the weekly spot corn chart that since gapping higher at the end of May, we have settled into a trading range roughly between 4.10 and 4.60 and this morning we are trading just a bit above the midpoint of 4.35.  We could easily remain contained within the zone until we have a more definite handle on acreage and possibly right into harvest.  I should point out as well that the MACD indicator on this chart is positive and as of yet is not showing any signs of reversing.  Historically, this has been a good indicator that we should be more interested in buying the breaks than selling the rallies.  Please do not take this as an excuse for a reason not to execute a well thought out marketing plan and make sales when to reach ROI targets you have outlined, but I would suggest it is not time to make a panic sales just because we could be in store for a downward correction.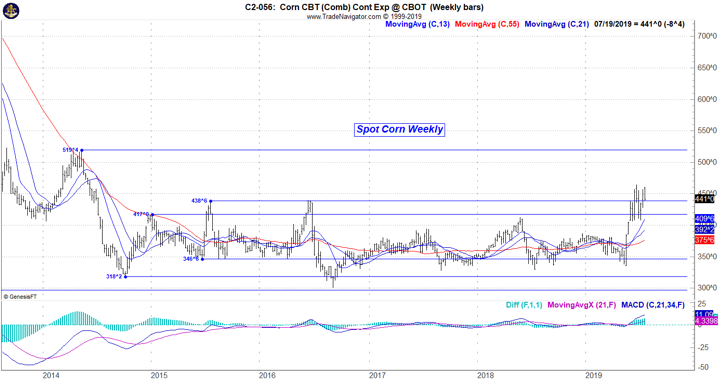 A quick update on South America.  In Brazil, the safrinha corn harvest has moved into the final stages, 70% to 80% complete in most states.  Conab increased their total corn production estimate 1.5 MMT to 98.5 M, which is still a bit below the USDA and others at 100 MMT.  Argentine corn harvest has now reached 53% complete, and most estimates stand at 49 MMT. We are looking at total South American corn production around 153.5 to 154 MMT, which compares with last year at 119.4. Similar situation in beans as total production should be around 187 MMT compared with 174 MMT a year ago.  
There really is very little else in the news for markets to focus on at this point. Nothing new appears to be emerging from potential U.S./Chinese trade negotiations, or lack thereof, and macros are all leaning towards a negative influence.  Energies are soft, and gold is higher, but so are the equities and the dollar.  For the time being, that means we will live and die by the latest weather forecast and try and maintain a cool head while everything else, both physically and mentally, is quite hot.