Published on:
11:19AM May 26, 2010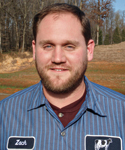 Myers Dairy, of Jonesville, N.C., is home to 830 Holsteins and 700 replacements.
By Zach Myers

People in today's society are thinking more about how they eat these days. With the obesity problem we currently have, it's not necessarily a bad thing. Think how healthy our nation would be if we ate a scientifically balanced diet like our cows do. 
We all know how healthy our product is. With nine essential nutrients, milk is not only one of the most nutrient-dense beverages but also one of the most nutrient-dense foods Americans can consume. We need to be proud of this.
Across the country, there is a movement to reduce the caloric content of our foods, especially in the school lunch program. Flavored milks like chocolate and strawberry milks are under attack from some of our government representatives and health professionals because of the sugar content. Cheese and other dairy products are also under attack for the fat content.
How can we counteract this negative publicity?  Well, most of us pay 15¢/cwt. to do just that. Our national, state and regional promotion groups work tirelessly to spend our check-off dollars to increase the sale of milk, whether it be through research and development, consumer education or forming partnerships with national companies like Domino's and the National Football League.
Promotion is the avenue to connect with our consumers and tell them our story. We as an industry need to do a better job educating the public about what we do. Historically, we have been more reactive, as an industry, to handling issues we are confronted with. We have become complacent in dealing with sensitive subjects. We are content to continue like nothing bad is going to happen, and when it does, we don't necessarily react to squelch the problem. Being non-reactive or ineffective in our response makes us look guilty.
We must then prove ourselves to consumers rather than already having their respect and trust in how we deal with issues concerning our industry. We as an industry need to come together, define what potential issues exist, what strengths we have, and proactively educate the public as to what, how and why we use the management practices we do. 
If consumers are armed with the facts, they will be able to form a more accurate image of the dairy industry. Being proactive will help us win the battle for public opinion.
I encourage all producers to get involved with their state or regional promotion group. They are your link to the mass consumer. If you do not like the direction they are going, let them know. If you do like it, let them know that as well. A state or regional promotion group is only as good as the direction it is provided. It is your money. You should provide the direction.