Published on:
17:24PM Apr 30, 2010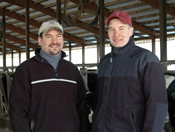 The Crandall brothers milk 260 cows on their fifth-generation farm near Battle Creek, Mich.
by Brad and Mark Crandall


High-quality forages are crucial to the health and productivity of our cows and to the success of our farm. 
We have always invested heavily in both feed storage and forage harvesting equipment. Unpredictable Michigan weather and land suited to growing alfalfa are two big reasons for our desire to raise and harvest our own forages. 
Forage quality has to be there for high-producing cows to thrive. Very good forages can save a ton of money by reducing the need for purchased feeds. 
Two years ago we invested in a used self-propelled chopper. We can harvest haylege and corn silage in small time windows and achieve the consistency we need. We strive to harvest forages at optimal maturity with the goal of having our silage piles packed and covered as quickly as possible.
Getting the right rations to cows is accomplished by treating feeding as one of the farm's most important jobs.  The two of us do almost all of the feeding and can head off any unexpected changes in feeds. We also make real time adjustments to the rations whenever necessary.
When managing a 100-pound herd, preventing problems is far better than reacting to the damage caused by ration problems. We try to avoid any feed-related problems whenever possible.
Knowing our stored feeds are the best they can be, and delivering feed to cows accurately every time, goes a very long way in controlling costs. 
Another way we control costs is to avoid cheap feeds that may have quality issues. It's always better to use a reputable source for purchasing feed commodities. The brokers we work with know we will reject any questionable feed that's delivered, and that we will be loyal to those who provide us the quality products we demand.