Published on:
12:25PM Oct 18, 2010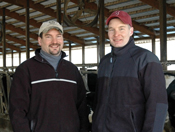 The Crandall brothers milk 270 cows on their fifth-generation farm.
By Brad and Mark Crandall, Battle Creek, Mich.
We have worked hard on our farm in the last 10 years to achieve our goal of being very environmentally responsible.
Our biggest challenge has been working with a combination of old and new facilities. We have built and updated all animal housing to modern cow comfort standards, but we still milk in a parlor built in 1957. We properly manage all wastewater and runoff, but it's not as efficient as we would like it to be. We also recycle all milk cooling water but have to pump it from the old parlor to a newer freestall barn. 
Our main goal in the next five years is to build a new milking center, and tie all of our manure and wastewater handling systems together. 
In regard to air quality, our primary concern is odor mitigation. Our 270-cow farm is located just five miles from the city of Battle Creek, and only one mile from a densely populated private lake. We strive to be both a beautiful part of the local landscape and to never be noticed for our odors. To achieve this, we incorporate manure as soon as possible, avoid spreading completely near densely populated areas unless conditions are optimal, and try to avoid storing excess manure on farm in the summer months. 
Aside from odor, we disagree with the notion that most dairy farms have any negative impact on air quality. We would argue that the open spaces we provide and the crops we grow improve the local air quality. We also consider the idea that carbon dioxide is hazardous to be ridiculous.
Our greatest asset is our natural resources. As farmers, we have the greatest stake in being the best environmentalists.