Published on:
12:07PM Jan 10, 2011
New to Dairy Today's Dollars & Sense team, Visser explains the operations -- and challenges -- of milking 3,200 Jerseys and Holsteins at four dairies near the Canadian border.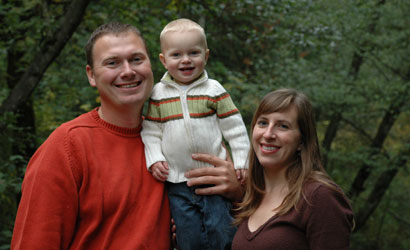 Washington State's Jeremy Visser with wife, Shanna, and their son, Justus.
By Jeremy Visser, Sumas, Wash.
Freezing one week and flooding the next -– that's what we have to look forward to in northwest Washington.
I "milk-ranch" in a partnership with my father, Jerald, and work with my brother, Doug. Sumas is north of Seattle and just south of the Canadian border. In fact, some of our fields are on the Canadian border. Our local scenery is dominated by picturesque farms, rivers and mountains. 
The original farmstead was my grandfather's and has been in the family since 1960. Before that, he farmed on several facilities and frequently moved his family and herd. In those times, dairymen were flexible and mobile as they grew their herds. We try to be open to the changing dairy environment and view our location flexibility as a competitive advantage as opposed to trying to buy or build an expensive new dairy in our region.
We have been growing our cow herd together from the time that I graduated from Dordt College in 1999. Through those years, we have grown from 140 cows to 3,200 on four sites. We milk 3x/day.  We milk Jerseys and Holsteins and crosses of the two but are slowly transitioning to primarily a Jersey herd. It's interesting to see the interactions between an 1,800 lb. Holstein and a Jersey cow half her size, but for the most part the Holstein can keep up and hold her own. Just kidding -- they are both great cow breeds and have a great future ahead of them. 
We are grateful and blessed to have many dedicated employees working with us. Good people are keys to achieving our production goals. Cows are the primary focus of our operations. Providing good nutrition, clean and comfortable freestall housing, and top-notch cow care are the cornerstones of our future success.  
We also crop 1,700 acres of grass and corn silage to provide the forage base for the herd. We use custom operators to assist us in putting up quality feed in a timely, cost-effective manner. Because we are spread out, it's difficult to own enough equipment to do all of our own field work. 
Additionally, we always try to source high-quality byproducts to help lower our feed costs while maintaining herd health and production. With the new reality of ethanol subsidies and their devastating impact on feed costs, we have tried to shift our feeding strategies to lower-valued feedstuffs while still maximizing income over feed cost.
We are members of Northwest Dairy Association, owners of Darigold and proud to belong to a strong co-op that returns profits to its members. This has helped us with extra cash in the last two years and given confidence that our retained earnings are working for our future and providing us with market security.
As we approach the future, we must continue to get more efficient in terms of milk per man and per pound of feed.  
We must also be efficient in our use of capital. As I see it, the relationship that we have with our lender will continue to be one of our most important. It will be a key for those of us who continue in the dairy business to have open and clear communication with our lenders.