Published on:
18:01PM Jan 21, 2011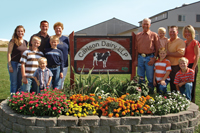 By Chad and Kindra Carlson and family, Willmar, Minn.
Carlson Dairy, LLP is a 950-cow dairy farm 100 miles west of Minneapolis. We're three Carlson families: parents Curtney and Louise Carlson with their two sons and wives, Chad and Kindra Carlson and Carl and Kellie Carlson. We have been dairying in partnership, Carlson Dairy, LLP, since 1999. 

The farm has been in the Carlson family since 1891 when it was first purchased by Curtney's grandparents.  Chad and Carl are the fourth generation of Carlsons on our farm, and our children – Cael, 10, Caden, 8, and Conlan, 4 (Chad & Kindra's) and Colten, 13, Clay, 11, Cavin, 3, and Kylie, 3 months (Carl & Kellie's) the fifth.
 
Our herd is housed in a 10-row, cross-ventilated, sand-bedded freestall facility. Our sand is continuously recycled through sand settling lanes.  We milk 3x/day in a double-14 parallel milking parlor using Beco milking equipment.

We split our 720 tillable acres between corn and alfalfa. Our rolling herd average is 31,799 milk, 1,261 fat, and 947 protein. Eighteen full-time and five part-time employees are an important part of our dairy.

We collaborate on much of the farm management decisions at the dairy, but each of us has our own area of expertise. Carl handles overall herd health and fresh-cow management. In addition, he and Kellie manage the parlor and the employees.
 
Chad is in charge of the herd's nutrition and cropping programs and is the general manager of the entire operation. Kindra handles the finances, payroll and bookkeeping. Curtney is very active with calf-raising and overall maintenance. Louise enjoys helping out with the grandkids and anywhere else she's needed.

Throughout the years, we've recognized that one of the keys to success is the tremendous resources all around us. We believe these resources, combined with hard work and sound management practices, are critical. To help guide us, we've focused on assembling a core team of business and dairy "experts" who share in our desire for improvement and excellence. 

This team ranges from the dairy business consultant we've utilized for the past 10 years, to the nutritionists who not only guide our nutrition program but who are committed to our overall operational improvement, to university experts who've provided us with assistance in improving milk quality and studying the economic benefits of cross-breeding. 

These people, along with many others, have introduced us to new ideas and the "best practices" of others and allowed us to hand-pick those ideas we believe will work best on our farm.
 
We believe in the importance of promoting agriculture and the dairy industry in our local community and beyond. Some of our favorite local promotional activities have included teaching local elementary students about dairy products through "The Farm to You" lunch program, working with our school's food service director to implement a "Refuel with Chocolate Milk" program for varsity athletes, and hosting farm tours for several hundred students each year.
 
"That which does not kill us, will make us stronger." This phrase certainly applies to the last several years in the dairy industry. With fortitude and resilience, we look to a brighter 2011.