Published on:
12:00PM Nov 29, 2010
On our dairy, we plan to increase the intensity of our risk management programs. The overall goal is to not only contract feed costs but also a price for our milk.
By Brian Medeiros, Hanford, Calif.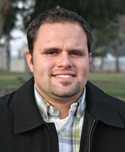 Medeiros and his parents own and operate a 2,300-cow herd in the San Joaquin Valley.
Risk management has become a very important responsibility on our dairy farms. Every day, we are faced with decisions that impose some level of risk. Whether it's to hire a new employee, change practices in hopes of progressing the flow on the farm or locking in feed prices for the next six months, it all evolves some sort of risk.
As producers, we are expected to manage risk much more intensively than before. Lending institutions are starting to base their criteria for dairy farm loans on how well the dairy farmer manages risk and to what extent. As progressive dairy producers, our businesses require a much more intensive form of management overall.
On the other hand, as we strive to farm into the future and interest ourselves in maintaining a profitable dairy farm, we need to increase the amount of risk management that we do.
Risk management on our farm has not been a leading factor but
one that we have practiced for many years. Ever since we moved over to individual commodity purchasing, we have implemented a measure of risk management. 
A week does not go by that my dad is not on phone with feed brokers or feed salesmen looking for the best price to purchase a load of feed or lock in a contract. Our feed risk management program is still fairly simple: checking in with salesmen to have a constant feel of how the market is doing and where it is going. 
However, as we enter the world of instant communication and information overload, we are looking into getting more information first-hand and making informed decisions on market standings and possible market shifts. 
My dad and I are planning to increase the intensity of our risk management programs. The overall goal is to not only contract feed costs but include a majority of our inputs costs and contract them at set rates. Dad and I are also looking into forward contracting a price for our milk, at minimum placing a floor price on a portion of our production. 
With some more time invested in learning about the complicated world of forward contracting and hedging on the market, I am confident that we can construct a complete program for our dairy that will encompass all areas of risk management. We know that it is important to have measures in place to reduce risk in today's market and look forward to the challenges ahead.