Published on:
18:58PM Jan 05, 2011
CME Feeder Cattle

CME Lean Hogs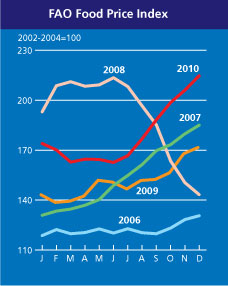 FOA food index pushed to NEW WORLD RECORD
Cash trades est. volume 78,000 wtd
FAS export data Thurs. AM- numbers should be favorable
Midday beef Ch 166.98 (+1.06); Sel 160.91

(+1.89)

141 lds
Live Cattle:
Cattle settle higher as the seesaw continues. Packer margins will be the key driver for the coming week. This week's cash trade @104-106.00 Can box beef hold and maintain BE packer margins? With roll over set to get on its way end of this week and Feb OI @ 144848 contracts liquidation off of contract highs can be expected following the yr end support. Packers hit the market early this week (I guess they are tired of waiting until the end of the month chases cash $$$$$ higher) USDA is est. today's vol. @ 71K  to final  at or near BE levels and will be a key point as the trade looks ahead to Jan and the "Goldman" roll.
Open interest Mon. +1939 contracts, @ 330306
Looking Ahead
:
New contract highs should be respected, we may be over bought, however the trend remains up, which means breaks should be bot. IS this a break to buy? Yes when the April reaches 40 day MA (108.60 area). much of this week's tied to the corn market which is liquidating ahead of next Wed's (1/12) S&D data. Roll over and a breaking corn market should pressure futures lower for a few more days. Today's box beef vol. @ 186 is very low and may be a concern with beef prices up sharply over the last two weeks. Slaughter is running below ya by 10,000 hd. though this is very small change it is the first time on this move higher slaughter is tracking below ya. Final weekly numbers will be the real test. Packers early week purchases is also out of the pattern established last spring/summer-meaning if they get ahead of their buy and slow chain speed they may be able to get the upper hand for the balance of the month. Winter weather will be key...open weather packers win, snow/cold and light marking weights feed yards win. Packer margins have also move into the red and board feeding margins have just bounced off 12 month lows again. bottom line look for further weakness and a test to the 40 day MA this week. Long term the trend remains up and next Wed grain S&D report will factor into the trend for Jan.   
USDA Boxed Beef Cutout Values

Choice/Select spread

@ 6.37
** Basis Steer and Heifers
Feeding Margins remain Negative
Cash feeder markets have re-open and prices are running 2-5.00 higher than two weeks ago. Interest and receipts were very good as aggressive marketings has open pen space. Board feeding margins have taking another turn back to 12 month lows with modest improvement seen this week. Market conditions have changed slightly; for the first time since last spring packer margins have moved into the red. As we just mentioned feeding margins have been in the red since early Dec. The point is if packers slow chain speed; the weather remains favorable; cattle will back up slowing buyer interest. Fund interest in Feeder futures has pushed IO up 90% form Nov. lows (approx 18000 contract). A test to the 40 day looks a long way off @ 119.50 but stranger things have happened, particularly if next Wed (1/12) USDA S&D report is bullish corn. 
USDA Pork Carcass Cutout Values

Load vol.

National Live Trade Wtd. Px

Net*

Vol.

+1.80
* net is based upon HG 200 report "National Direct Prior Day"
IA/MN weights
         274.7; 274.3 lw; 268.3 ya
United Nations FAO food Index pushes to NEW RECORD high
Lean Hogs-
R
ebound as cash trade improves pushing above 70.00 lean. Basis is always a tricky game and @ the start of the week Feb 11 futures were approx 2.00 wider than seasonal trend, today's higher cash trade has quickly made the adjustments hedgers need. One other point of interest as Feb expiration approaches, pork Cutout vs. Feb. Packer margins have been well in the black since May 2010; however when we look 4 weeks ahead packer margins pencil either side of BE. Weekly slaughter is running slightly behind YA. Weekly weight remain above YA. Can domestic clearance support product values above 85.00 this time of yr without slower chain speeds? Are spring futures indicating a marketing whole? Certainly a lot will happen this quarter and  next Wed and Thurs export data and potential trends will be our next opportunity to confirm the premiums Feb and April are hold vs. product clearance value.  
Looking Ahead:
 million dollar question remains unanswered- for the first time in 7 months packer margins are approaching BE levels; We know positive packer margins will be maintained; is demand stout enough in the first quarter to support cutout values normally seen in late spring/summer? Technically futures held mid level support today, a close above the 9 day MA will be needed to confirm a re-test of contract highs in Feb and Apr. Poor packer margins and lower than expect weekly slaughter will be the markets concern and could lead to a shift in trend.  Fresh investment money flow can be a huge wild card which would flow against the April and June contracts. Look to buy breaks against key MA numbers. (Apr 18 day @ 81.30)
Please give us a call, or click
Paul Nelson
to become part of an elite ag risk management team.
Trading commodity futures and options involves substantial risk of loss and may not be suitable for all investors. The market information contained in this message has been obtained from sources believed to be reliable, but is not guaranteed as to its accuracy or completeness. Market information may not be consistent with current or future market positions of EHedger, Paul Nelson, its affiliates, officers, directors, employees, or agents. Recipients assume the risk of reliance on and indemnify and hold EHedger, Paul Nelson harmless for any and all losses, costs, or tax consequences incurred as a result of their use of market information.