Published on:
10:01AM Oct 21, 2019
Grain and soy prices are beginning this new week with higher values, but except wheat, which did poke in a slightly higher high for the swing, the others continue to swing in the same pool.  Weather and harvest progress questions are front and center on the minds of traders, and the updated progress reports to be issued this afternoon should help fill in the blanks. 
As I noted initially, wheat has been the exception to the rule this morning as December futures have reached to the highest point traded since mid-July.  As I covered last week, the wheat market is faced with a dichotomy between lower supplies and large global inventories, and we should recognize that we may be confronted with a quantity versus quality situation as well, which could have an impact on other commodities.  The poor conditions in Australia and Argentina could render a larger percentage of the crop to be fit only for feed use, which could negatively impact corn, which is already suffering from lack and loss of demand.  
The USDA now estimates that African Swine Fever has cut the Vietnamese hog herd by 20% this year, and there is no indication that the disease has been contained there or in Cambodia, South Korea, or the several other Southeast Asian countries where it has struck.  In China, the world's second-largest corn producer, nearly one-third of the output is used in hog feed, and with a 40+% reduction in the herd size, it is estimated that corn consumption could drop by around 40 MMT, which is approximately 1.57 billion bushels.  The push to try and expand poultry production could help mitigate the decline, but realistically, this will require years to rebuild.  The price of corn on the Dalian Exchange is down over 10% since spring. While I am not suggesting that the corn market is doomed, like Sisyphus, it may be condemned to rolling a boulder up a hill again and again for the time being.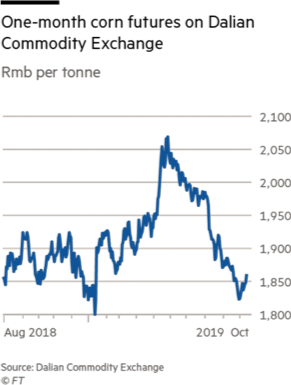 Last Friday, when the USDA released the hogs export sales numbers, they looked almost too good to be true, at least for a single week, and as it turns out, they were.  Called into question was the massive jump in sales to Mexico, 132,381 MT compared with just 2,692 MT the week before.  After being questioned about the number, the USDA admitted they should have pointed out that the figure included sales from other weeks that had not been reported previously, and they have now identified the shippers who were not reporting.  Not that we should be suspicious or anything, but underreporting could theoretically keep prices lower for those involved in the trade.  
After early week moisture, the outlook appears good for harvest progress to advance, and as I mentioned initially, weekly update reports this afternoon, should provide a baseline to work from.  We should also see updates on South American planting progress. 
Nothing major happening this morning in the macros either.   Equities are a touch firmer and the dollar a bit lower and still teetering on the brink of a major breakdown.