Published on:
11:09AM Dec 02, 2019
The final month of 2019 is officially underway, and the grain and soy markets appear to be evening up the ledger a bit from the action last Friday with soft trade in the grains and strength in wheat.  Keep in mind that corn did provide us with a nice reversal rebound, and wheat extended to the highest point trade since mid-July, so surrendering a little of those gains this morning does not appear alarming.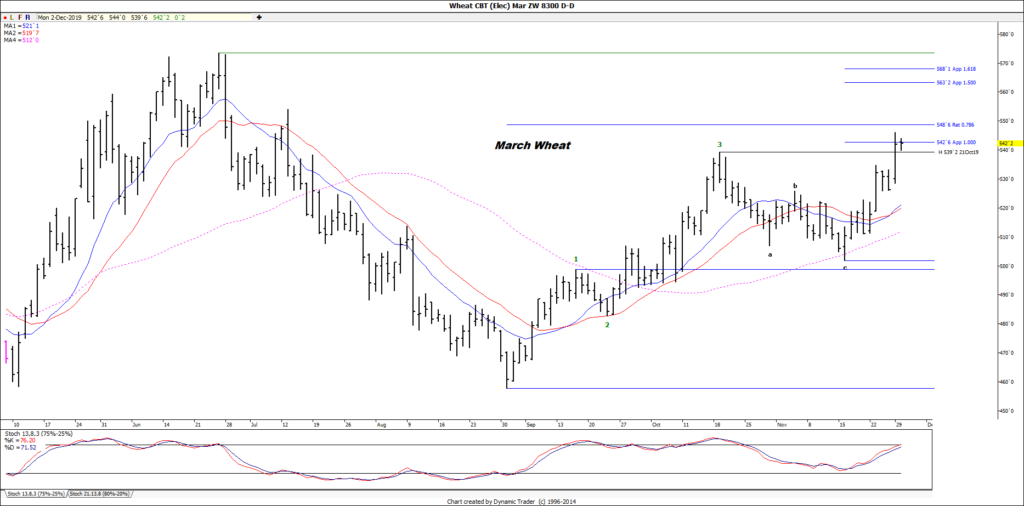 Wheat has seen some actual positive news this morning as the ABARE, the Australian version of the USDA cut its forecast for the Aussie wheat crop by 18%, reducing it to 15.85 MMT.  This would mean that the production would fall 35% below the 10-year average.  Also supporting wheat has been strengthening prices for Russian wheat, which has now closed higher for the past three weeks in a row.  Production is not the issue there but rather robust demand.  Exports demand has also been solid in Ukraine as overall grain exports are up 32% over a year ago.  Of the 24.8 MMT of grains exported thus far, 13.5 MMT has been wheat, 7.5 MMT corn, and 3.5 MMT barley.
Trade wars appear to be intensifying again, but this time China is not involved.  President Trump is accusing Brazil and Argentina of currency manipulation and is going to re-impose import tariffs on steel and aluminum from those nations.  As far as U.S./Chinese relations/negotiation, they certainly do not appear to be improving.  China is placing sanctions on some U.S. NGO's and has suspended visits into Hong Kong by U.S. military ships and aircraft.  Additionally, over the weekend, the Chinese paper, Global Times, which I understand is basically a government mouthpiece, reported that the nation's top priority for agreeing to a Phase One, will be the removal of existing tariffs.  None of this sounds promising for a breakthrough, and keep in mind, the next tranche of tariffs are scheduled to take effect on the 15th of December.
I believe it is worth pointing out that the equity markets appear to be somewhat unconcerned by the threat of rekindled and ongoing tariffs battles as they extended into slightly higher record highs as we begin this new month.  There are evidently those who believe that as long as interest rates remain low and no glaring negative news, there is no upper end for those markets.  While it is difficult to argue with success as that has worked for the past 12-months and realistically the past decade, but we all know the danger associated with assuming something will always be the case. Cyclically, I show this market peaking, so would suggest you tread cautiously.