Published on:
20:43PM Dec 08, 2014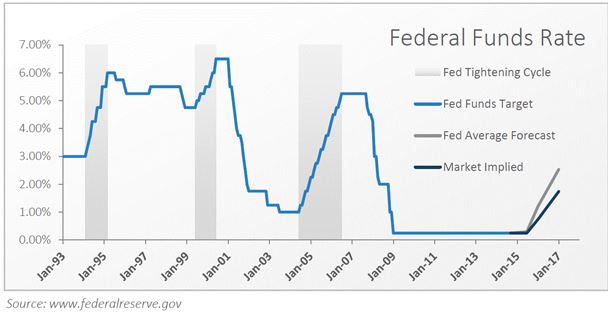 With higher interest rates on the horizon, an agricultural lender offers tips for dairy producers to benefit from today's bargain levels.
By Greg Steele, AgStar Financial Services
Will 2015 be the year the tide turns for interest rates?
The dairy industry has recently enjoyed an incredible period of low interest rates. Regardless of rate product -- be it fixed or variable -- low rates have been a great benefit for producers who rely on credit lines for operating needs, or who have invested in new facilities, equipment or land with longer-term loans. The Federal Funds rate, the short-term interest rate set by the Fed and upon which other short-term U.S. interest rates are based, has been effectively zero since 2009 during the days of what was termed the financial meltdown on Wall Street.
It appears with the economy slowing improving, the likelihood of higher interest rates is increasing as the Fed begins to change its policy. Now is a great time for dairy farmers to understand and manage the effect of rising interest rates for their business.
Cost of borrowing expected to rise
There is growing consensus by economist and lenders alike that the cost of borrowing is expected to begin to rise during the middle of 2015 or early 2016. No one knows for sure when the Fed will raise interest rates. Once it is decided policy change is needed to keep inflation at bay, the Fed will begin a series of rate increases.
As shown below, the Fed chart indicates that there is clearly only one way for rates to move: up. But, how much? It will depend on the rate of inflation and unemployment. The Fed has a 2% target for inflation and, as long as inflation remains close to this target, then most economists believe the Fed's would raise rates more slowly than in the past. The key factor is the unemployment rate, which currently has fallen below the Fed's 6 % target to 5.9%. Some level of concern still remains that there is slack in the labor market which is why the Fed is holding off until mid-year 2015 to raise the funds rate.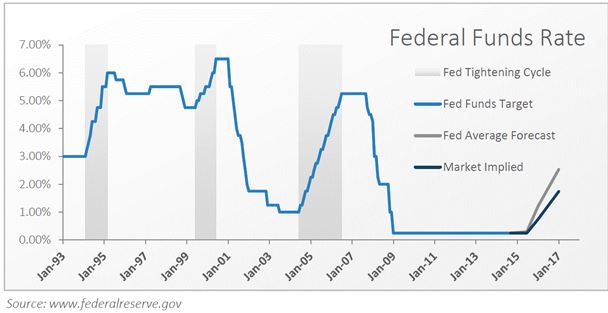 What does this all mean?
Soon, as the Fed funds rise, interest rates on new and existing variable rate loans will rise. It is also highly likely that rates on long-term fixed rate loans will increase. As a result, producers need to evaluate their exposure to rising interest rates and consider options that are available to manage their interest-rate risk.
Some folks choose to borrow money at variable rates because the initial rate is lower than fixed rate products. Producers accept the risk that rates will rise. And when they do, payments will increase. This could be even more of concern with an uncertain profitability predicted for the dairy industry in 2015. 
Manage financial risk
Now is a great time to consider the benefits of locking into low fixed-rate products. Fixed-rate loans provide borrowers certainty as they know what their monthly payments will be for the full term of the loan. This is an excellent risk management strategy for producers since they have other input costs, such as energy, fertilizer and feed costs, which increase costs and reduce their revenue. If the Fed were to raise rates aggressively, then those producers with fixed rates benefit from significantly lower interest costs over the long term.
As a farmer, you have the option of working with lenders within The Farm Credit System who have access to the longer-term capital markets. This gives you access to a full range of fixed-rate borrowing alternatives to help limit interest-rate risk over the term of your debt. Keep in mind the cost of borrowing at fixed rates will initially be higher than borrowing at current variable rates; however, fixed rates offer several advantages, as mentioned above, during an environment when interest rates are expected to rise.
Another benefit to seek out is flexibility. Ask your lender if making prepayments of principal and extending maturities are possibilities.
Another way for producers to benefit from today's bargain on interest rates is to take advantage of lender programs to refinance farm machinery they have paid in cash over the last couple years. This could be a great way use three- to five-year fixed rate programs to build up working capital at reasonable rates and be prepared for the uncertainty that lies ahead for 2015 and beyond.
Whether its margins, cost of production, farm policy or interest rates, dairy producers are constantly dealing with change. Understanding your operation, the options available to you and managing risk effectively, will help you position your operation for long-term, steady success.
Greg Steele is a Vice President and Industry Specialist at AgStar working with commercial dairy operations that have grown and expanded their business. For more insights from Greg and other members of AgStar's Dairy Team at AgStarEdge.com.