Published on:
05:43AM Dec 03, 2012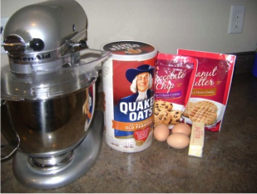 This is a recipe that was sent to me from a client of mine.  Here is what she had to say about this recipe.  These fast and easy cookies are perfect for busy moms. I think these are the perfect treat to have my 2-year-old help me because she can dump and pour the simple ingredients in to the mixer and drop the cookies onto the pan.  She absolutely LOVES to help cook and enjoys playing in the kitchen.
Easy Monster Cookies



There are two great ways to comb through the site – at the very bottom of the homepage you can select Archives to sort by date or Categories to sort by topic.