Published on:
06:17AM Oct 21, 2013
As the saying goes – frost on the pumpkin………time to bake somethin.  - Ok I admit I made that saying up as a spin off a similar saying I heard once upon a time….but – no doubt – depending on where you are located - the arrival or anticipation of cooler weather certainly gets one thinking about doing more baking and sharing those goodies with our loved ones.  Here are a couple recipes that showcase pumpkin as the main ingredient.  So when the frost shows up on the pumpkins in your patch – well just get in the kitchen and bake up one of these treats.  Click the title next to the photo to get the recipes.        And remember….. never aim to haunt…. only aim to humor.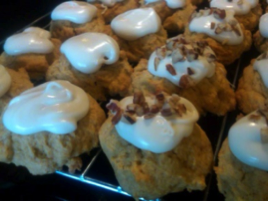 Kristina's Frost on the Pumpkin Cookies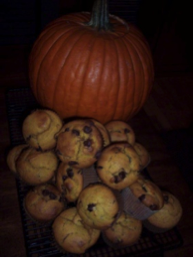 Jan's Pumpkin Chip Muffins

Also from kristinashouse.com …….
A recent trip to a cabin at the lake provided a chance to stop in Stillwater, Minnesota.  Always hoping to find something unique, there was great pleasure stumbling on gourmet sugar blends in one of the specialty shops located there.  These sugars are infused with unique flavors and work well in a variety of ways.  They can be used for a twist of flavor in sweetening your coffee, to replace BBQ sauce when grilling meats, to add an extra zing to the rim of a martini or margarita glass, or to add an unexpected flash of flavor to your favorite sugar cookie recipe.  These sugars made the trek back home and the ideas ran wild for how to use these sugars.  Click here to read our taste test of the sugar blends we sampled.  We share how our sugar cookies turned out as well as some of the other ways we enjoyed using these sugars.  We also share where to buy or how to order so you can add something extra special to your holiday baking this year by using these sugar blends.

Coming up soon…….
Kristina's Fish Tacos with Cilantro Lime Sauce and Citrus Slaw – a new Midwest classic and a great recipe to make using the fresh citrus the local Future Farmers of America will be selling soon for their annual fundraiser.
Grandma's Homemade Chicken and Noodles – in case you are catching a cold or for when you are feeling the blues.
Beer Cheese Soup –  recipe was submitted by the winner of our Christmas in July Giveaway

Also from www.kristinashouse.com  Check out all our Recipes for Main Dishes, Cookies and Desserts and Side Dishes many are exclusively posted to kristinashouse.com.  
If you have a recipe you would like to share, email us to [email protected].  Or if you would like to partner with us to showcase your crop, meat, dairy, specialty produce or product – same thing – just send us an email.  We would love to partner with you!