Published on:
09:40AM Aug 05, 2020
While the news in the ag arena remains sparse, and little of it fresh, it remains predominantly bearish.  Realistically, that should not come as a surprise as when prices are at or are near bottoms; it seems the only thing you hear are the stories that try and reinforce why you are here. Markets never bottom on bullish news.  The latest weather runs forecast seasonal temperatures, accompanied by alternating periods of sunshine and rain.  It sounds like everything you could ask for if you were a corn or bean plant.  While more reports emerge from Europe concerning the smaller wheat crops in that region, none of the stories are what you would consider new, and in South America, most of the attention appears to have shifted to how much bigger, next years' crop could be.  We might as well pile it all on right now, seeing that we are already hovering close to or right on what has been the critical base of support for that past half-decade.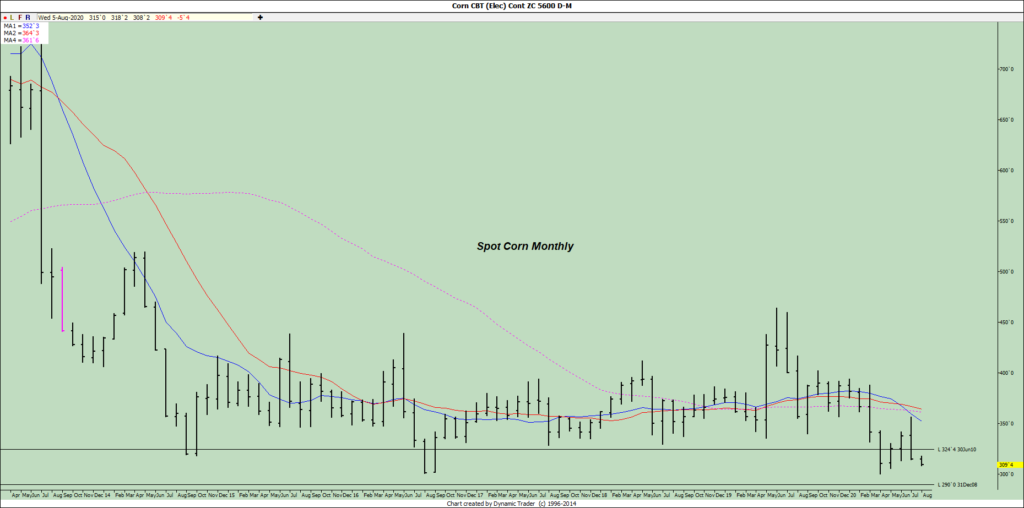 China continues to accumulate more beans from the U.S.  This morning, the USDA reported another sale of 192,000 MT for the 2020/21 crop year.  Weekly export sales will be released tomorrow morning and should be solid, especially for soybean once again. Still, I suspect the attention of the trade will turn more to the August 12th production estimate.  Look for estimates to emerge by the end of the week and will undoubtedly be larger than the last.
After a day and one-half of rebound, the dollar has turned lower again and appears poised to press into lower lows, and the raging bull, gold, has now pushed above the $2,000 per ounce mark.  As these two markets grab all the attention, equity markets have quietly extended the post washout recovery.  With the strength this week, the S&P 500 has now reached back into a weekly gap that was left in February and has moved to within striking distance of the February peak.  To take note, though, that weekly indicators have reached back into the overbought zone and appear to have lost upward momentum, so this advance may be nearing the end of the line.