Published on:
09:13AM Jul 10, 2020
Could it be "That Girl" is planning to return?  No, I am not referring to the 1960's television sitcom starring Marlo Thomas, however, I am dating myself, but rather the cold phase of the southern oscillation along the equatorial Pacific Ocean that we refer to as La Nina.  According to an update released by NOAA yesterday, they now predict a 50 to 55% chance of this developing during the fall and then lasting through the winter months.  While there is no hard-fast rule as to the potential weather impact from such an event, particularly when we do not even have any idea of how intense it may be, but in the past, there does appear to be a correlation with dry conditions, particularly in the Southern Hemisphere.  Keep in mind as well that portions of Southern Brazil and Northern Argentina are already quite dry.  NOAA did also comment that there is a 40 to 45% chance that this will never develop, but it is something worth keeping an eye on in the months ahead.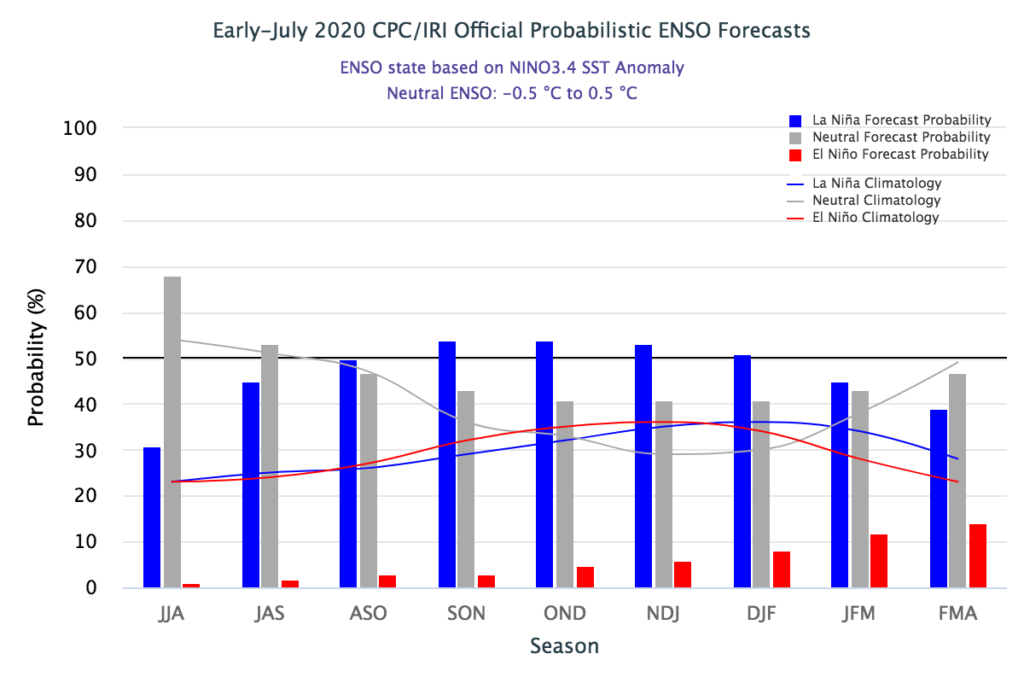 Elsewhere around the globe, AgriMer reports this morning that winter wheat harvest is moving forward in France and has reached 10% complete, which compares with 4% a year ago.  Winter barley harvest has stepped up to 64% complete, which is nearly identical to last year at this time.  Spring barley is 10% harvested. Corn ratings remained unchanged, with 83% of the crop considered good/excellent.  The Russian Ag Ministry now forecasts a 2020 grain harvest of 122.5 MMT and exports of 43 million.  They also announced that the government intends to begin rebuilding state-owned stockpiles with a goal of between 2.5 and 3.5 MMT.
The USDA has announced a couple of very solid export sales this morning, all to China.  They purchased a total of 1.365 MMT of corn, 765,000 for the current crop year, and 600,000 for next.  They also purchased 190,000 MT of hard red spring wheat for 20/21 and 130,000 MT of hard red winter wheat.
For the last time, here are the July report's trade estimates: Domestic corn production 15.04 billion bushels using an average yield of 178.5 bpa.  The soybean crop is expected to total 4.15 billion with a yield of 50 bpa.  All wheat production is expected to come through at 1.848 billion.  Carryout estimates for the current crop year place have corn at 2.277 billion and beans at 584 million, and for 2020/21, they are looking for 2.683 billion corn, 416 million beans, and 948 million wheat.  2019/20 global ending stocks are expected to total 315.07 MMT of corn, 99.35 MMT beans, and 297.3 MMT wheat.  Then for 2020/21, they are projected to come through at 324.84 MMT corn, 96.71 MMT beans, and 315.89 MMT wheat.
While this report could set the tone for the direction into the close, if we wrapped up the week right now, corn would have gained 4-cents, beans 5-cents but the award for outstanding performance would go to wheat which is currently sitting 32-cents higher for the week.