Published on:
23:03PM May 08, 2018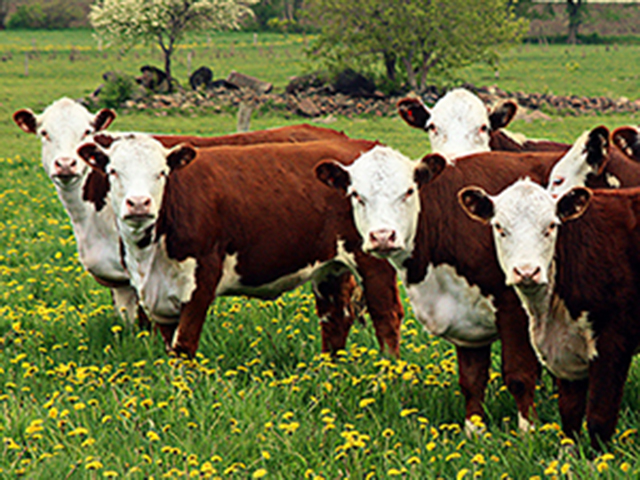 Live Cattle
On Tuesday May 8th, 2018, the June Live Cattle contract continued to consolidate between the April 30th high (107.825) and the May 1st low (103.825). The Tuesday trade took place with a low of 104.60 and the high at 106.925. It settled near the high at 106.30. The high was above resistance at106.025 and the low was just below the 104.85 support level. A break out above the 106.925 high could see price test resistance at 107.35 and then the April 30th high. Resistance then comes in at 108.65. Trading below the Tuesday low could send price back to test support at 104.20 and then 103.00.  Negotiated cash trade on Tuesday has been mostly inactive on light demand in all feeding regions. Tuesday afternoon boxed beef cutout values are higher on Choice and lower on Select with light to moderate demand and offerings. Choice was up 1.79 at 230.93 with Select lower at 1.27 to close at 209.93 with a spread of 21.00 on 130 loads. The estimated cattle slaughter for Tuesday was reported at 119,000.
Feeder Cattle
It was an ugly early session trade for the August Feeder Cattle contract, breaking down from the open (143.75), taking out support at the 100 DMA (143.525), the 21 DMA (143.125), the 142.425 support level, and threatening support at the trendline (141.475) and the declining 50 DMA (141.30, trading down to the low at 141.675. Feeders raced higher from the low and buy the end of the day made the high of the day at 143.90. It settled at 143.725. It settled above the 100 DMA and formed a Doji candlestick. A breakout above the Tuesday high could see price work its way back to the 200 DMA (147.075). A failure to follow through to the upside could see price consolidate within the Tuesday range.
Lean Hogs
The June Lean Hogs contract broke out above the consolidation band (75.60 – 72.20) and traded up to 76.475. It ended the day at 76.40. It is right at the 76.25 key level and a breakout above here could see price test resistance at 77.80. Resistance then comes in at 78.425. If price can't stay above 76.25, a pullback to the 75.60 support level is possible. I would buy a test of the 75.60 support level with a stop below the Tuesday low (74.725).
For those interested I hold a weekly grain (with Sean Lusk) and livestock webinar on Thursday, May 10th at 3:00 pm. It is free for anyone who wants to sign up and the link for sign up is below. If you cannot attend live a recording will be sent to your email upon completion of the webinar.
**Call me for a free consultation for a marketing plan regarding your livestock needs.* *
Ben DiCostanzo
Senior Market Strategist
Walsh Trading, Inc.
Direct: 312.957.4163
             888.391.7894
Fax: 312.256.0109
www.walshtrading.com
RISK DISCLOSURE: THERE IS A SUBSTANTIAL RISK OF LOSS IN FUTURES AND OPTIONS TRADING.  THIS REPORT IS A SOLICITATION FOR ENTERING A DERIVATIVES TRANSACTION AND ALL TRANSACTIONS INCLUDE A SUBSTANTIAL RISK OF LOSS. THE USE OF A STOP-LOSS ORDER MAY NOT NECESSARILY LIMIT YOUR LOSS TO THE INTENDED AMOUNT.  WHILE CURRENT EVENTS, MARKET ANNOUNCEMENTS AND SEASONAL FACTORS ARE TYPICALLY BUILT INTO FUTURES PRICES, A MOVEMENT IN THE CASH MARKET WOULD NOT NECESSARILY MOVE IN TANDEM WITH THE RELATED FUTURES AND OPTIONS CONTRACTS.