Published on:
20:36PM Mar 23, 2016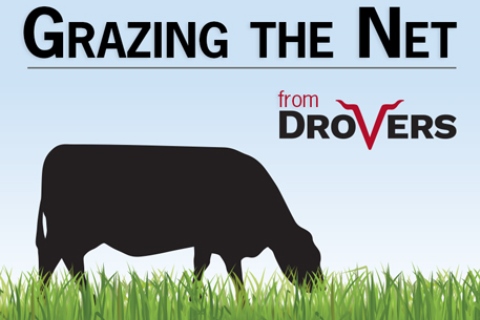 The feud between PETA and Australian sheep shearers has gone "totally starkers." When last we reported, Aussie sheep shearer's daughter Danni Johnson called B.S. on  PETA's campaign featuring a naked photo of reality star Joanna Krupa holding a dead lamb. She posted a photo of herself (with clothes on) shearing a sheep on Facebook and called PETA's campaign "shear lunacy."
The squabble, however, was just too good for a mate to let die. We kinda expected (hoped?) to see competing naked sheep shearing photos, though Daniel Telfer (aka "The Naked Gun") was not quite who we had in mind.
"He just walked into the catching pen and then came out in the raw - totally starkers," said sheep owner and photographer Jacqui Bateman. The photo she posted on Facebook was the only "useable" frame. "It was just the luck of the draw there weren't any dangly bits in the photo," she said.
Poo At The Zoo
"This Easter The Isle of Wight Zoo…will launch The National Poo Museum."
No, that's not a misprint, and we're just as baffled by what possible connection this museum has with Easter. Here's a little background, though it's unlikely to make this story more understandable. The Isle of Wight Zoo is in England, built within the ruins of a Victorian Fort situated so as to guard Sandown's coast. The opening of The National Poo Museum is billed as the "first in a pile of 'Poo at the Zoo' events," which are slated to "explore the diverse and vast subject of human and animal waste matter from its production through to its value as a potential energy source." If that's not enough to draw you to the zoo on Easter, promoters claim "The National Poo Museum is set to be the place to immerse oneself in the wonder of excrement."
Bundys Faces Twin Trials
Ammon and Ryan Bundy and three other men indicted in the armed occupation of the Malheur National Wildlife Refuge may face separate trials in two states at the same time. A federal judge in Portland ruled the men can be flown to Las Vegas to face criminal charges for their part in the 2014 standoff near the Bundy ranch in Nevada.
Attorneys for the five men argued in court that splitting time between courtrooms and jail cells in two states would severely compromise their ability to communicate with their defense attorneys and would interfere with their rights to speedy trials. One defense attorney argued that prosecuting both cases at once could drag out the timeline for the cases and keep the defendants in custody longer. The government shouldn't be allowed to "ping-pong these defendants between two jurisdictions," she said.
Nitrogen Boosts Toxin Levels in Old Fescue
Nitrogen makes grass grow. Spreading fertility produces more pounds of forage, which cows convert to protein: beef and milk. Adding nitrogen to pastures would be a no-brainer, except for toxic tall fescue. With added fertilizer, the endophyte fungus makes more toxic alkaloids that harm cattle in many ways.