Published on:
18:03PM Sep 29, 2014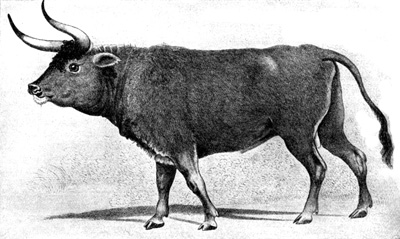 Need proof the developed world doesn't spend much time worrying about a plentiful food supply? There's a small group of folks determined to resurrect prehistoric bovines.

You read that right. A group of German researchers are trying to recreate a species of cows, called aurochs, which have been extinct for centuries. Why, you ask? Well ... the goal is to have "free-living aurochs in European natural areas again." So, while the rest of the developed world selects cattle that are more efficient at producing meat and milk to feed a growing population, this project is for ... de-extinction?
(Image from The Extinction Website)
---
Putrid Poultry Parts
A truckload of raw chicken parts left in a semi-trailer in 90 degree weather will eventually draw attention.

Left to clean up the mess was the Missoula County, Mont., sheriff's department. The trailer, loaded with 35,000 pounds of chicken and worth $80,000, was abandoned by its driver over a dispute about pay with the trucking company. He was later arrested on a parole violation.
---
Animals As Crime Victims?
It's a slippery slope. Oregon's Supreme Court has granted animals legal protections formerly reserved for humans. The ruling came on case where a livestock owner left about 20 goats and horses starving among the bodies of others that were deceased. The Oregon court says each individual animal can be considered a "victim." No decent livestock owner can condone animal abuse or abandonment, but here's why this ruling is dangerous: An animal welfare attorney wonders how the court can recognize individual animals as victims "when we kill billions of sentient animals in violent and painful ways every year unnecessarily for food?"
---
Cow Culling Schemes
When a cow is determined to be market beef, sell her. That's the advice from North Dakota State University beef specialist Kris Ringwall. "Maintaining old cows that are subject to more structural problems, already are having difficulty keeping up with the herd and more than likely are going to wean a lighter calf are headaches cattle producers do not need."