Published on:
09:16AM Jan 24, 2020
Monumental Triumphs in History
June 26, 218 BC – Hannibal Crosses the Alps
May 29, 1953 – Sir Edmund Hillary and Tenzing Norgay summit Mt. Everest
June 20, 1969 – Neil Armstrong is the first human to step foot on the Moon
January 23, 2020 – March corn closes above 3.91
Okay…that final one may not hold the same historical significance as the other three, but it almost felt as if it were such a triumph.  After poking and prodding at the 3.90/3.92 level for the better part of the past six weeks, with precious little fresh news to prod it along, March corn was finally able to reach up and close above this ceiling in price.  Granted, we have not experienced any follow-through thus far in today's session and, in fact, have slipped back to test out if there will now be any support at this level, but the line has been crossed, and that is a positive sign.  Actually, I continue to believe the action we witnessed a week ago right now was the real tipoff that some bears had indeed lost control of this market.  If you recall, during the last month of the year and leading up to the January report, managed funds were active covering short positions. They never actually moved to the long side of corn but after the non-eventful crop figures and then the long-awaited signing of the Phase One U.S./Chinese Trade package, bullish risk factors had been eliminated or at least reduced, and it looked as if the window were open to try and muscle the corn market lower once again. Last Thursday, prices were shoved down to the lowest level in months.  As we now know, the corn market had other plans, and prices reversed sharply on Friday, setting the stage for the close witnessed yesterday.  I think this is a classic example of when I speak of listening to the market.  No, I am not referring to the voices in my head but instead suggesting we need to watch or listen to how markets react to news and events, and when they begin to do something that does not add up, there is often a change afoot.  Do recognize that I am not suggesting that corn will accelerate higher from here, and in fact, I would not mind seeing prices pull backward into February. Still, as with wheat, I believe the market is telling us there is a shift occurring in the undercurrent of the grain trade, which should lead to better price levels as we move further into 2020.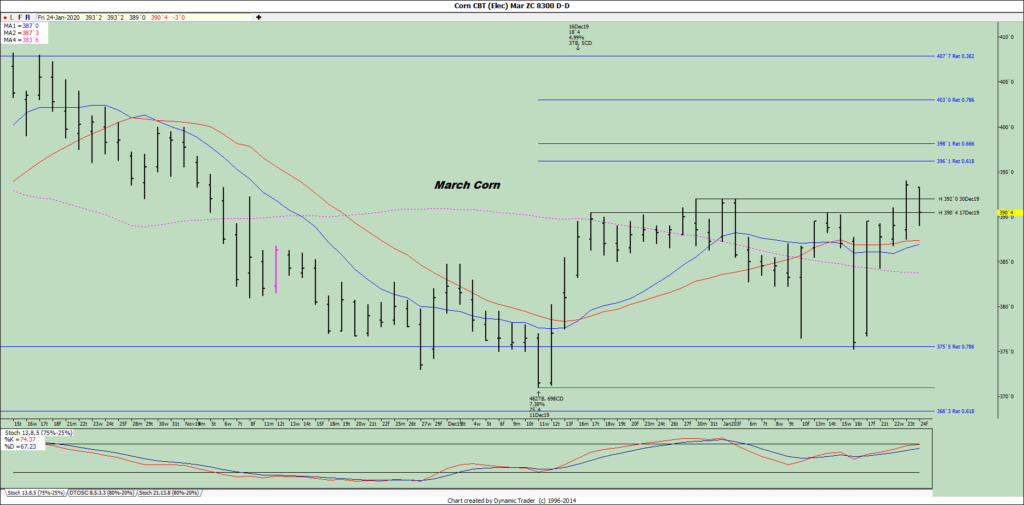 Savoring corn's moment of triumph is not the only thing we have to talk about this morning as weekly export sales have been released and were mildly pleasant for both corn and wheat but less so for beans.  We might as well begin the worst, first.  For the week ending January 16th, we sold a total of 790,000 MT or 29 million bushels of beans.  By no means is that an awful number, but it was down 23% from last week and was 59% below the 4-week average and begs the question, where is China?  They were actually the top purchasers with 225,900 MT or 29% of the total, but if they are going to meet Phase One promises, there will need to do better than this.  In the number two spot, we find Mexico with 218.9k MT, followed by Egypt buying 187.5k. I should point out though that soy meal set another new marketing year high with sales of 641,900 MT.  Wheat sales totaled 696,000 MT or 25.58 million bushels.  This was 7% above last week, 58% above the 4-week average, and towards the upper end of the trade estimates.  Bangladesh was in the top spot purchasing 111.9k MT, followed by Japan with 96.2k and then Guatemala with 88.6k.  Corn sales rose back above the million mark again, with a total of 1,006,900 MT or 39.65 million bushels.  This was 28% higher than last week and 92% above the 4-week average.  Of course, those four weeks included two holidays.  Regardless, Japan was the top purchaser with 372.6k MT, followed Mexico at 269.9k, and then Colombia with 154.5k.
If we were to close out the week right now, corn would be up 1-cents and finishing higher for the third week in a row.  Chicago wheat would be up 3-cents and at the highest weekly close since August of 2018.  And then there is the bean market. At the moment, beans are down 22-cents for the week and on track for the second week of losses. This market continues to act like that spoiled child who opened the final Christmas gift and began to sob as there was nothing left under the tree.