Published on:
09:31AM Oct 16, 2019

While it has not spread to everyone just yet, it would appear that the bulls in the corn market have contracted a case of the harvest flu.  We had suggested that they be proactive and get vaccinated before things got too busy, but not surprisingly, they were a bit "bull-headed."  They were given booster shot of slow-release harvest progress last night, but that only seems to have worsened their condition, as they stumbled down the stairs again, so it would appear we will just have to allow the illness to run its course and it doesn't drag on too long.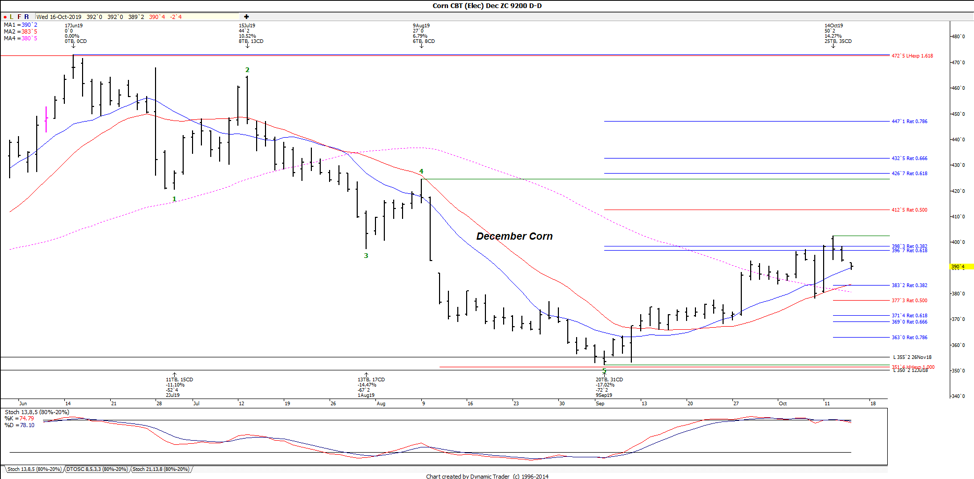 As a recap, as of October 13th, the USDA estimates the corn harvest was 22% complete and bean 26%.  This compares with historical averages of 36% and 49%, respectively.  Obviously, maturity is of little concern to the trade, particularly now that we have experienced our first freeze, but for the record, 73% of corn was mature compared with 92% average and 85% of bean dropping leaves versus the normal 93%.  
The EPA released a 20-page notice that provided more details of the new biofuel policy, and the reaction from the ag community has been less than enthusiastic.  The Iowa Corn Growers Association used the word "outraged" to describe their reaction, and Emily Skor, the head of Growth Energy, labeled it "unconscionable."  While I have not read the document, I gather that they have proposed using a 3-year average for permitted blending exemptions, and there was no requirement that anyone meet the proposed increases in biofuel usage.  As always, the devil seems to be in the details.  
The USDA has proposed a much-needed change for the September stocks estimate that could begin next year. As noted after the stocks report and then the October supply/demand revisions, the appeared to be a discrepancy in the feed/residual category, which was boosted sharply, and I, as well as a number of others, thought the previous crop estimate should have been reduced.  While the already will make crop size revisions in beans after the September stocks reports, the reserve such adjustments in corn until the January final figures.  Possibly a minor change in the overall picture but a needed one. 
In the daily system this morning, we find Mexico purchasing 228,600 MT of corn, and corn sorely needs to see this t of news on a more consistent basis. 
Last but not necessarily least, it is worth pointing out that the U.S. Dollar posted a weak performance yesterday and after the disappointing retail sales report this morning, has pressed lower again. While we have not completely broken to the downside just yet, we are moving closer and closer to the proverbial edge of this cliff, and once we have slipped over, it could begin a new and potential happier chapter for commodities.